This post may contain affiliate links, which means I'll earn a small commission if you purchase something through these links. You won't pay any extra; instead, you'll be helping Aloha With Love to thrive. Thank you! Learn more.
COVID-19 has affected many of Hawaii's businesses and events. Please double check their dates and times before you go or make plans. Visit HawaiiCOVID19.com for more information.
--
A friend of mine wanted to hang out during the weekend so I suggested some fishing at Alii Agriculture Farms in Wahiawa. She had her two girls with her so it was a great way to get them introduced to the basics of fishing where a catch was almost guaranteed. Even for someone like me who spent her childhood weekends being woken up at 4 AM to go fishing with Dad at Haleiwa in the North Shore, fishing at Alii Agriculture Farms was fun because I didn't have to think about anything. Everything was prepared for us and we all thoroughly enjoyed ourselves!
If you don't mind dropping $30 per person, this is a fun way to find out if fishing is for you. So it's a great option for kids and newbies new to the sport.
Aloha with love,
Amy
Prices and preparation
Assuming you already have all of the equipment, the biggest difference between fishing by yourself on the beach and fishing at Alii Agriculture Farms is the price. You pay a fee of $18 per person ($4 if you're not fishing), which gets you a bamboo pole and a ball of dough for bait. If you plan on eating here, there are different prices for fish you catch, fish they catch for you, and type of fish. Depending on which fish you want cooked (tilapia, channel catfish, or grass carp), it will cost you about $7 – $9 per pound.
Before you go, it's important to find out everything you can about what to expect here because it is blazingly hot. Seriously, 2 weeks later I had peeling skin bubbles on my forearms and I suspect it was because of the sun from this day. There are no trees and it gets so hot that you're certain to get a sunburn in just an hour. All the information you need can be found on the Alii Agriculture Farms' website, so read up on the type of tents they allow, what you can and cannot bring, and what to expect. I highly recommend sunglasses, a hat, sunscreen, and some kind of shade.
As for us, we opted to bring a 10′ x 10′ tent although if I go again I'd rather bring a beach chair with a sunshade or a portable beach umbrella. The tent was convenient to sit under, but it was a hassle to set up considering we hardly used it. If you're fishing, you tend to move from spot to spot, which is why some kind of portable shade that moves with you is best. However, if you have someone not fishing, then the tent is a great option because they'll just hang out under the tent.
Getting checked in
The parking lot is a wide dirt lot and the attendant in the parking booth/shack will take your payment or direct you to the main office/shack to pay by credit card. This is where you'll collect your bamboo fishing poles, bait, buckets, and where you'll turn in your catch of the day to take home or be cooked. Right next to this shack is a large tented area with several long picnic tables underneath. There's a nice breeze here and you still have a pleasant view of the first pond so it's a good place to take a break from fishing and munch on an ice cream bar.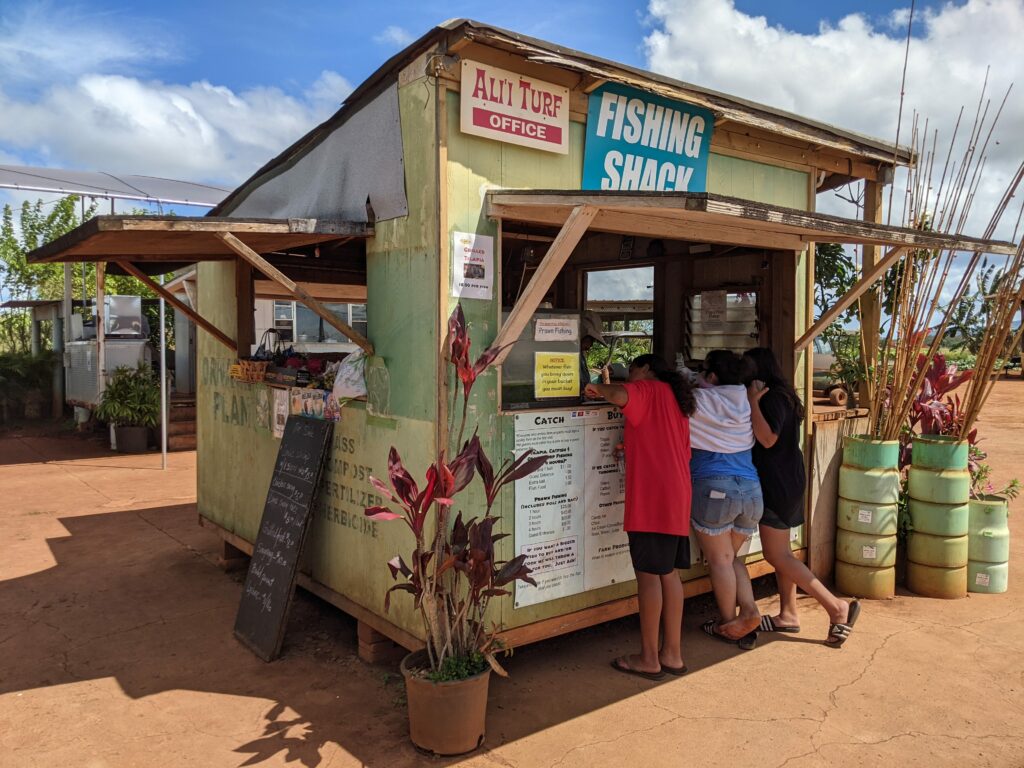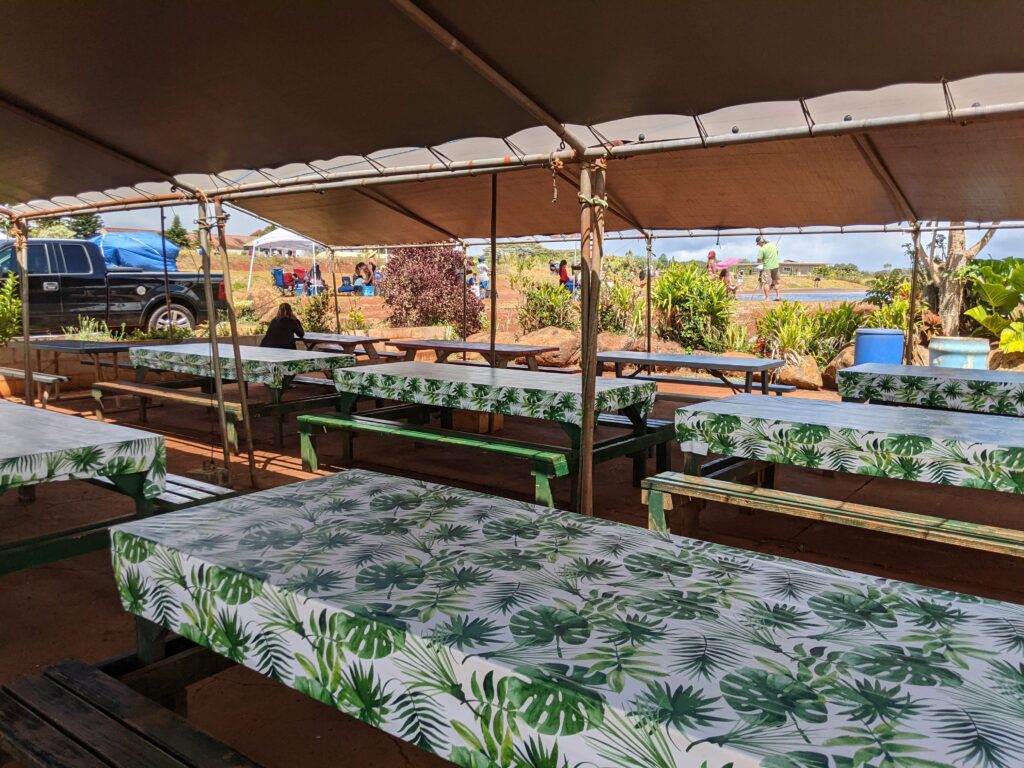 We got here a little after 11 AM and by 11:30 AM we were out on one of the ponds setting up our tent and beginning to fish. There are 3 ponds total, each higher than the next. On this day, the first pond was already pretty crowded and the second was closed for maintenance (I think they were letting the fish replenish/recuperate). We were told to go up to the third pond, which has a pretty view of the other 2 ponds and the Wahiawa plantation fields.
While we were walking around the pond trying to find a good spot for our tent, I did spot a few dead fish floating near the closer ends of the ponds (the winds blow in from the far end of the ponds). Although this did put me off at first, I wouldn't worry about it too much. With all of the young children and first-time fishers in the area, I can imagine that some of the fish just don't make it as the hook is removed. Since I've grown up fishing with my Dad, I could quickly take off the hooks and return the fish in time to the water. To avoid the dead fish, just head toward the middle or far end of the ponds.
Local tip: If this will be your first time, I suggest putting the fish on the ground and using one hand to hold it down flat to prevent it from flapping around. Use your other hand to remove the hook then push it back into the water. Be careful, the dorsal fin (top fin) of the tilapia will poke you as they flap about.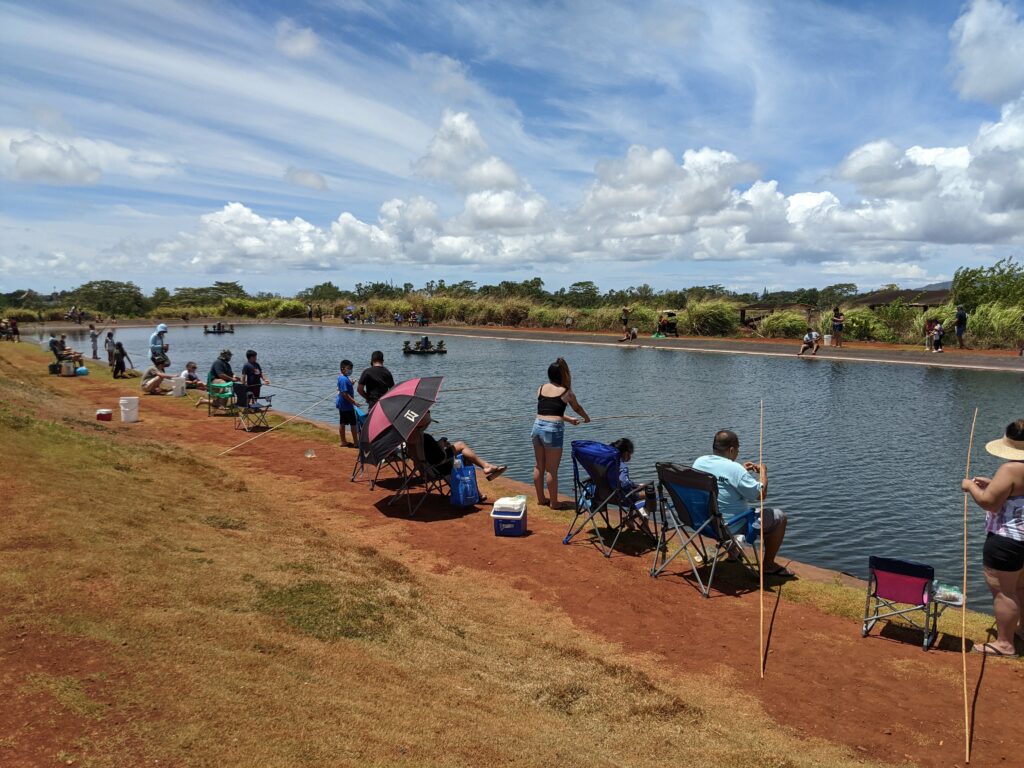 Fishing
What's great about fishing at Alii Agriculture Farms is that catching a fish is almost guaranteed. I say almost because my friend Monica didn't catch one until we were almost ready to leave at 1:30 PM. But myself and the girls pulled up several tilapia each.
The Alii Agriculture Farms website and menu both say that there are tilapia, channel catfish, and grass carp in these ponds. While I can't vouch for the catfish and grass carp, the tilapia are plentiful and seem to be a mix of Hawaiian Gold and Nile tilapia. Their menu does offer catfish and grass carp though, so they're probably just hiding!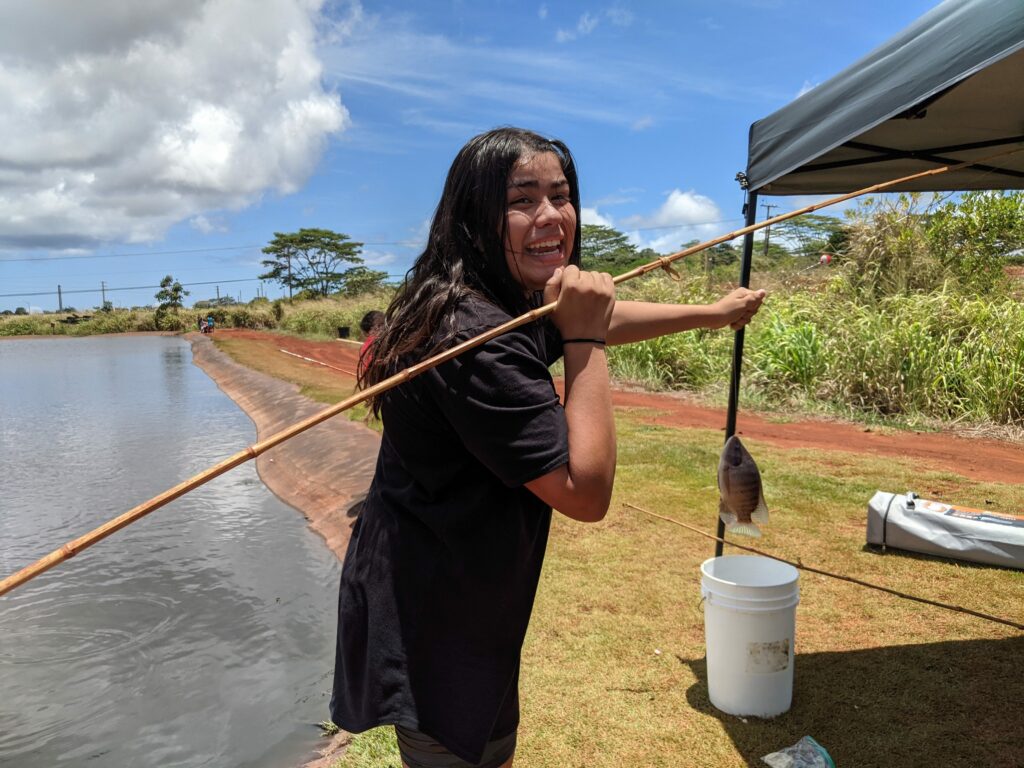 With your $18, you get one bamboo pole and a bag of dough for bait. While you can buy more bait, you really don't need it. All four of us had a hard time finishing it all up and towards the end our baits were getting bigger and bigger in an attempt to use them up. You'll find out pretty quickly that the dough gets gobbled up fast so a lot of your time will be spent rebaiting your hook and grumbling at all the little fish nibbling at your bait. The girls and I experimented with different sizes, but in my opinion you don't want to make it too big or it just becomes waterlogged and falls off easily.
From the time we started fishing at about 11:30 AM, the fish continued to bite until about 1:00 PM. I noticed a significant decrease in bites after that even with the smaller fish. My guess is that after 1:00 PM it gets really hot and the fish get a bit drowsy until it cools down a bit. Not to mention they've been nibbling on bait all morning so most of them are probably full and not hungry. There's a reason why fishermen fish in the mornings and evenings here in Hawaii.
Local Tip: If you are going to come out here to fish, I recommend coming out early when they open to take advantage of the cooler temperature and potential catch for larger fish.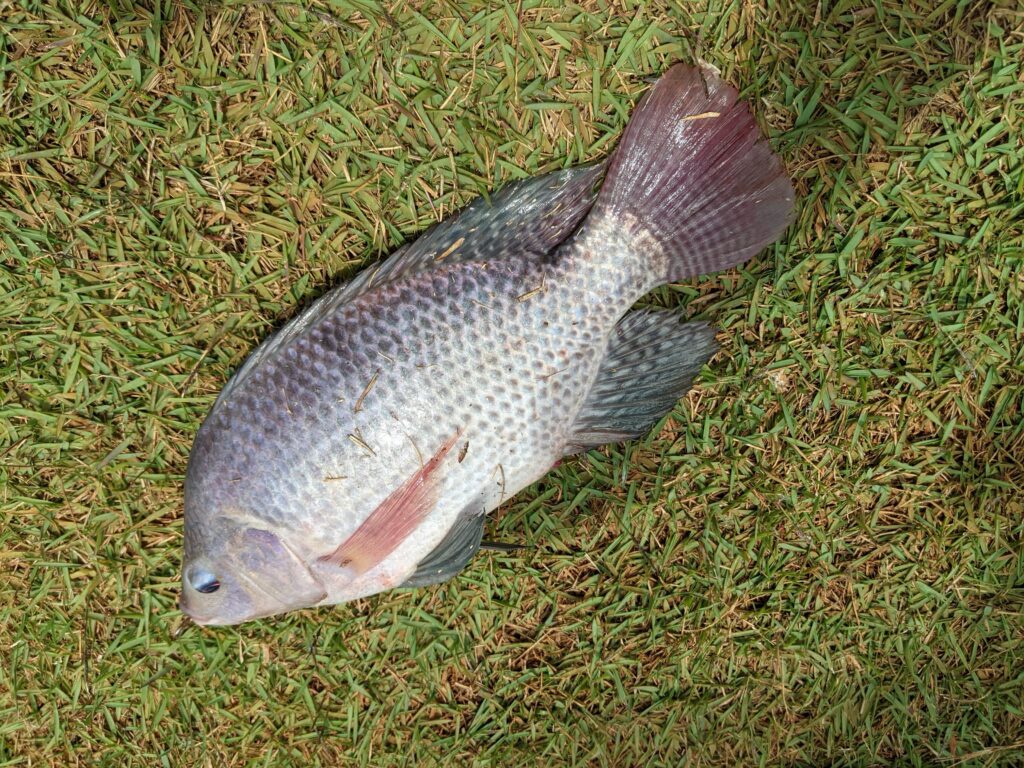 Lunch
We packed up our tent and gathered our poles and bucket of 4 tilapia. Once we put all of our things in the car, we returned our fishing poles and handed over our fish to the lady in the office who was surprised that we managed to catch 3 big tilapia. The girls beamed, which was nice to see, and we had a look at the menu. We ordered 3 deep-fried fish: black bean, sweet chili, and sweet 'n' sour sauces; and 1 steamed fish garnished with cilantro, ginger, green onion, shoyu, and garlic.
Hawaii Recipes: Shoyu And Tofu Whole Fish With Ginger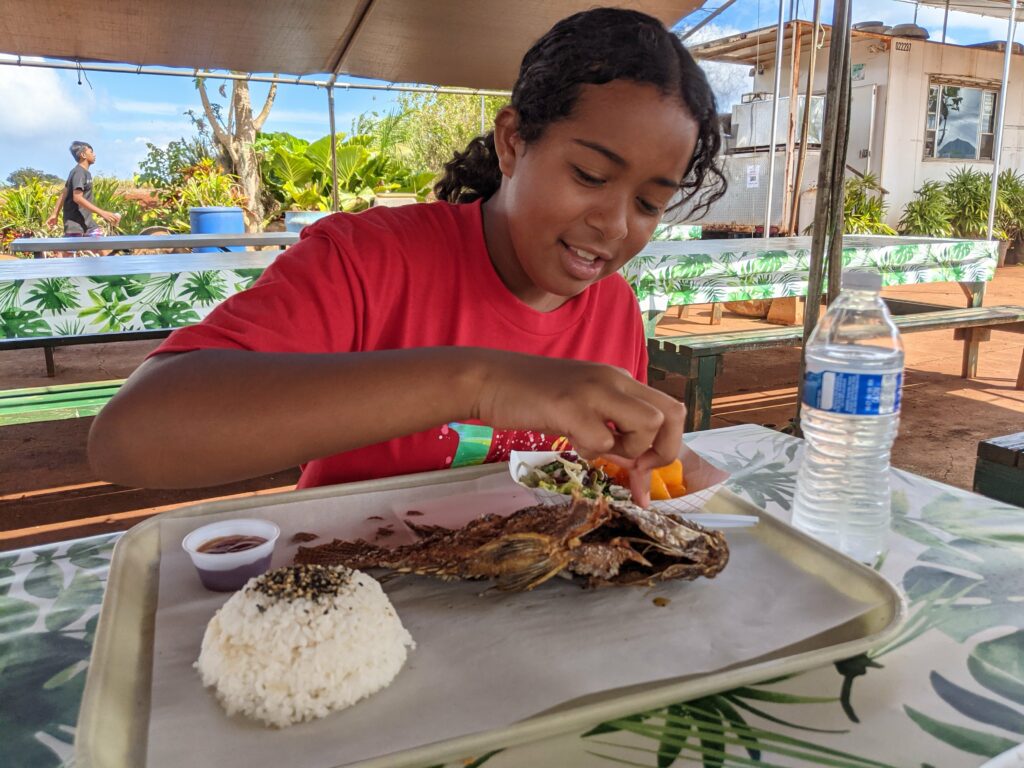 The girls had never gone fishing before and had also never eaten fish whole. But I was pleasantly surprised when they dug into their catches of the day without a complaint. They even hunted for the small bits of meat around the head and it felt good that we could show them what "working for your food" meant. They polished off their fish, rice, and salads and we ended the meal with $1.00 ice cream bars.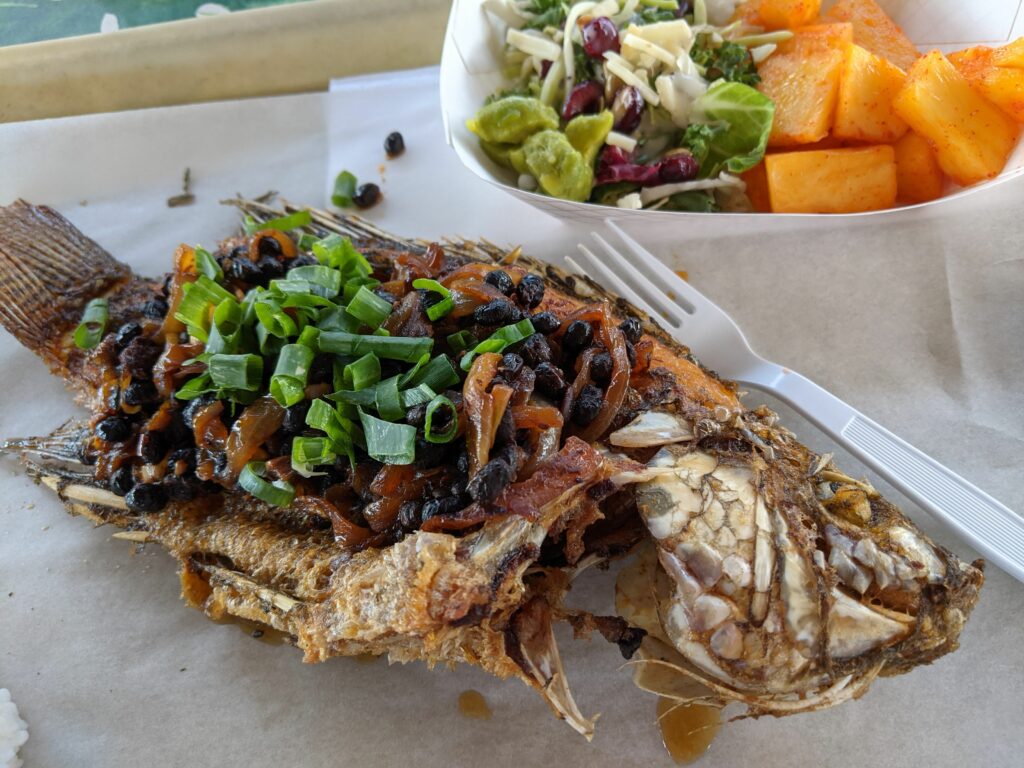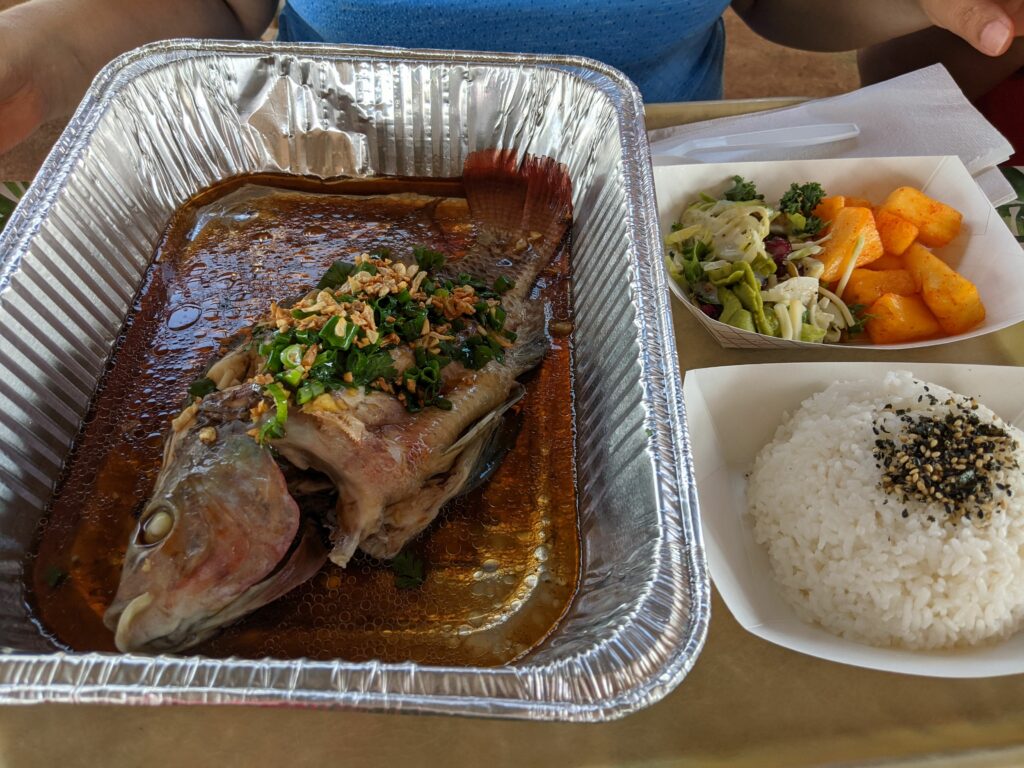 I had a bite of the steamed tilapia, which came out juicy and moist and the flavor was reminiscent of the Chinese-style for cooking whole fish. The ginger added that fresh zing to it and the sauce went perfectly with the rice. The girls and I enjoyed our fried fish (each with a different sauce) and I was surprised that even some of the bones were edible. In my experience the bones for bigger fish are too thick to eat when fried – which is why I love small fried fish – everything is edible! The girls agreed that they liked the sweet chili sauce the best (Mae Ploy chili sauce most often used locally as a lumpia dip). I myself ordered the black bean sauce, which I believe is more of a traditional Filipino-style recipe and had a stronger flavor, which I found very tasty.
Review
Despite the price tag of about $30 per person (entrance fee + pounds of fish + meal) this was a super fun experience for me. I have all the fishing equipment and experience to go fishing at the beach. But this provided a way for me to introduce fishing to the girls without worrying about bait, poles, safety, location, food, drinks, parking, and the general beach traffic. Plus, if it turned out the girls didn't like the experience, we could just pack up and eat lunch a little earlier.
But I felt like everyone had a lot of fun with this unique outing. It was something different and lunch was incredibly yummy. Would I do this often and all the time? Probably not. Fishing at the beach is cheaper, cooler and more of a meditative experience for me. But would I come here again as something fun to do? Definitely, yes!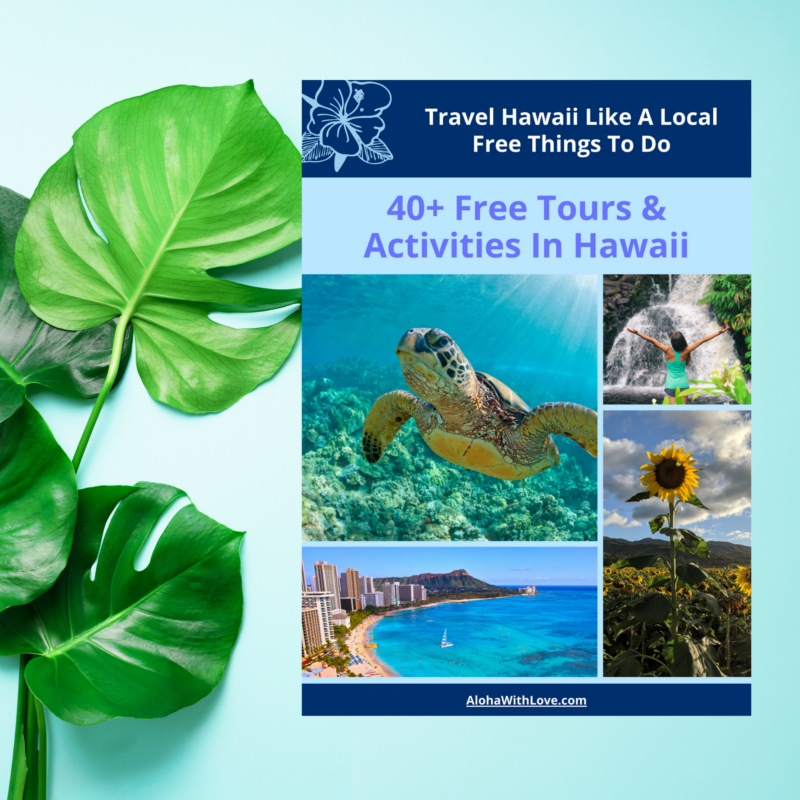 Want to go on a free tour in Hawaii?