This post may contain affiliate links, which means I'll earn a small commission if you purchase something through these links. You won't pay any extra; instead, you'll be helping Aloha With Love to thrive. Thank you! Learn more.
COVID-19 has affected many of Hawaii's businesses and events. Please double check their dates and times before you go or make plans. Visit HawaiiCOVID19.com for more information.
--
Fishcake keeps very well in the freezer and Mom always has several of them on hand to toss into whatever soup she's making. They're soft and easy to eat and the flavors are mild compared to other meaty proteins. Since fishcake is already cooked, you can include them in salads and it doesn't take long to heat up in a stew, stir fry, or soup. You can even eat these as a cold side dish on the side. Just break open the package and slice them up – it's that easy. There is a huge variety out there and the best part is that they're usually affordable.
Aloha with love,
Amy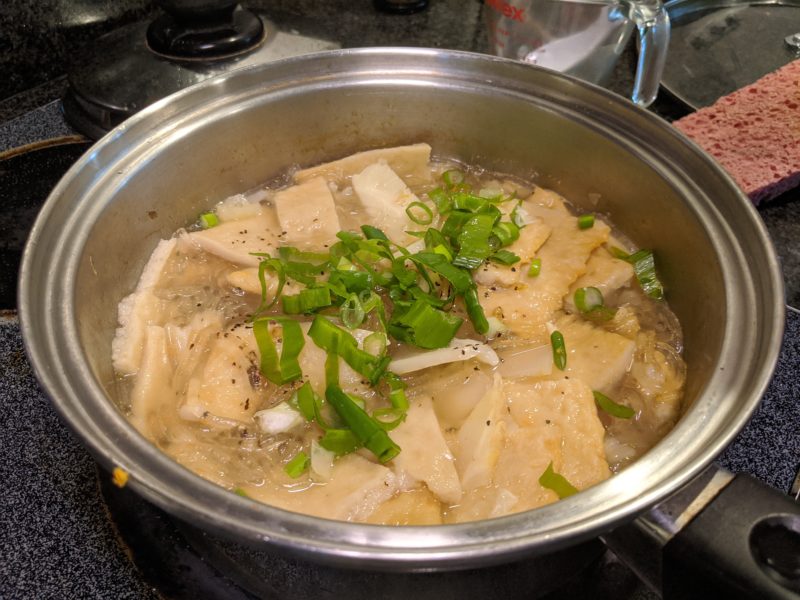 Ingredients
1

can

chicken stock

1

package

fishcake

1

bunch

long rice

Presoak to soften.

1

tomato

1

handful

cabbage

1

tbsp

shoyu

1

tsp

salt

1

tsp

pepper

tsp

sesame seed oil

1

handful

green onions

Chopped.
Instructions
Presoak the long rice noodles in a bowl of water for at least 15 minutes.

Add chicken stock to the pot. Mom used chicken stock that she made earlier in the week. If you are using canned chicken stock, use 1 can of chicken stock, then fill it up with water and pour that into the pot, too.

Cut your fishcake into bite-sized pieces and add to the pot. Mom added about 4 handfuls of this flat fishcake that she found at Don Quijote.

Take the long rice from the bowl of water and cut it into shorter lengths. This will make it easier to scoop the noodles from the pot. Add to the pot.

Add one peeled tomato to the pot.

Note: We can never finish all of the tomatoes in those big Costco containers. Mom stores a few in the freezer and when she needs it, she'll take one out and rinse it underwater. The skin should peel right off.

Cut up some cabbage and add it to the pot. Adjust the temperature to high. Once the soup begins to boil, lower the temperature to simmer and cover the pot. Leave the lid slightly open to allow the steam to escape.

Note: The cores of head cabbages are fantastic for soup. For this soup, she brought out a few she had saved in the fridge and sliced them up. They have a more starchy texture to them which matches well with this soup.

After about 20 minutes, open the lid and add salt, pepper, shoyu, and sesame seed oil to taste. Turn the stove off and add the chopped green onions.
Notes
There is a huge variety of fishcakes sold at most groceries in Hawaii. Find your favorite (or whatever is one sale) and add it to this simple, but tasty soup.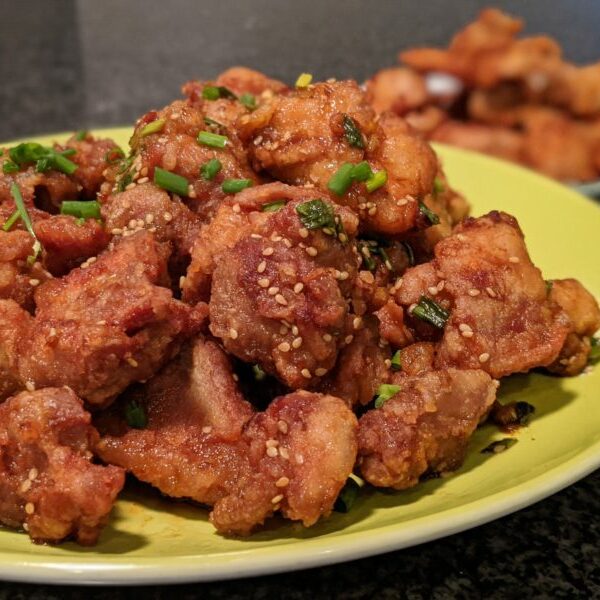 Get my latest recipes with a spoonful of aloha!