This post may contain affiliate links, which means I'll earn a small commission if you purchase something through these links. You won't pay any extra; instead, you'll be helping Aloha With Love to thrive. Thank you! Learn more.
COVID-19 has affected many of Hawaii's businesses and events. Please double check their dates and times before you go or make plans. Visit HawaiiCOVID19.com for more information.
--
I'm not at all affiliated with any religion, but I am a fan of authentic Thai food. I visited Thailand by myself for a month in 2013 and I figured out pretty quickly that Thai food is one of my favorite foods ever. A good Thai friend asked if I'd ever been to this Pearl City temple and my reaction was a common one: there's a Thai temple in Pearl City?
Here's what I thought about the Thai Buddhist Temple of Hawaii's once-a-month weekend food sale!
Aloha with love,
Amy
About
Thai Buddhist Temple of Hawaii
96-130 Farrington Highway
Pearl City, HI 96782
More than their website (which doesn't usually work), use their official Facebook page for information on upcoming events.
$$-$$$. Most dishes are "family-style" and will cost you $10 for one plate or bowl. Most people will buy a variety and bring it home to last them several days.
You can also come here to make merit and offer food.
Finding the temple
The Thai name for this Buddhist temple is Wat Buddhajakramongkolvararam. Located behind Home Depot in Pearl City, the only way to reach this temple is on Farrington Highway before it intersects with Kamehameha Highway near Sam's Club.
Look for a metal fence and some flags on the right. If you're here for an event (or their food sale) there are usually cars parked on the side of the road. Parking can be tight on the grounds so if you see an open spot, take it. Otherwise you'll find yourself making a big circle to get back to the entrance.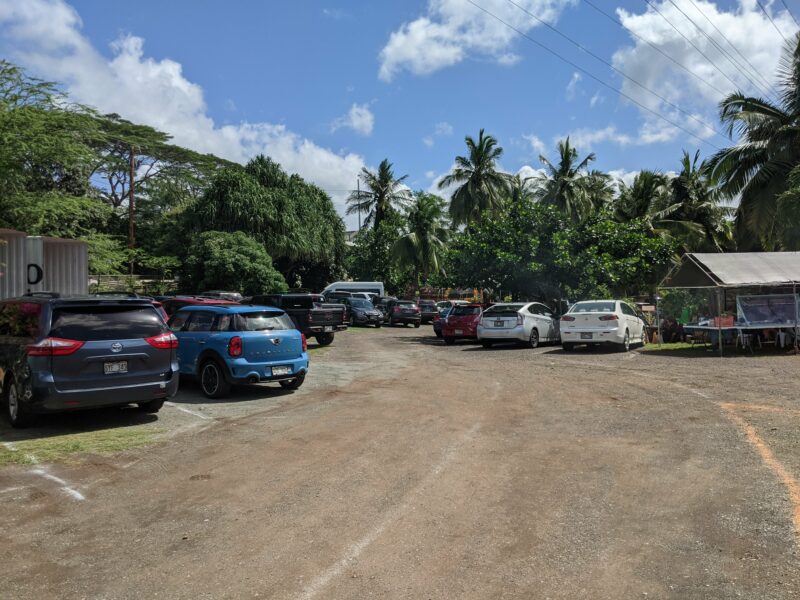 The grounds are very pleasant, too. There's a nice koi pond and a few picnic tables where you can sit, eat, and talk story with friends. It's a bit harder to explore the grounds when there is a food sale going on (the parked cars tend to corral you in the main eating area), so if you're thinking of visit on a quiet day, it makes for a fun diversion.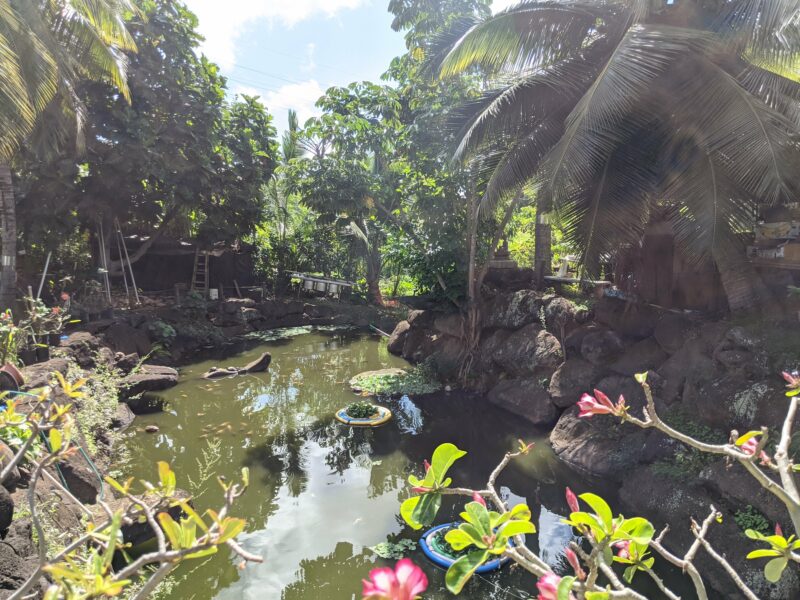 Food and booths
About once a month, the temple hosts a big food sale full of Thai food. The wooden booths fill up with food, picnic tables become crowded with hungry people, and the wonderful scents of Thai spices fill the air. There's plenty to choose from and while many people grab a bite to eat, many order extra to bring home.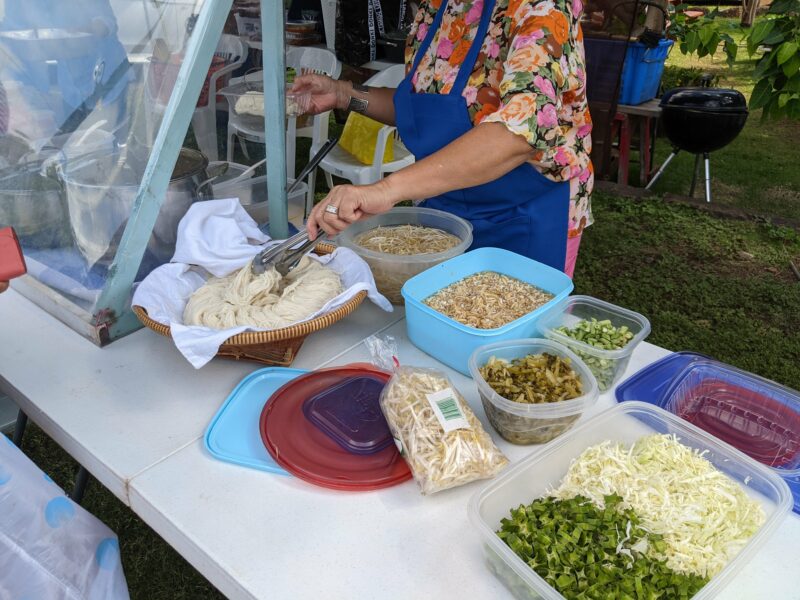 Big tents provide plenty of shade and each booth is loaded with an assortment of foods, snacks, and desserts. Much of the writing is in Thai and you'll mostly hear Thai being spoken within the booths. It's easiest to just point to what you want, but everyone will switch to English with no problem.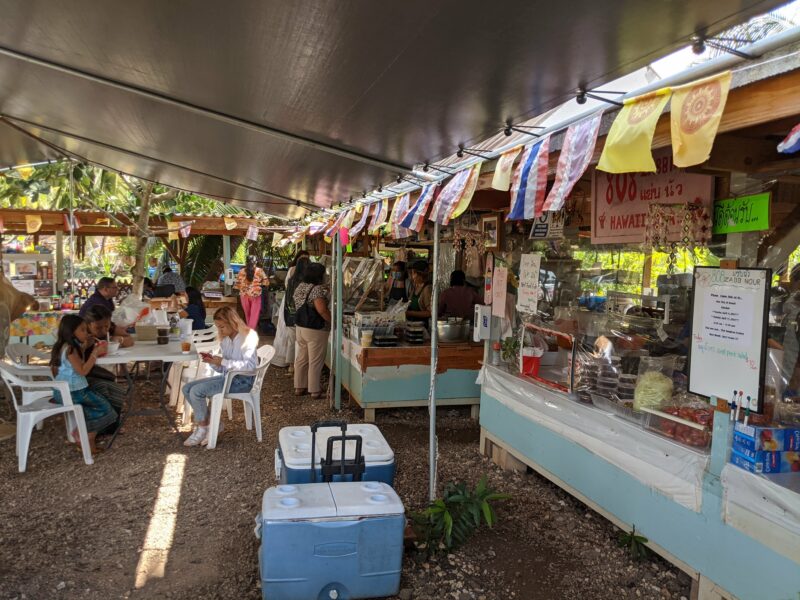 Besides pad thai and green papaya salad, I'm not too familiar with the names of Thai food. So when my friend asked what I wanted, I told her I want foods that were "real Thai food". No pad thai for me – I wanted something that Thai people were familiar with.
She gladly took up the challenge. The first thing I purchased was tilapia covered in a thick spicy paste. It was very savory with plenty of heat and went well with some fresh rice at home.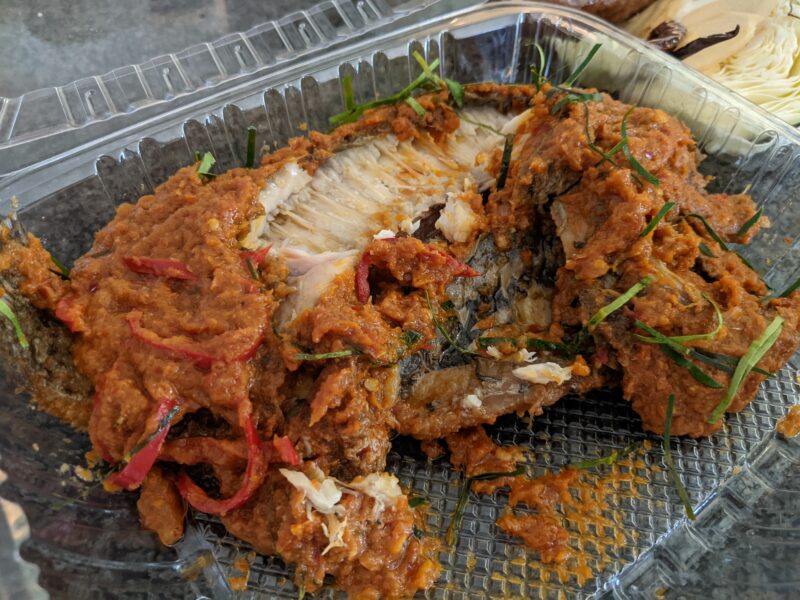 While at the temple, my friend and I decided to have an early lunch of pork noodle soup. This is similar to pho, but with a sweeter broth. We chose our noodles and I went for the thickest ones they had. We sat on a picnic bench near the koi pond and slurped it all down in just a few minutes.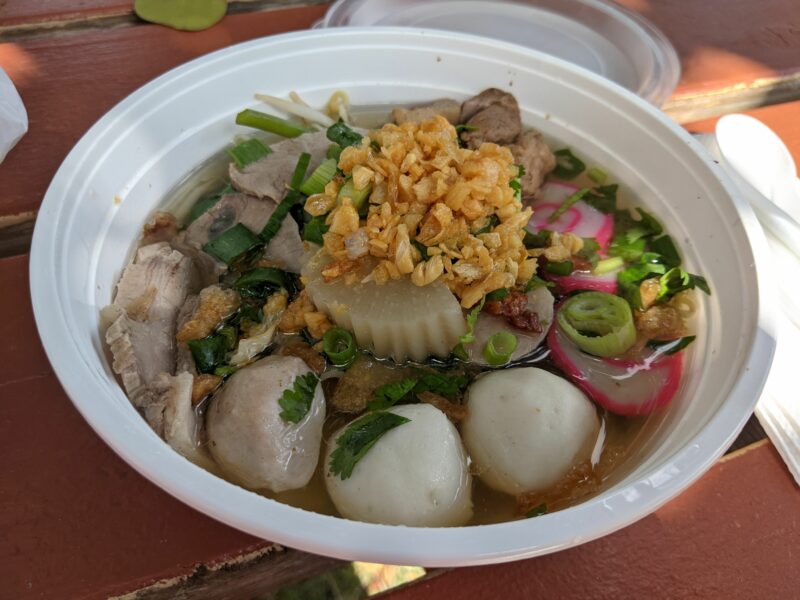 A popular favorite are the hot sausages that are grilled right outside next to the picnic benches. With almost a sweet and sour flavor to them, it's a unique taste that attracts a long line of people and can take up to 10 – 15 minutes when they're really busy. My friend suggested I eat the sausages with the pickled ginger and cabbage served with them and she was right! The vegetables cut through the grease, giving the sausage a nice balance of flavors.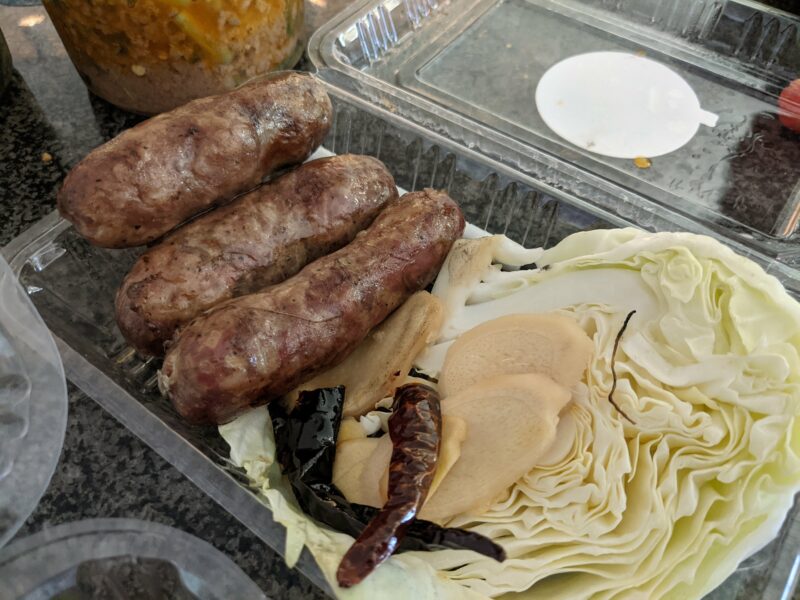 I ordered a couple of other items: a spicy coconut curry and a spicy pork and green bean stir fry. Both were great and I ended up spending $50 total ($10 per dish) and bringing everything home to share with the rest of my family. We finished it up in about 2 days so the food lasted us quite a while. I noticed a lot of other people bulk ordering and packing it in boxes to bring home, so it seems like this is a regular thing to do here.
Review
Have cash on hand and make sure you have plenty of $10 bills as most everything costs $10. I also recommend coming here early because parking does fill up fast! We were one of the first to park outside of the entrance and within the hour there was very little seating and the lines were longer.
Overall, if you're a fan of Thai food, it's worth finding your way out here at least once. The best is if you can come on a holiday celebration, as that's when all the booths are filled up and ready to take your order. Unfortunately, the dessert both was out of action this day so I'll be looking forward to it on my next visit!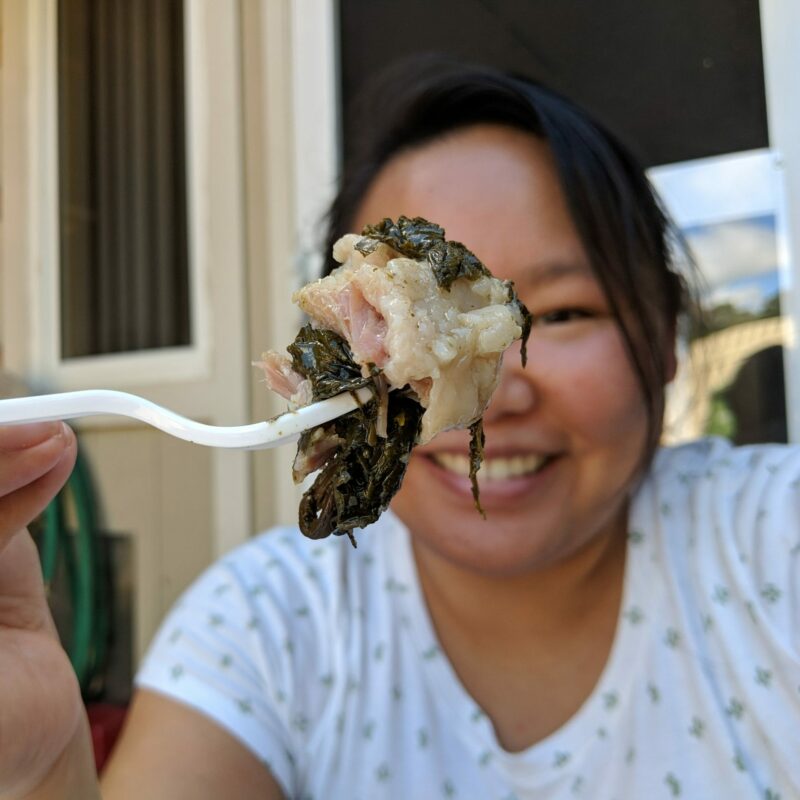 Discover more restaurants, bars, cheap eats, and mom-n-pop shops in Hawaii!