This post may contain affiliate links, which means I'll earn a small commission if you purchase something through these links. You won't pay any extra; instead, you'll be helping Aloha With Love to thrive. Thank you! Learn more.
COVID-19 has affected many of Hawaii's businesses and events. Please double check their dates and times before you go or make plans. Visit HawaiiCOVID19.com for more information.
--
For those staying in Waikiki and looking for an easy 2-hour tour that delves into the history and wildlife of Waikiki, the East Waikiki Walking Tour by Hawaii Walks is a tour you should really consider. Hawaii Walks is owned by Jay, a self-proclaimed "bird nerd" and a walking textbook for Hawaiian history. By weaving history with the Waikiki wildlife, she pulled me into a unique perspective of Hawaii that stands apart from other historical tours.
Jay came to Hawaii in 2009 from Atlanta, Georgia, and since then she's been a voracious student of Hawaiian culture and history. Using her background learning from scholars and texts from indigenous Pacific Islanders, she'll open your eyes to a history that is typically obscured. Part of her tours cover the displacement, colonialism, and the experiences of both Pacific and the Hawaiian people. She's even written a few articles on the Micronesian diaspora here in Hawaii!
On the wild side, it was exciting to discover nature right in Waikiki. You'd think that a tourist hub would be the last place for bird-watching and seal-spotting, but Jay has made wildlife her second love. She pointed out birds that I've never noticed in Waikiki and tied together the history of birds and the islands to give me a complete understanding to Hawaii.
Aloha with love,
Amy
I Got A Bird ID Card!
Maybe I'm just weird but I LOVED that Jay provided us with a Bird ID card – and it's a literal card. No cheap, flimsy paper here. This was a thick, stiff, smooth, and long-lasting card that I took home and displayed as a neat little memory of my Waikiki walking tour. The interactive card allows you to keep track of how many indigenous and endemic birds you'll see flying in Waikiki and I found myself writing in checkmarks throughout the entire tour. Fun!
Included on the Bird ID Card is a nice map of where you'll be walking and the points of interests that you'll pass along the way. A few stops include a chance to see a Hawaiian monk seal, the War Memorial Natatorium, Diamond Head, and even an ice cream break in the shade (mochi ice cream for the win!).
Local Tip: This is a fantastic way to keep kids occupied if the historical tour is too much for them. They can mark up their card because the birds are everywhere if you just take the time to look. Even I was surprised at the variety of birds flying around in Waikiki. Plus, kids 12 and under are free, so this is a free, educational and fun activity for them.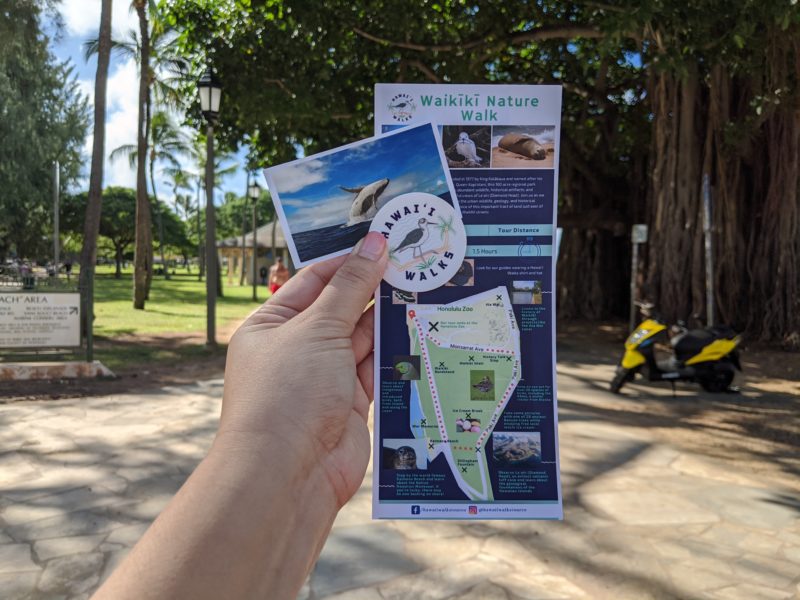 East Waikiki Walking Tour Highlights
One of my favorite parts in this Hawaii Walks Tour was when Jay pointed out the Manu O Ku (white tern), a native Hawaiian seabird that flies in sync as a mated pair. They were delightful to spot above us as they mirrored their partners and flirted while flying. We learned that the trees with nesting Manu O Ku were clearly marked and since they don't make nests, we could see the chicks right from the ground! Once we learned which trees had nesting Manu O Ku, Mom and I searched a few other trees after the tour to see if we could spot a few more. It was a great way to continue to explore Waikiki even after the tour had finished.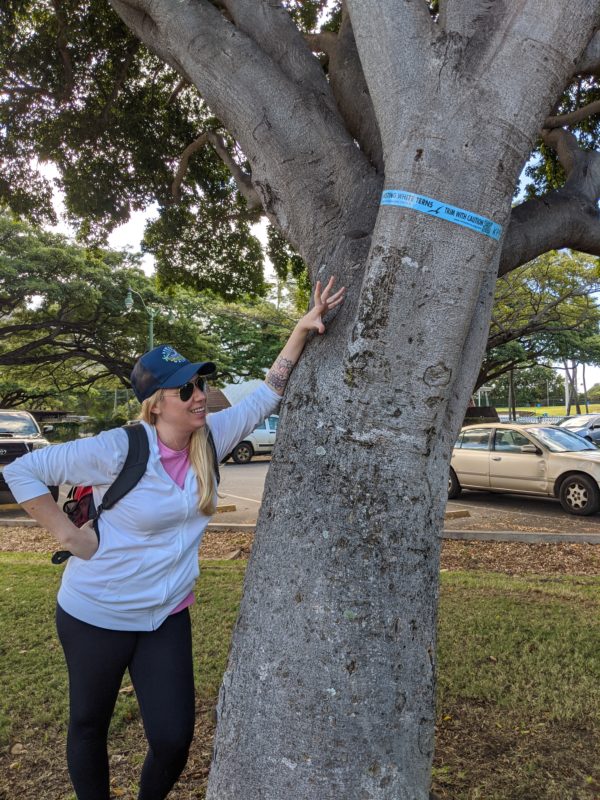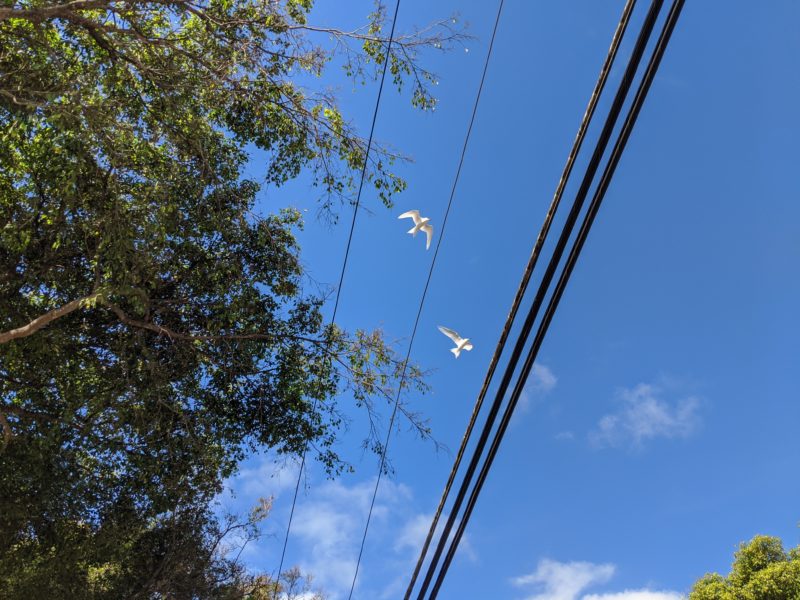 Besides catching sight of the local wildlife, Jay dedicated much of the tour to the history of the Hawaiian Islands and Waikiki. With her expansive knowledge and passion for sharing what she has learned during her time in the islands, she's able to offer a complete narrative of the "whys" and "hows" of Hawaiian history. She spoke in depth about rebellions, cultural beliefs, and even geographical changes that affected nature and even recent Hawaiian history.
I really enjoyed myself when Jay got into the dirty, dirty details of Waikiki itself. Sometimes when you go on a historical tour of Hawaii, the facts are generalized and the tiny details that had a hand in creating those big turn of events are glossed over. It was neat when we stopped at seemingly mundane places and Jay could step us back in time to witness moments in Waikiki history. It really is a gift when someone can make you feel the urgency and anxiety that was felt in Hawaii throughout the 1800s and 1900s.
Local Tip: Around the middle of our tour, Jay had us take a break and sit under the shade of a large monkeypod tree at a picnic table. She shared some mochi ice cream with us – a local treat I remember growing up with as a kid. Mmm…just as good as I remember!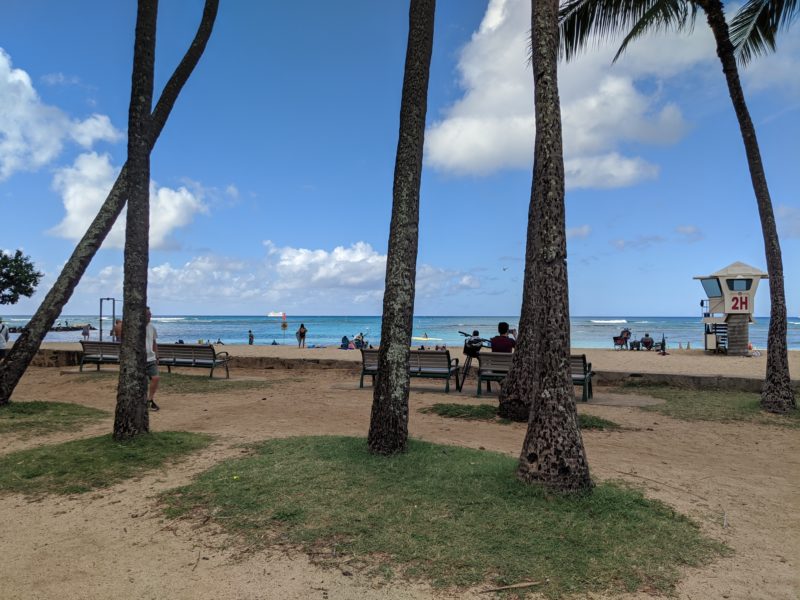 How Much Walking Do You Actually Do?
The tour itself is estimated at 1.5 hours for 2 miles, which was what our tour ended up being. It didn't feel rushed at all and Jay has no problem going at your pace. Asking her questions won't slow her down. She has her history nailed and the amount of information stored in her head is mind-boggling especially when she shows you how everything connects.
Jay had us meet at the "Surfer on a Wave" statue, which is located across the street from The Honolulu Zoo entrance. From there you'll head east on the sidewalk (away from the main hub of Waikiki). You don't have to worry about getting tired on this tour. There are plenty of stops under large trees so you'll be able to avoid the harsh rays of the sun. Once the sidewalk ends, there is a half-dirt/half-sand area at the very end, which is still manageable for those who have difficulty walking. Wheelchairs and strollers would also have no problem here, too.
There is one part that I think would be a challenge for those on wheels, which would be Kapiolani Park. You'll be crossing the park at some point and the grass can halt your navigation. However, I don't think this would be a problem for Jay. She can easily adapt to the situation as proven by how quick she can jump topics and build on whatever question(s) I asked. Waikiki has a lot of sidewalks so I doubt a sudden change will rattle her. Just make sure you let her know about any physical limitations when you book your walking tour.
While most of the East Waikiki Walking Tour happens in the shade, I still recommend bringing a hat and wearing comfortable shoes. Slippers are fine to wear, but the grass in Kapiolani Park may still be wet from the morning's dew or the early morning showers, so be prepared to get your feet wet. A small bottle of water would be handy, but you'll pass a few public bathrooms and water fountains along the way if you need to rehydrate or take a bathroom break.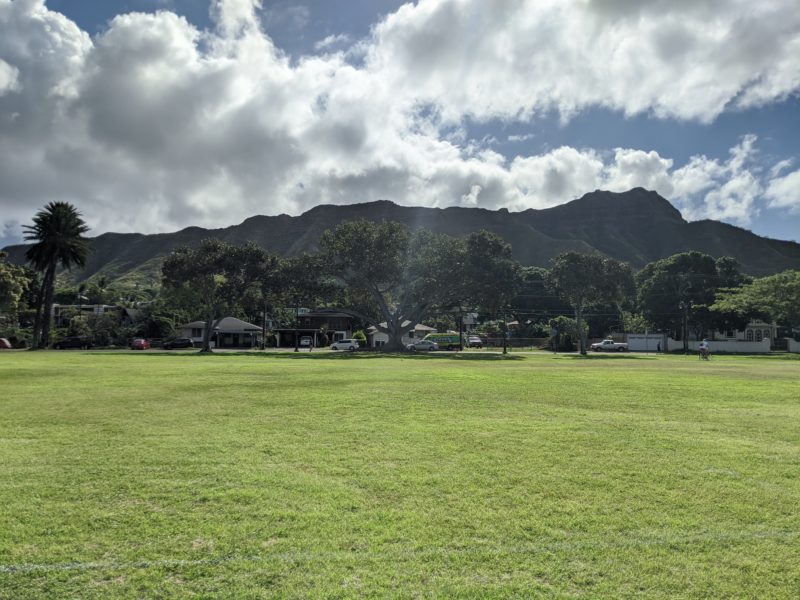 Why You Should Do This East Waikiki Walking Tour
First of all, the East Waikiki Walking Tour by Hawaii Walks is affordable – and that's sometimes hard to find in Waikiki. At the time of this post, it's $20 per person and children 12 and under are free. The Bird ID Card will keep kids occupied as they mark down which birds and how many they see during the walk. Jay can even identify the different birds by their chirp! Plus, your money goes towards not just Hawaii Walks the company, but also keeping an authentic experience alive in Hawaii. It's difficult enough to find a knowledgable tour guide, so finding one with a background in Hawaiian history and culture is a gold mine.
In general, Waikiki is understandably pretty crowded. Resorts line the shore and the beach sometimes feels like there are more people than sand. But the east side of Waikiki has much fewer people and it gets even quieter as you start walking inland into Kapiolani Park. This tour is a great way to explore nature outside of Waikiki's shopping malls, air-conditioned hotels, and people. It's easy to fit this tour into your morning after a relaxing breakfast without rushing. Getting to the meeting point is relatively easy, too. It's a straight shot by foot or you can hop on any bus headed toward the Honolulu Zoo.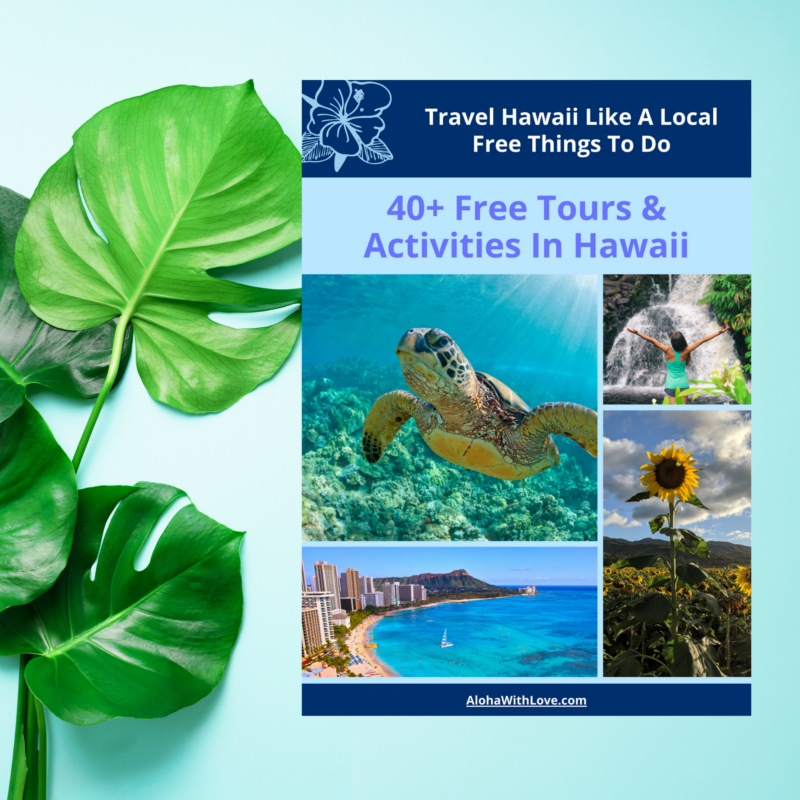 Want to go on a free tour in Hawaii?