This post may contain affiliate links, which means I'll earn a small commission if you purchase something through these links. You won't pay any extra; instead, you'll be helping Aloha With Love to thrive. Thank you! Learn more.
COVID-19 has affected many of Hawaii's businesses and events. Please double check their dates and times before you go or make plans. Visit HawaiiCOVID19.com for more information.
--
Dole Plantation is a gigantic attraction on Oahu that has taken the pineapple craze to the next level. It sits between the life-hardened town of Wahiawa and the packed beach town of Haleiwa on widespread plantation land as far as the eye can see. There are no cities or skyscrapers here. In fact, you'll barely see any houses before or after Dole Plantation. But what you will see are pineapples (and you'll probably smell them, too).
As a child, driving down to Haleiwa meant passing Dole Plantation. It also meant bombarding our noses with that strong, tart smell and flicking pineapple bugs out the window and hearing them hit our windshield. These days, the pineapple industry in Hawaii has finally come to a close and I don't remember the last time I saw a pineapple bug. But Dole Plantation has managed to create a fantastic family experience of the pineapple-picking days and you'll get historical facts, fun pineapple-everything souvenirs, food with pineapple in every bite, pineapple demonstrations and a variety of mini tours and attractions within this pineapple theme park.
Eat the dole whip!
Aloha with love,
Amy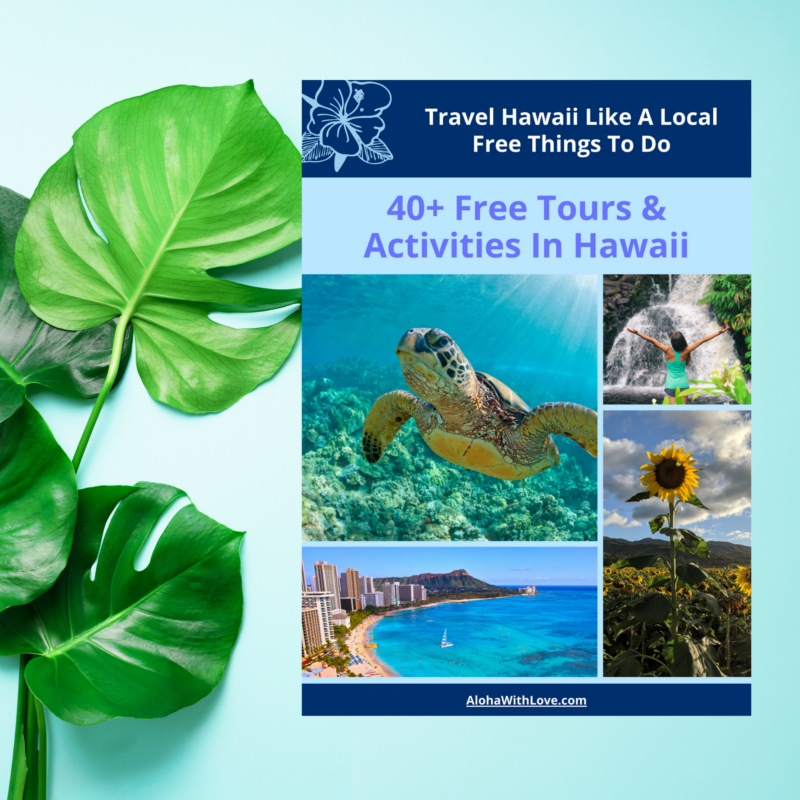 Want to go on a free tour in Hawaii?
Disclaimer: I worked at Dole Plantation for one summer during my college days. It was one of my first, real jobs that I had gotten myself and taught me all about cashiering and money-handling. So when you come to Dole and see where the cashiers stand, you can think to yourself "Ah, Amy was here." I'm also a HUGE pineapple fan. Just take a look at my business card!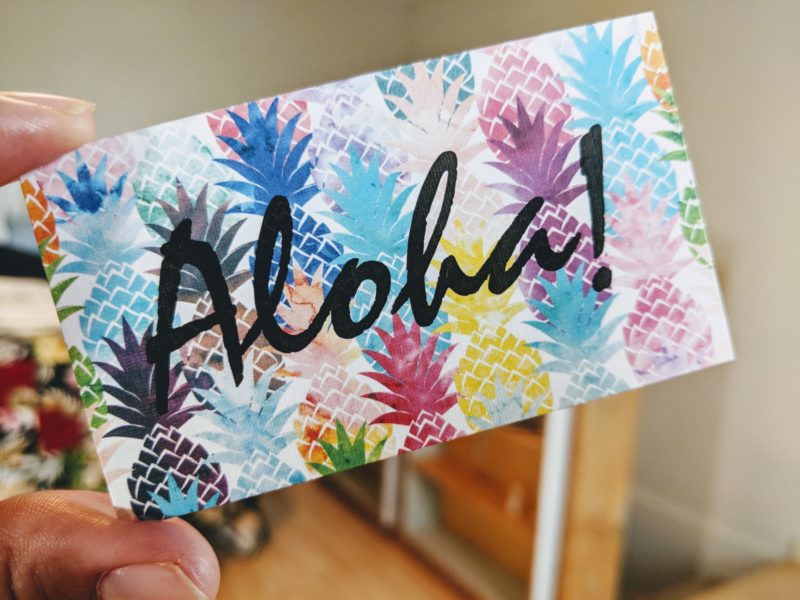 How To Get To Dole Plantation
Getting to Dole Plantation is pretty easy. There's only one road (Kamehameha Highway) that goes passed it and "Kam highway" goes around Oahu island…you really can't miss it because you'll get there eventually. From Waikiki, head out to Haleiwa/North Shore and stay on Kam highway until you see Dole Plantation on your right. Once you get out of Wahiawa and cross the bridge, you should arrive in about 5 minutes by car.
For the most part, parking isn't a problem. Yes, it gets busy and crowded, but as people come in, just as many people come out so wait around strategically and you should get a spot. I myself have gone several times on different days and times and have lived to tell the tale.
Need more info on Dole Plantation? Visit their site for more resources.
Dole Plantation is one of my main stops in my Oahu 1 week itinerary. Check this post out to get more ideas of things to do while you're in this area and on this island.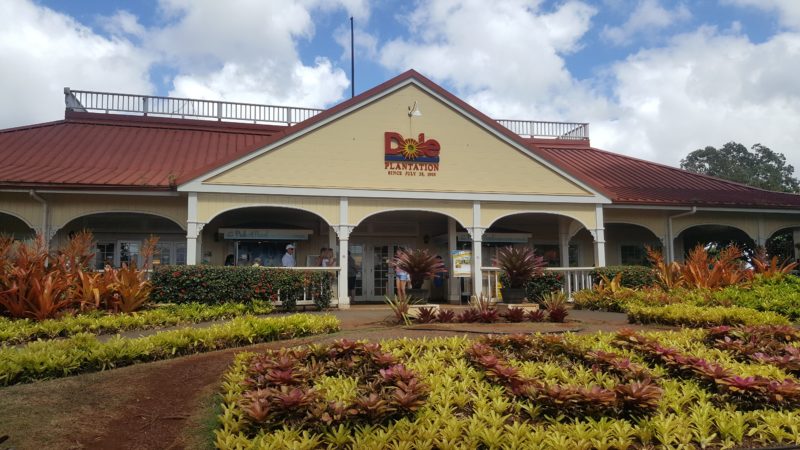 A Walk Around Dole Plantation
To the right you'll find the "garden" area that's filled with a variety of pineapple species ranging in size and color. It's really a cool pathway filled with a ton of Instagram-worthy pics because where else will you get to see growing pineapple up close? What may surprise you is that pineapples don't grow out of trees. This is a fun fact that gives locals the giggles since even imagining a pineapple in a tree is ridiculous.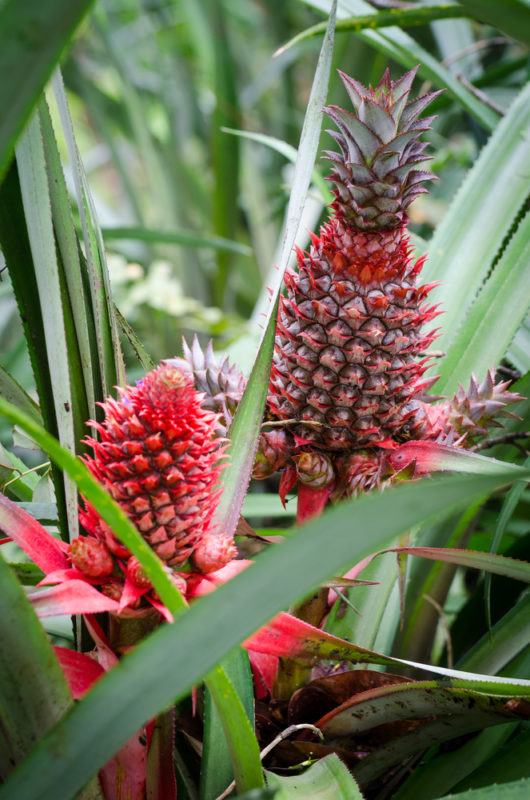 There's a fun fish feeding opportunity at the end that always drives children crazy because the fish are rather large and frantically climb on top of each other to get to that nugget of food you threw in. For me it sort of gives me the heebie-jeebies because there are just so many of them all at once; but, it's still cool to see in a "I can't help but look" kind of way.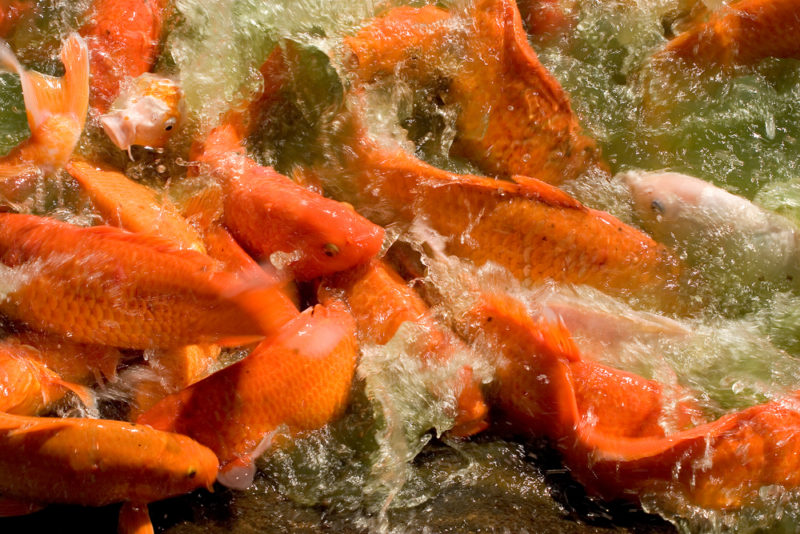 There are also several booths outside the perimeter selling knick-knack souvenirs like hand-painted wooden greetings, local jewelry and temporary tattoos – fun memories that probably have nothing to do with pineapples, but are worth a look anyway.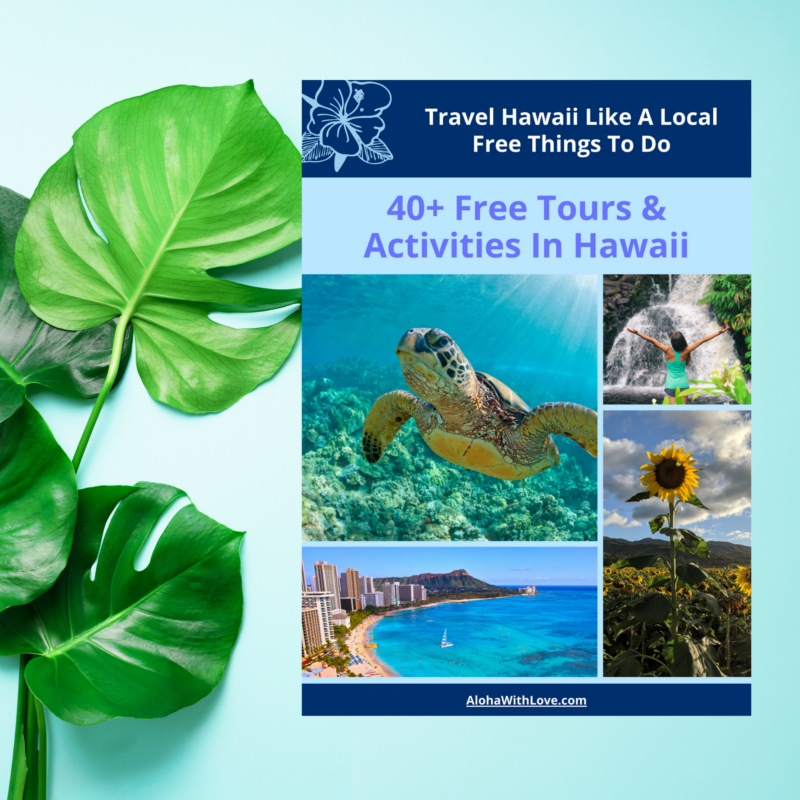 Want to go on a free tour in Hawaii?
Inside Dole Plantation – The Souvenirs
Be prepared to be bombarded by pineapples once you step into that air-conditioned building. Tart, pineapple scents, bright yellow blasting into your eyeballs, pineapple plushies in every bucket, barrel and shelf you can find – there will be no rest for the weary here, but it won't be a problem. For some reason, people can spend hours perusing the Dole Plantation goods from shelf to shelf. I think it has everything to do with that you can find almost anything in here in some kind of pineapple form. Just check out these pineapple-cow plushies!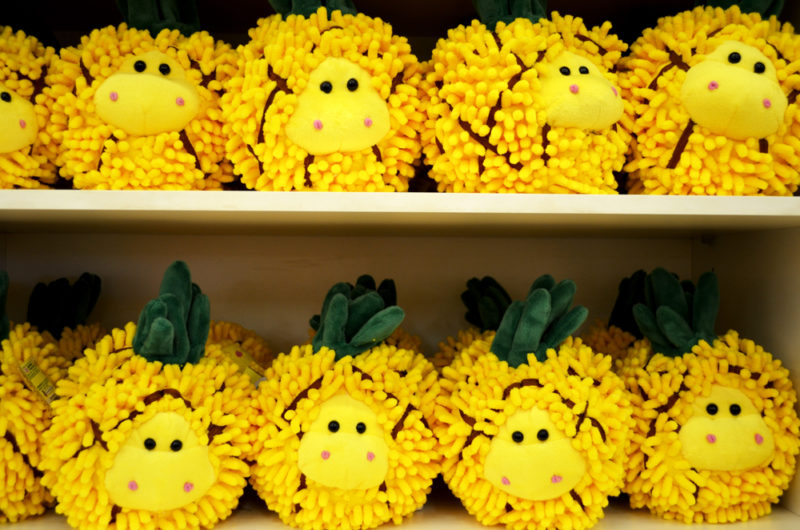 One of my favorite souvenirs are the pineapple hard candies and taffy they sell. It's really hard to find good pineapple-flavored treats even in Hawaii. Usually that strong pineapple tartness is watered down. Not so at Dole Plantation.
Hello Kitty fans can also rejoice. There are indeed Hello Kitty and Dole Plantation items that you can purchase if you're a collector. The designs change once in a while, but the Hello Kitty Pineapple Head has always been a popular hit.
Another product that flies under the radar is the Waialua coffee. The area that Dole Plantation sits in is called Waialua and in recent years, its coffee has climbed the charts. There is a coffee shop inside that uses Waialua beans so stop for a drink and try it out. And if you like it, grab a bag to bring home with you. You can also check out the Waialua Estate online shop.
There are also a couple of hourly demonstrations which I recommend you make some time for. The pineapple cutting is my favorite and you'll get a fresh treat at the end.
Local Tip: About a 5 minute drive from Dole Plantation is the Green World Coffee Farm – A tiny store that is jam-packed with premium green coffee beans! It was one of my stops on the Oahu Photography tour and it a recommended stop for coffee lovers. Lots of free samples!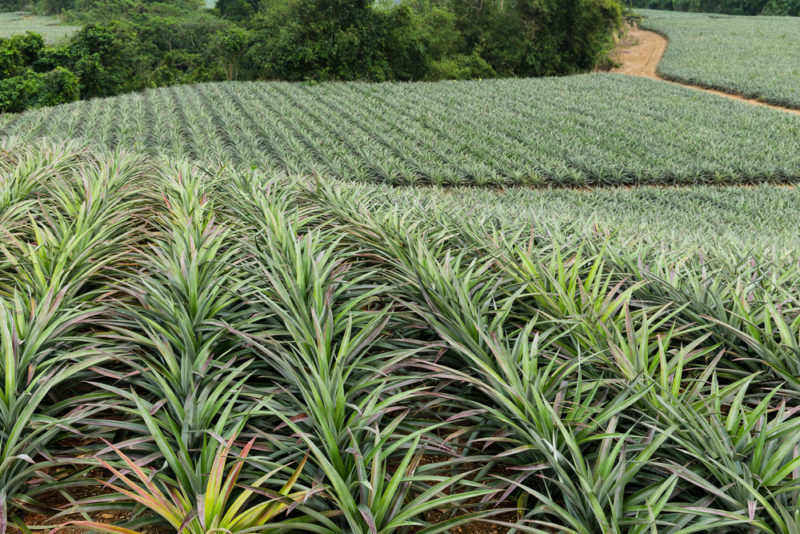 A really cool service at Dole Plantation is that you can order fresh pineapples to be shipped home, OR pick them up at the HNL airport to take home with you. They've already been inspected so the whole process is straightforward and streamlined. Plus, can you imagine bringing a box of fresh pineapples home to your friends and family? What an awesome souvenir!
Paid Tours And Activities – The Train, Garden Tour And Pineapple Maze
No attraction in Hawaii is complete without the paid tours. I've tried all of them at least once and the price certainly has gone up over the years. The most popular tour is the train tour and while $11 per person isn't that much, it starts to become ridiculously expensive when you're traveling with a group or family. But is it worth it?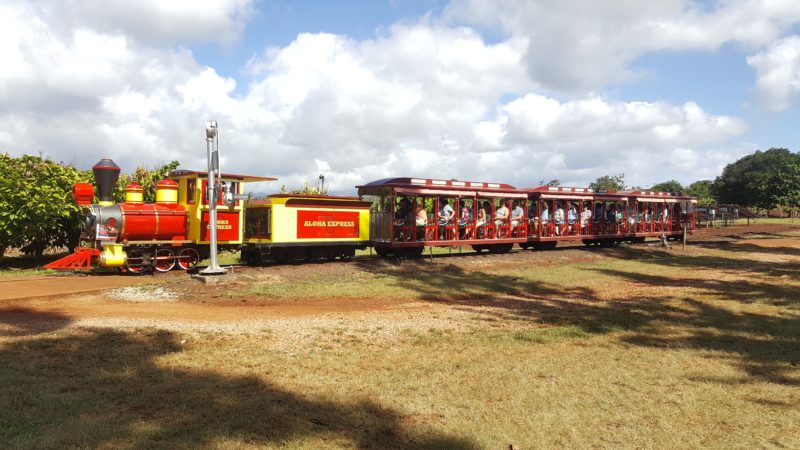 The train tour is an activity for everybody, young and old. It's probably the best family activity in Dole Plantation because it's a neat, informative, fact-filled ride where you'll get to see different plants, the reservoir and even the old machines that used to work alongside pineapple pickers. I enjoy it every time! For those who are more careful about their budget, don't despair! The train (and other activities) can be skipped without regret because you'll still have a fun time walking around. And if your kids really want to, watching the train come and go is a fun activity by itself.
The garden tour is better for adults (young kids tend to get bored) and I'd only recommend this tour if you love learning about plants and the fauna in Hawaii. Those with no interests in nature whatsoever may find this a time/money waster, but if you're really interested in the topic, it's worth it. The guides know all sorts of neat plant facts and you'll see the fake pineapple tree that has tricked many people into thinking pineapples grow on trees.
In 2008, Dole Plantation boasted the world's largest maze and it still attracts plenty of young families with children and energetic groups. In my experience, the families who go in knowing what to expect had the most fun. Expect getting lost, being under the sun, and understand that you have a mission to find several checkpoints throughout the maze.
The Menu And Dole Whip
Dole Plantation is actually a pretty good place to stop for a meal. They have a simple breakfast menu and there's plenty of pleasant outdoor seating. Lunch comes in the form of sandwiches, burgers, plate lunches, etc. (surprisingly it's a wide menu with local-style options), but I'd recommend finding some seating first before you stand in line for food.
Local Tip: If you can't get enough of pineapple, try the pineapple chili bowl or the pineapple chili dog topped with freshly diced pineapple.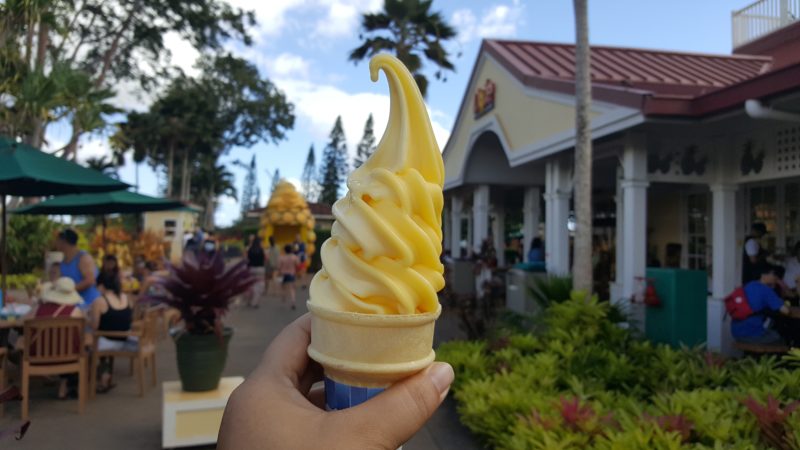 The Dole Whip is absolutely a must! The tang of pineapple bursts over your tongue and makes you pucker and smile while eating. There are a bunch of unique Dole Whip combinations with unique toppings such as the float or split, but a simple cone is enough to bring delight. If you really love that tangy flavor, try the li hing mui topping. This is a powdered, dried plum concoction that is popular among locals and I've been eating it since I was a kid.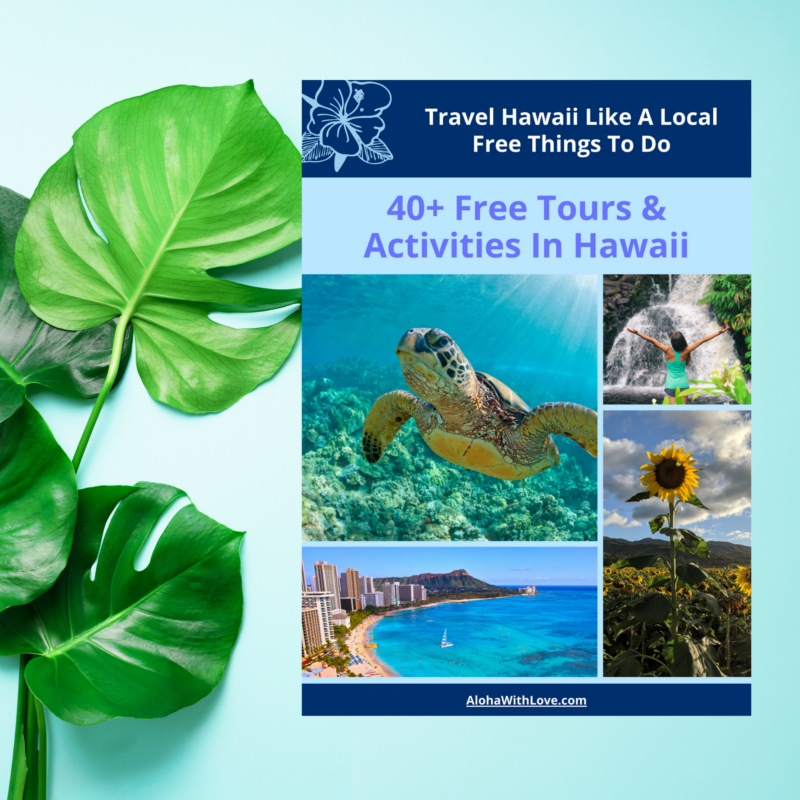 Want to go on a free tour in Hawaii?