As requested, here is what you can expect when you head over to this popular and iconic hike on Oahu, Hawaii. We'll go over the difficulty level, facilities available and what you'll need to bring in order to make your way to the top! 

Cost per individual: $1
Parking: Yes
Restrooms: Yes
Refreshments: 1 food truck with mostly beverages and cold treats
Safety: Good
Difficulty: Relatively easy for the average person
Kid-friendly: Yes
Water: 1 regular-sized water bottle (for the average person)
Local Tip: If you don't like crowds, then get here early or late. I find Diamond Head to be the most crowded from 11 AM to 2 PM. These pictures were taken between 11 AM and 1 PM. Also, if you easily get claustrophobic, make sure you read about the hike's tunnel before you start the trek up.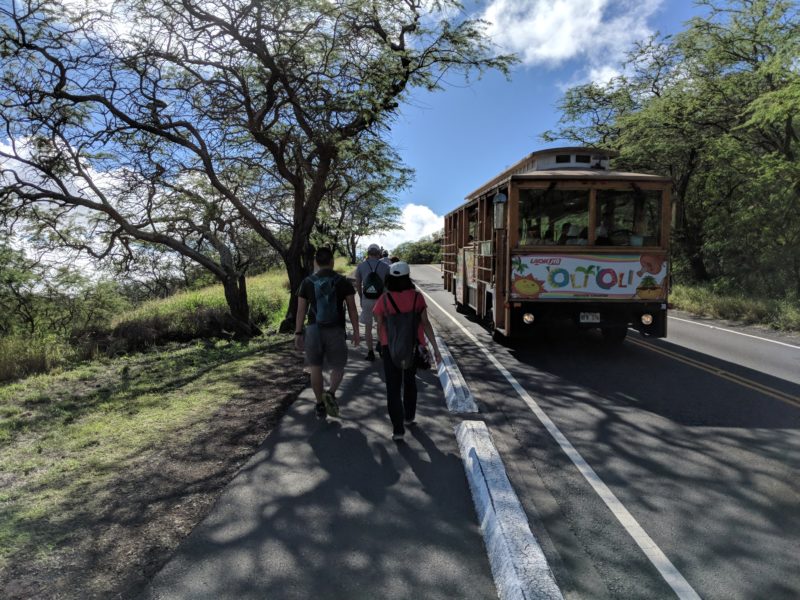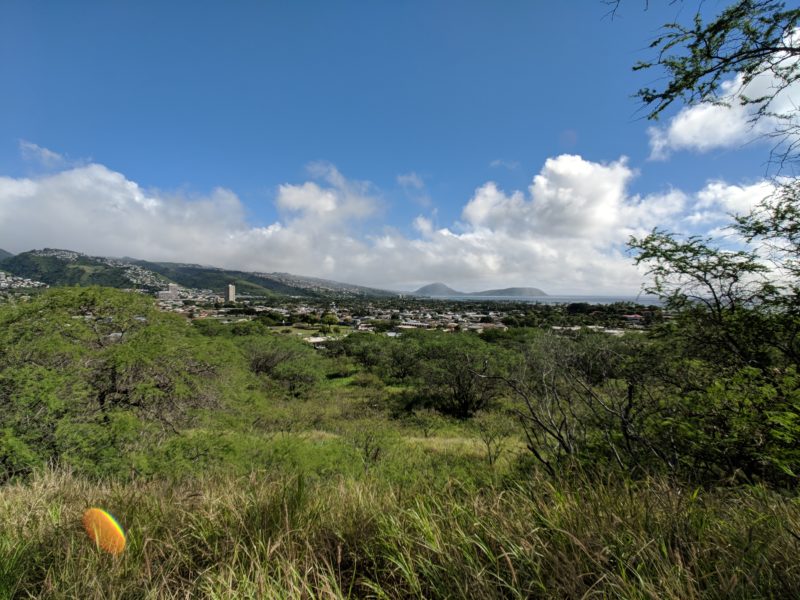 You have 2 parking options: inside the crater and outside the crater. While the inside of the crater will be that much closer to the trailhead, there is a $5 fee for vehicles. This parking lot also fills up fast during peak hours so you may have no choice but to park outside at the Kapiolani Community College parking lots. Parking outside will add 15-20 minutes each way, but the parking is free, the walk is easy and you'll have beautiful views from a spacious lookout.
Local Tip: Twice a week the KCC Farmers' Market takes place here so figure that crowd into your parking plans. Click HERE to read all about this popular market.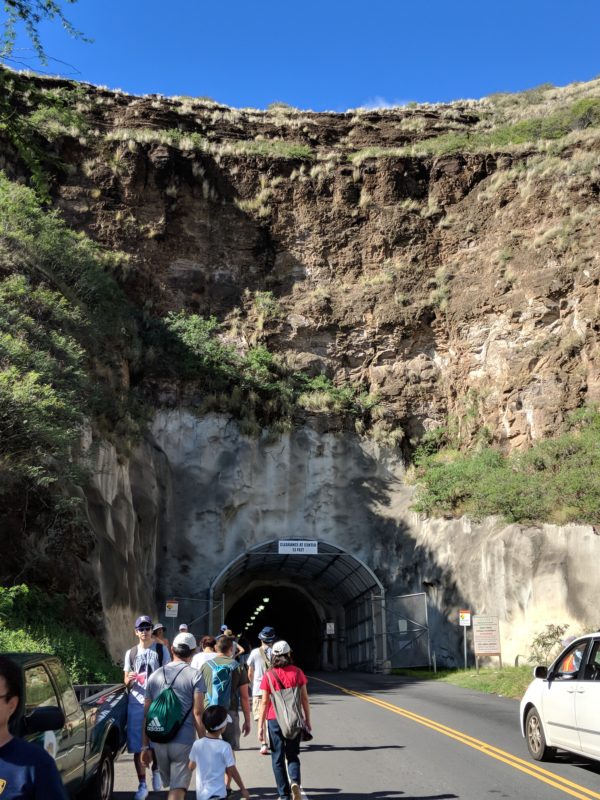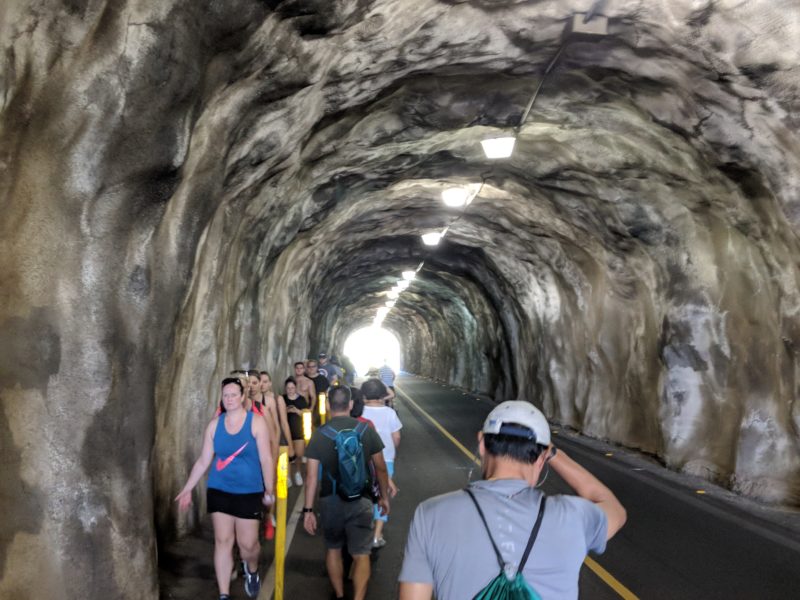 Entrance into the crater can be a bit tricky. Everyone walks on one side, which forces the two lane road to be a one lane. While there was plenty of space and I didn't feel in danger, I'd still recommend keeping an eye out on the cars since they take turns entering and exiting.
Once you come out of the tunnel, you'll have this spectacular snapshot to look forward to. The tunnel falls away behind you and the crater walls fill up your vision for a magnificent 360 degree view. From here it's only about a 5 minute walk to the entrance of the parking lot where you'll pay your $1 entrance fee.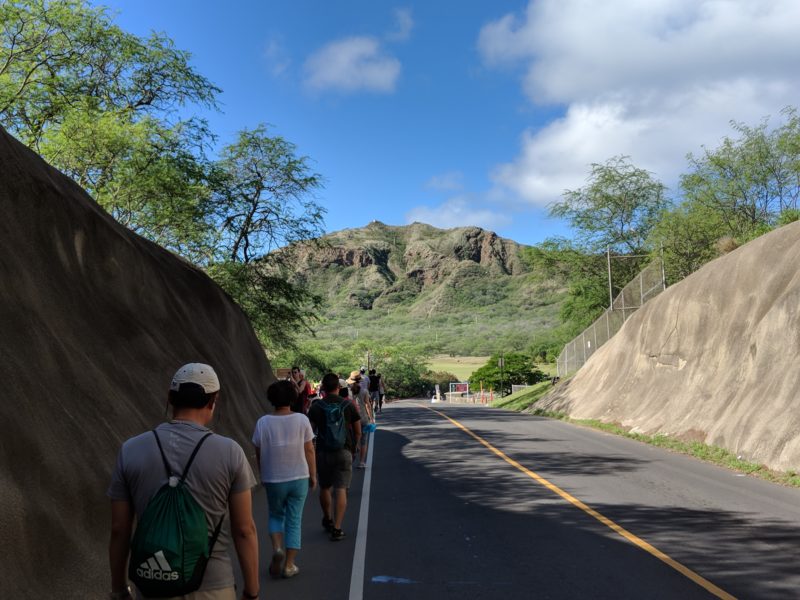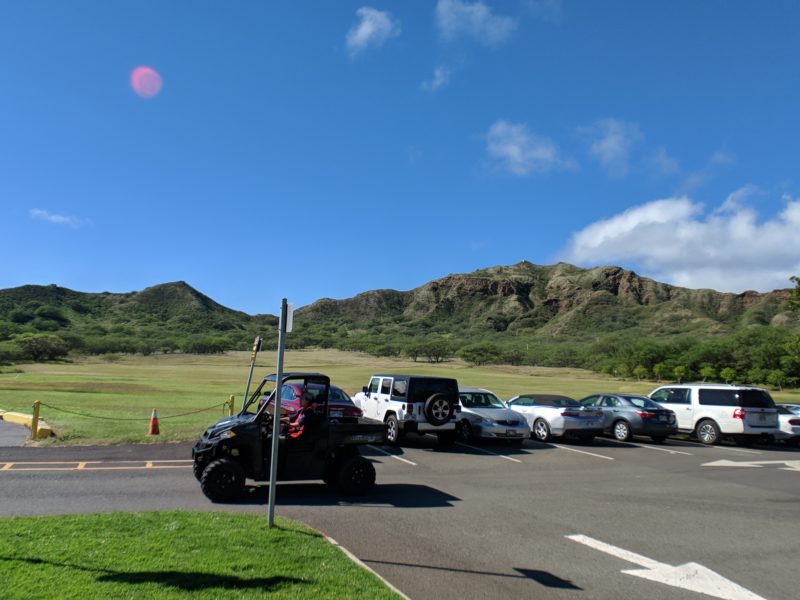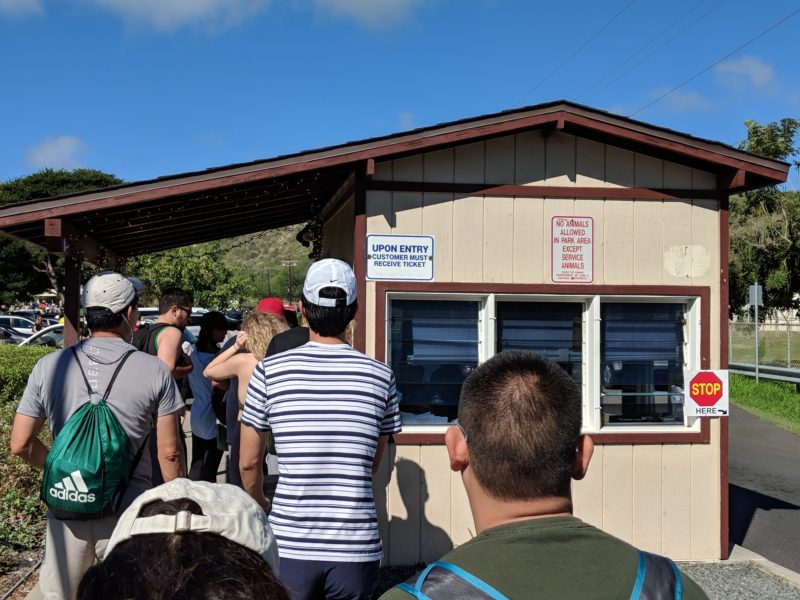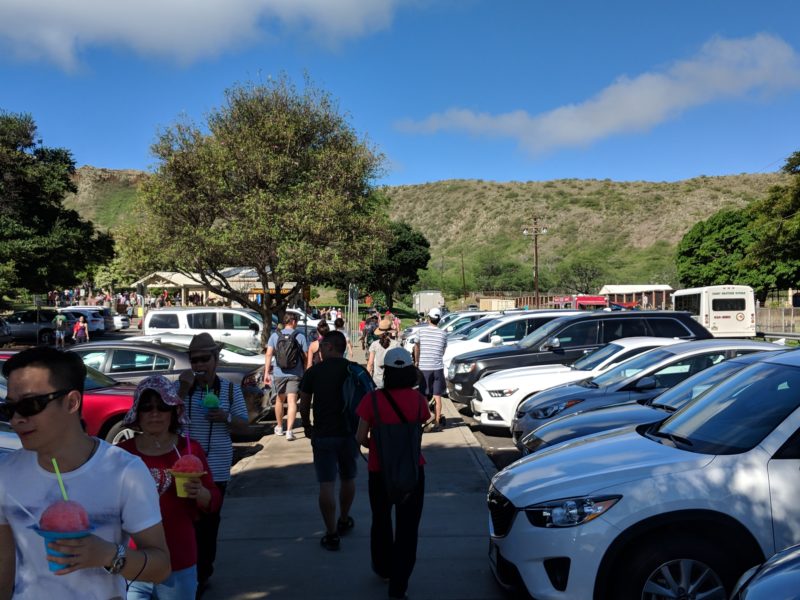 Right at the trailhead you'll see a crowd of people at the Diamond Head Visitor Center where they sell plenty of souvenirs and trinkets. The bathrooms are located right behind the visitor center with the trailhead just beyond that. To the right will be a refreshment stand that is popular for hike finishers. Fresh pineapple, drinks and Hawaii's ever-popular shave ice can be found here and sometimes even icy cold coconuts!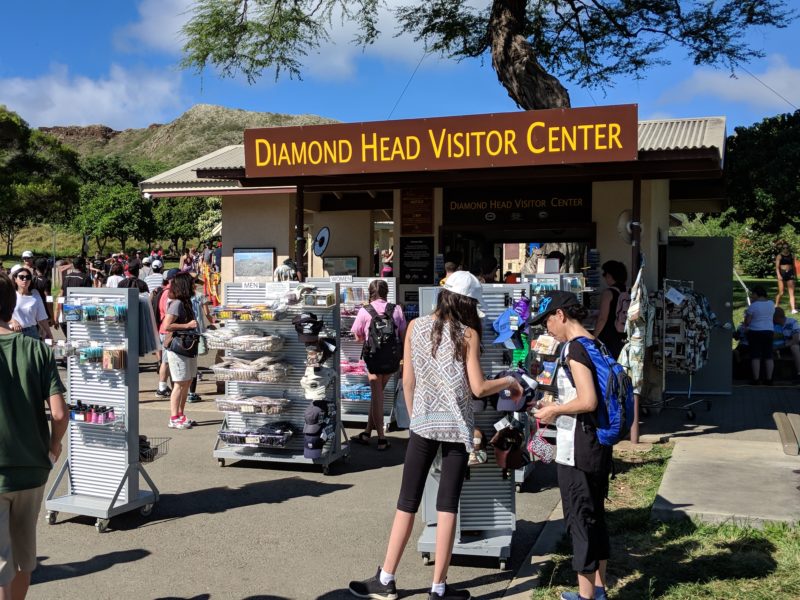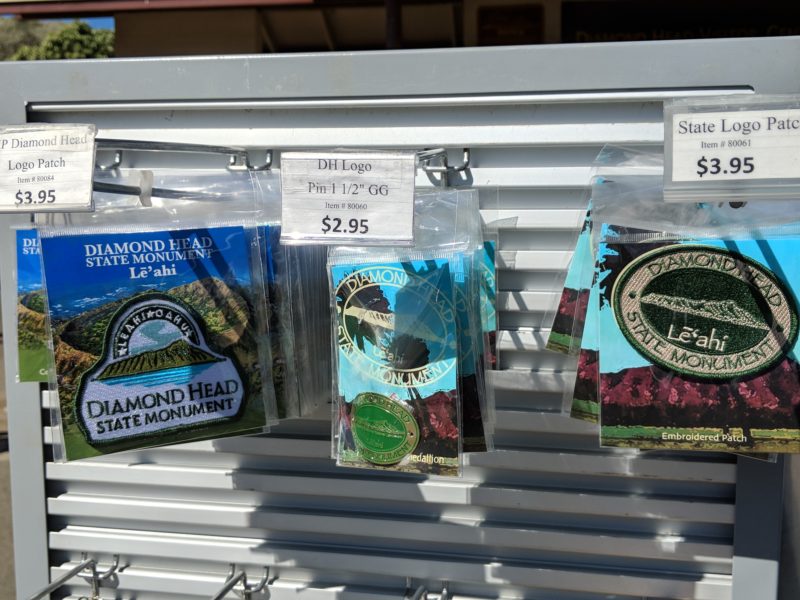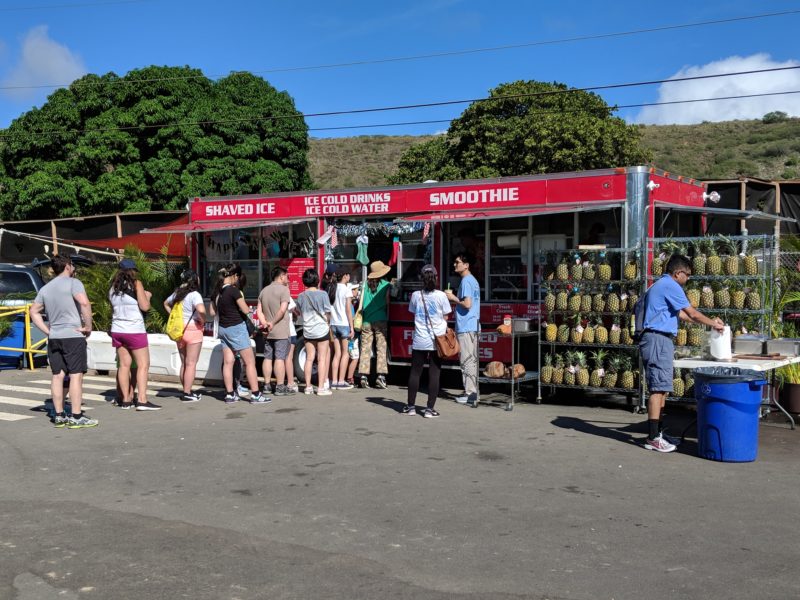 The trail begins as a cement pathway that will take you through a field of grass until you get to the base of the crater wall. The incline here isn't that steep, so you'll have a smooth walk for a few minutes. A lot of people coming down from the hike like to run this part so keep to the side to avoid collisions.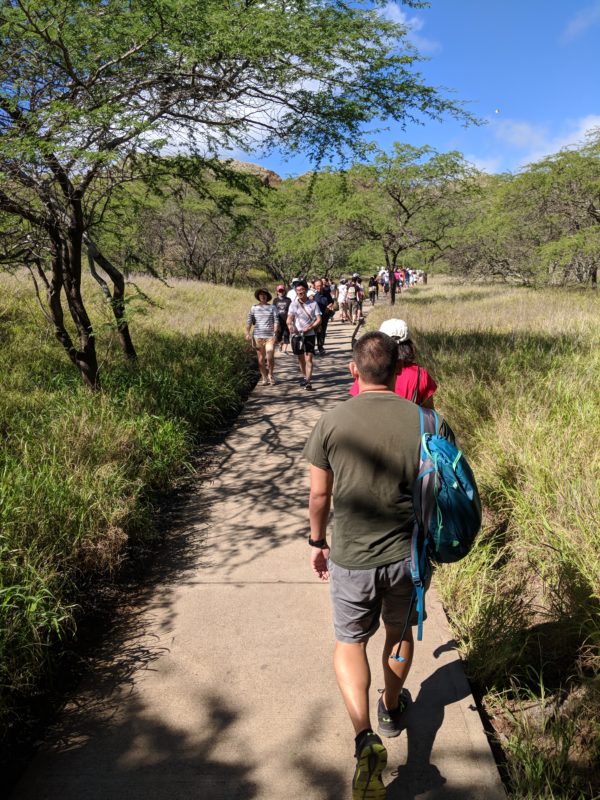 Once you get to the crater wall, the cement pathway will disappear and the walkway will be rock and dirt. On a hot day, there are no problems with slipping UNLESS you aren't watching where you're going. Because of the uneven ground, taking in the sights becomes difficult since each step is different than the rest.
Local Tip: If you're going to look up while walking, you need to do two things: make sure one hand is on the rail and look ahead at what your next steps will be like so that there are no surprises. Slowing your walk also doesn't hurt.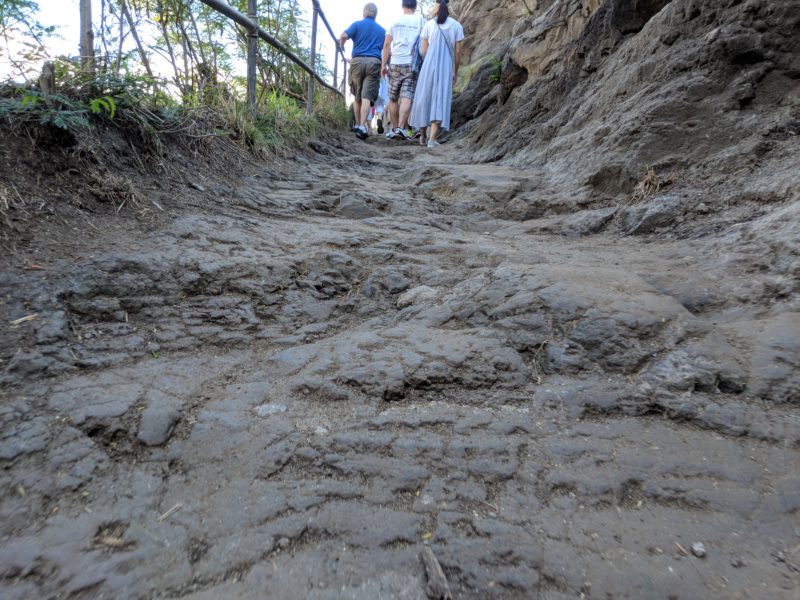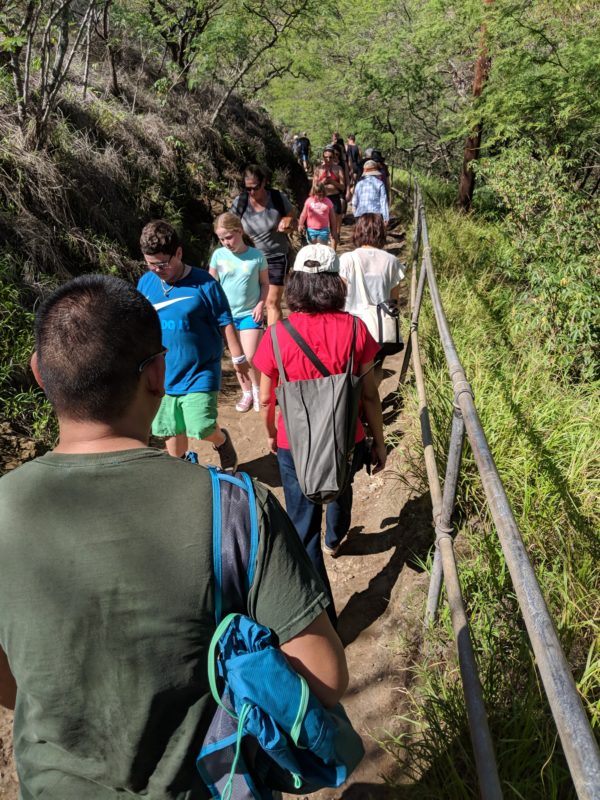 I'm the type of person that goes at my own comfortable pace. In other words, I'm not in a rush. If someone in front of me is walking slowly, I have no problem cruising right behind them at their pace. However, if you're someone who likes to speed along, you'll find Diamond Head to be a frustrating hike especially during busy hours.
But the great thing about Diamond Head despite the crowd and narrow walkways is that there are plenty of open areas to get out of the way (or rest!). Most of the way up is made up of gentle switchback trails with more than enough room at each pivot to stand on the side. Every so often there are also large resting areas complete with benches and shade (and usually a good view!).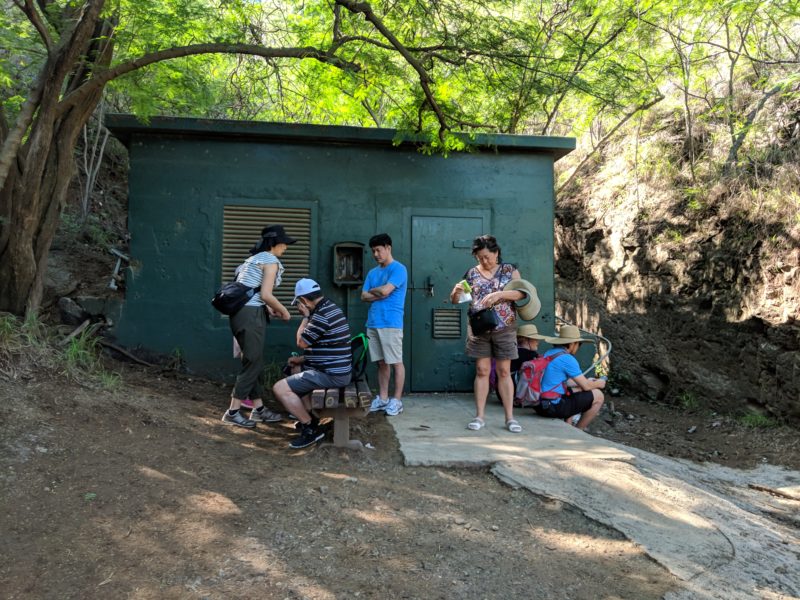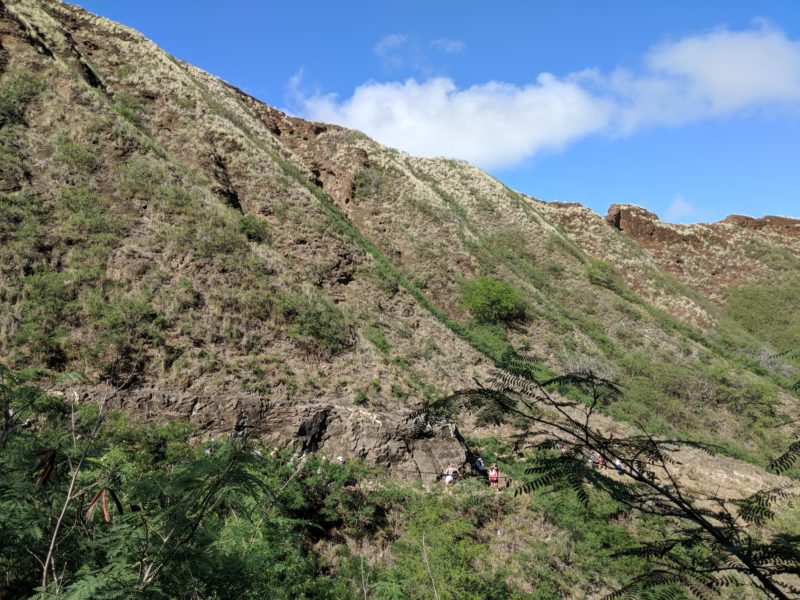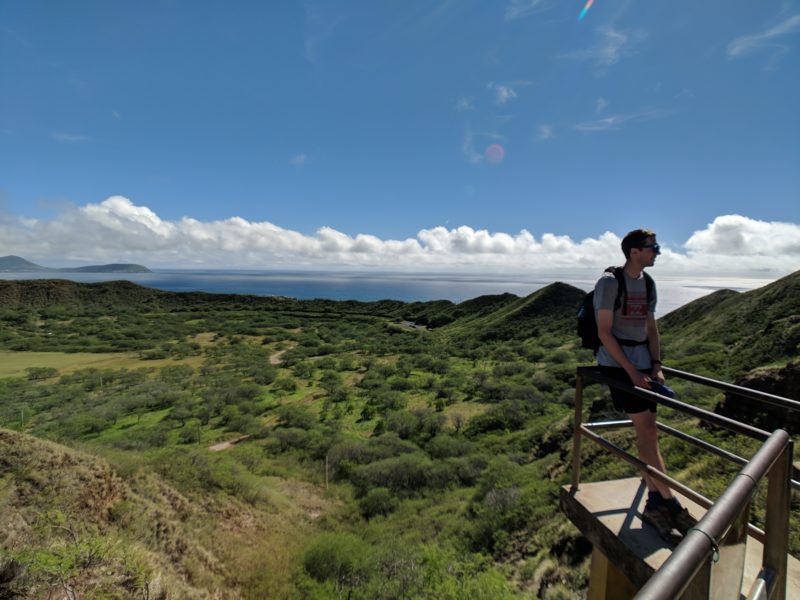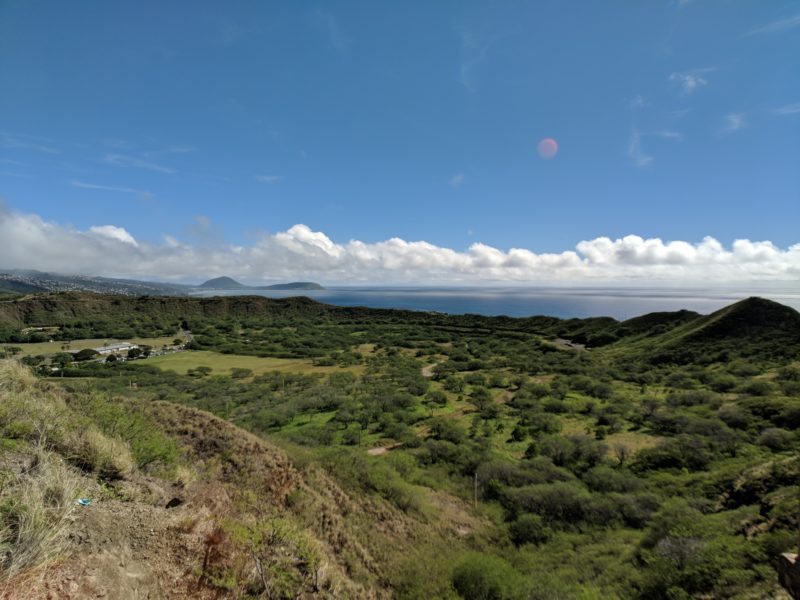 Have CLAUSTROPHOBIA? Take heed.
For those who are not comfortable in dark, tight places – this may make Diamond Head a deal breaker for you. There is no way to avoid this tunnel so make sure you're OK with this before you go up (otherwise you won't reach the top!).
While the pathway does become more narrow, you can still walk comfortably even with the incoming traffic. The tunnel is relatively straight and you'll walk for about 45 seconds in the dark with very little light to guide you. However, they've done a good job in making the whole pathway smooth so you shouldn't have too much of a problem walking along. Very tall people will have to be careful as it will be easy to bump their head against the ceiling once they're further in the tunnel.
Local Tip: The best part of this tunnel has got to be the wind. The air rushes through and feels glorious on your skin!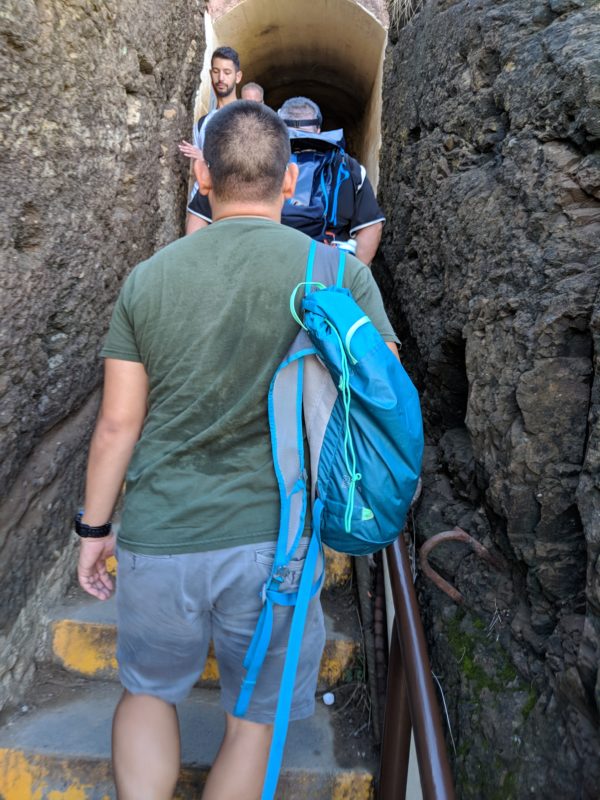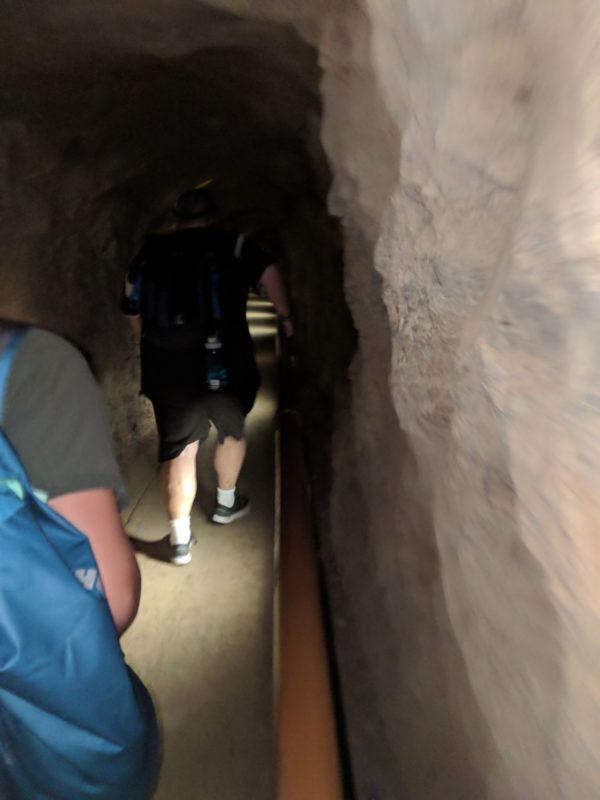 Once you emerge from the tunnel you'll have two choices to get to the top: Stairs or more stairs!
The difference is the view. If you turn right, you'll go up a flight of stairs that will make you feel the burn. The appeal here is that this is popular spot for folks to test themselves to see if they can handle the never-ending stairs to the top. You'll get bragging rights once you beat those 100+ steps, which is no easy feat. Another reason this path is worth it is because you'll get to explore an old bunker from the WWII days.
The other choice is to turn left and go up an easier set of stairs since it's broken down into sections. These stairs are not walled up, so you'll get to enjoy a beautiful view and take some gorgeous pictures while you're climbing (not to mention the odd break or two).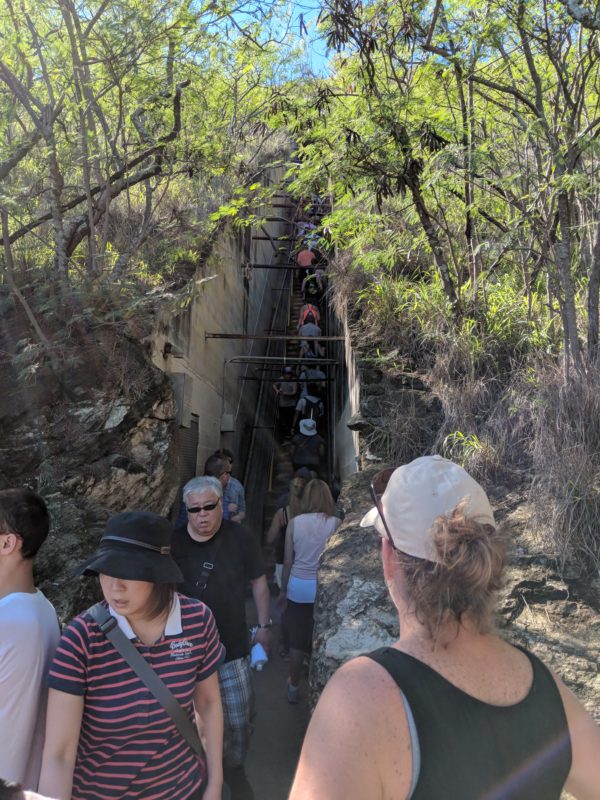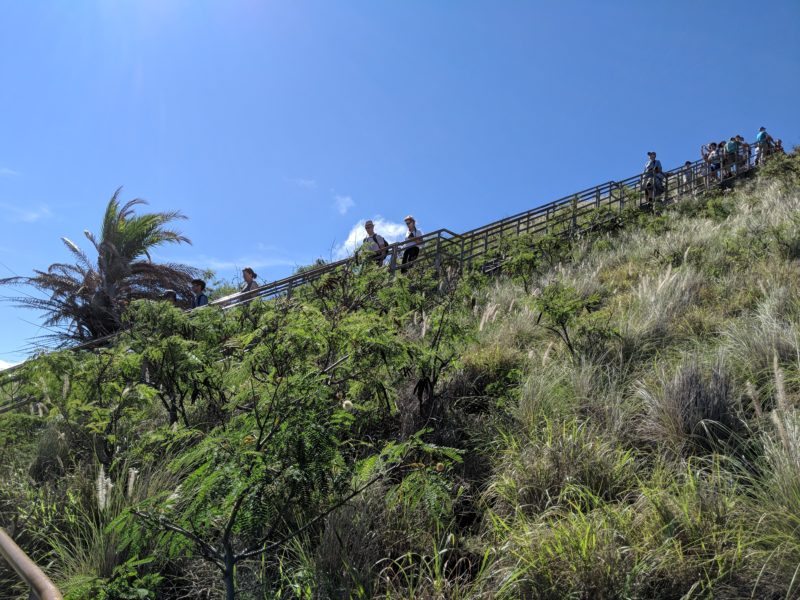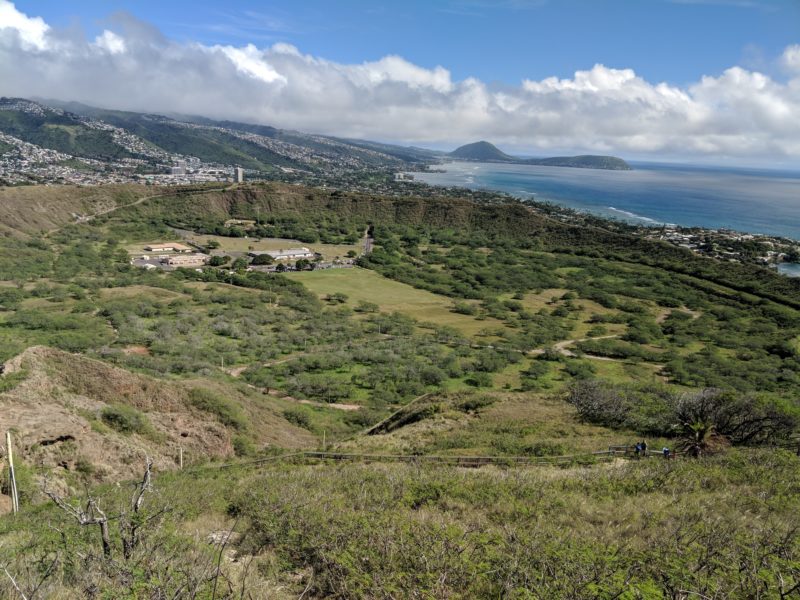 Actually reaching the top may take an extra minute or two. There are a ton of people up there, but the view is completely worth it! Don't be ashamed to work your way to the rail to take pictures and enjoy the sights for a few minutes. The plus side of having such a small and crowded lookout is that help is always just around the corner. You'll always find someone willing to take pictures of you up here.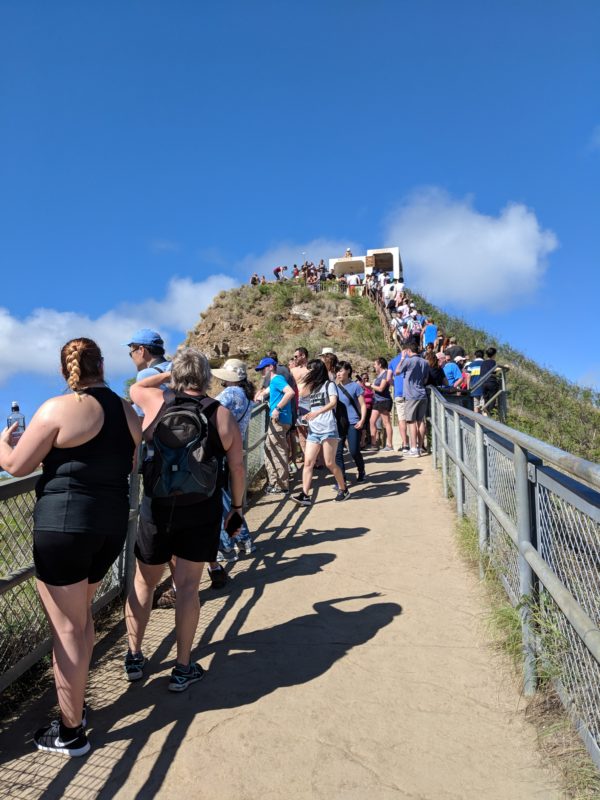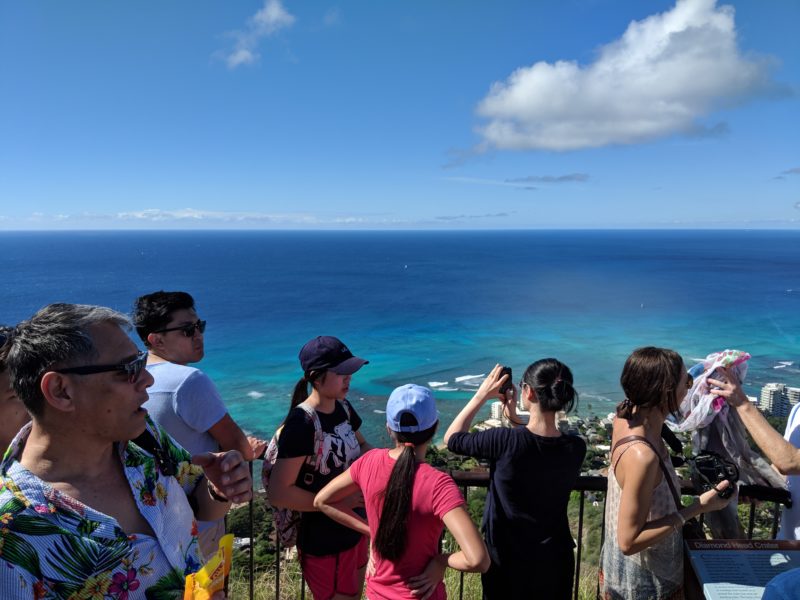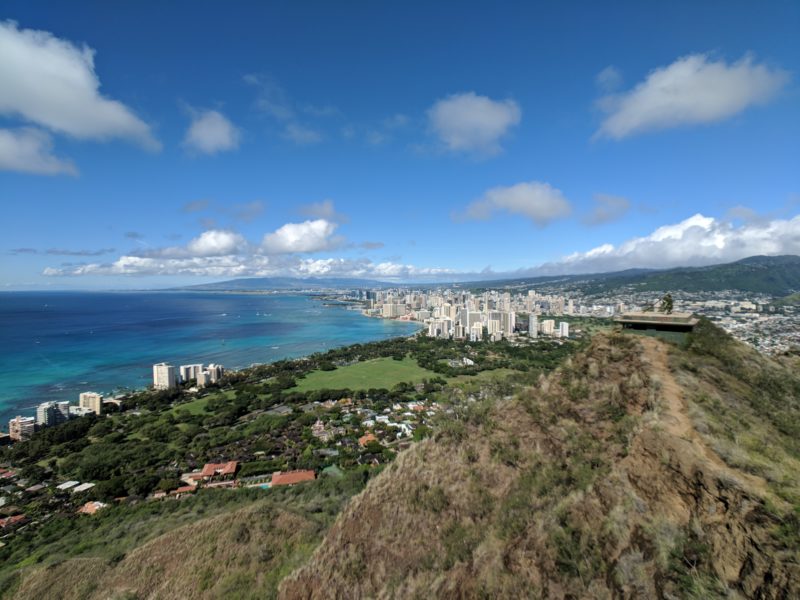 One last thing about the top of Diamond Head. Sometimes there's a man up here offering to stamp your ticket/brochure as a certificate of completion – which is awesome! Except that he doesn't wear a uniform, charges money for each stamp and says the money goes back into maintaining Diamond Head. Hmm…
While I'm not completely sure if this is a scam, I can tell you that I've heard several times by word-of-mouth that this is not legitimate. But hey, if you like the stamp's design, then I say go for it!
Take Diamond Head One Step Further
I know many of you really like those personal guided tours – I'm one of them! Although Diamond Head is easy to navigate to, up and down from, nothing can compare to the experience of when you have a personal tour guide who will explain to you about the history, environment, culture and lore and really go in depth into the subject. Click HERE to learn more about how you can get your personal tour guide up Diamond Head.