This post may contain affiliate links, which means I'll earn a small commission if you purchase something through these links. You won't pay any extra; instead, you'll be helping Aloha With Love to thrive. Thank you! Learn more.
COVID-19 has affected many of Hawaii's businesses and events. Please double check their dates and times before you go or make plans. Visit HawaiiCOVID19.com for more information.
--
For my birthday, my friends (Sarah and Monica) were determined to hang out so I told them I wanted to eat crab legs – my favorite food ever that I almost never have the chance to eat. If you've ever looked in the frozen seafood section here in Hawaii, crab legs are expensive.
Da Crawfish and Crab Shack was just what I and my friends were looking for. Centrally located in Kapolei and prices that wouldn't blow a hole in my friends' wallets (I was being treated, yay!). Most importantly, everything was tasty and I had a great time eating and enjoying a fun hands-on dinner with my friends.
Aloha with love,
Amy
About
Da Crawfish And Crab Shack
Kapolei Marketplace
590 Farrington Highway
Kapolei, HI 96707
Reasonably priced for crab legs/seafood and other menu items. I suggest expecting to pay around $40 – $60 per head if ordering crab legs. $$-$$$.
Open 7 days a week, 11 AM – 8 PM
Atmosphere: Casual and fun especially once you put on the bib and gloves.
Menu also includes non-seafood items such as burgers, staple appetizers, salads, and common cajun-style side orders.
Can be difficult to find. When you drive into Kapolei marketplace's main parking lot entrance, turn left.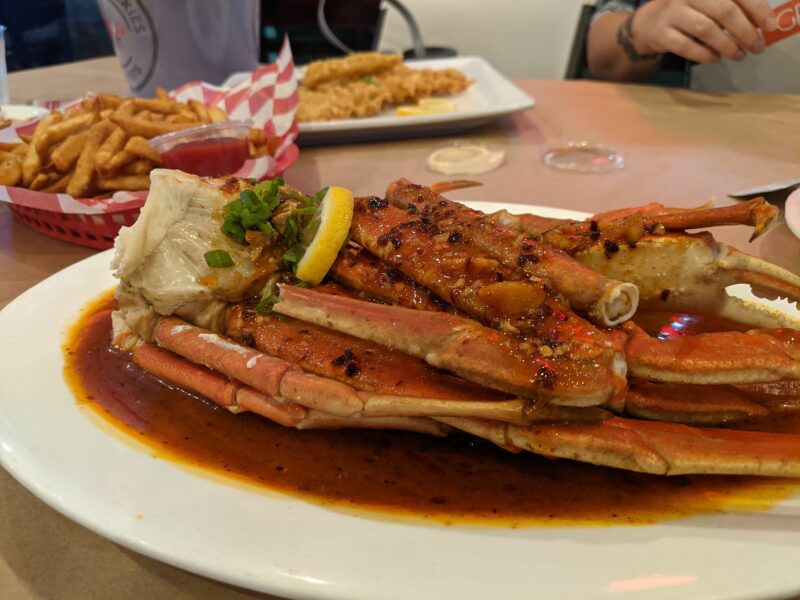 I normally reserve my crab-eating sprees for hotel buffets. Seriously…I can pile my plate high with crab legs and all I need is a ramakin of hot butter and I'm set. I can sit happily for a couple of hours sucking the meat and juices out and will only get up to fill up another plate several times over.
While there isn't a buffet option at Da Crawfish And Crab Shack, you can order a pound of crab along with other side dishes that will fill you up. Wings, Korean fried chicken, and spicy ahi bowls are just a few of the pupus (appetizers) you can order to complement your seafood of choice.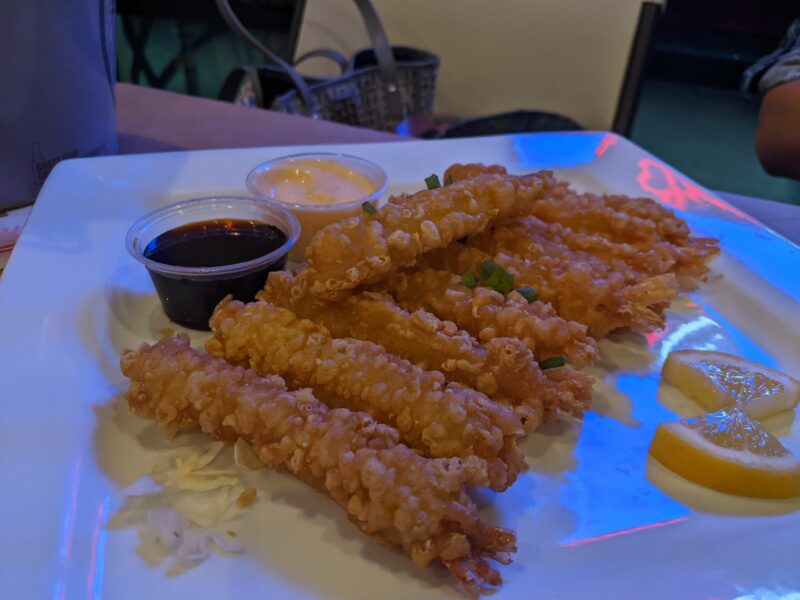 Ordering
None of us had been here before, but our waiter was kind and pleasant and explained how everything worked. The combos fed about 2 – 3 people, but since we were all hungry and I wanted a plate of crab legs all to myself, we ordered our seafood separately and shared the appetizers instead.
I went for my usual: snow crab legs, Sarah ordered a plate of king crab legs, and Monica ordered her favorite: shrimp. You can choose from three different seasonings: scampi, cajun, or butter garlic. Then you select your spice level: mild, medium, or spicy.
Side note: I went for medium, but I think next time I'll go for mild. It was just the right amount of heat while eating, but I had to hang out in the bathroom the next morning probably because I ate so much of the sauce with our side order of fries, tempura and calamari. If you're used to this kind of sauce, I say go for it. I rarely do though, so consider yourself warned.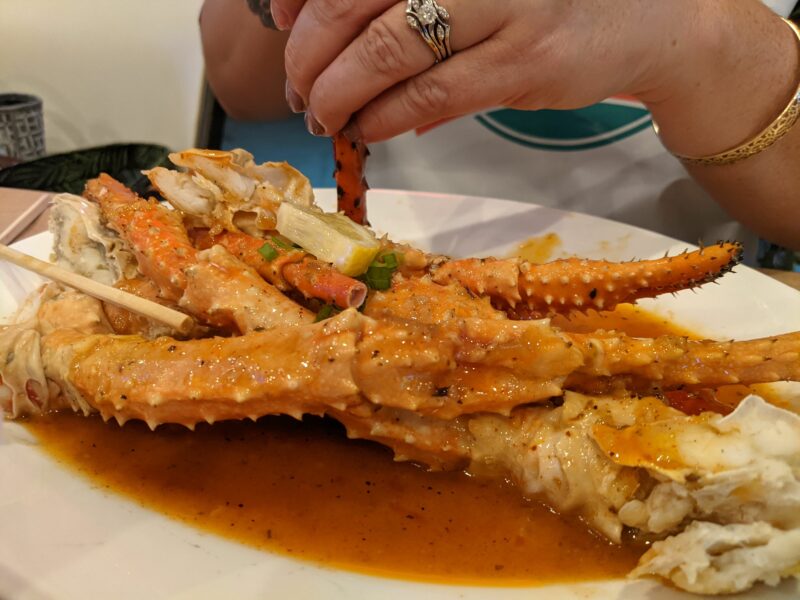 Side orders and appetizers
I actually really enjoyed the appetizers we ordered: french fries, calamari and shrimp tempura. They were all well done and satisfied my craving for fried food. Plus, I couldn't stop dipping them in the crab sauce – delicious!
The appetizers are about $10 – $15 each, so it's an easy and affordable way to add more food to your meal. A pound of crab doesn't really go far towards making you full, so among the three of us, we shared 3 different appetizers that was more than enough to fill us up.
In addition to your seafood of choice, there are side orders such as corn, potatoes and sausages that you can enjoy. I didn't order any this time, but they would be a good choice if I were to come with a party who didn't want any appetizers.
There's even a lunch menu available. While most of the menu is seafood related, you can still get a steak plate or chow-fun Korean chicken plate that won't break the bank.
Atmosphere
This particular dinner happened in March 2021 so the interior was set up per COVID restrictions. The tables were spread apart and everyone wore masks until they were seated. Since our positivity rate has been low, I felt comfortable dining out and the line that formed outside also wore masks until they got to their tables.
I can tell that Da Crawfish And Crab Shack is hopping when there's a big sports game to watch. There's a cocktail menu and standard alcohol available with a dedicated bar full of drink options. The TVs can be seen from every direction and most of the tables are those outdoor party tables, giving the whole interior a fun and family-like atmosphere.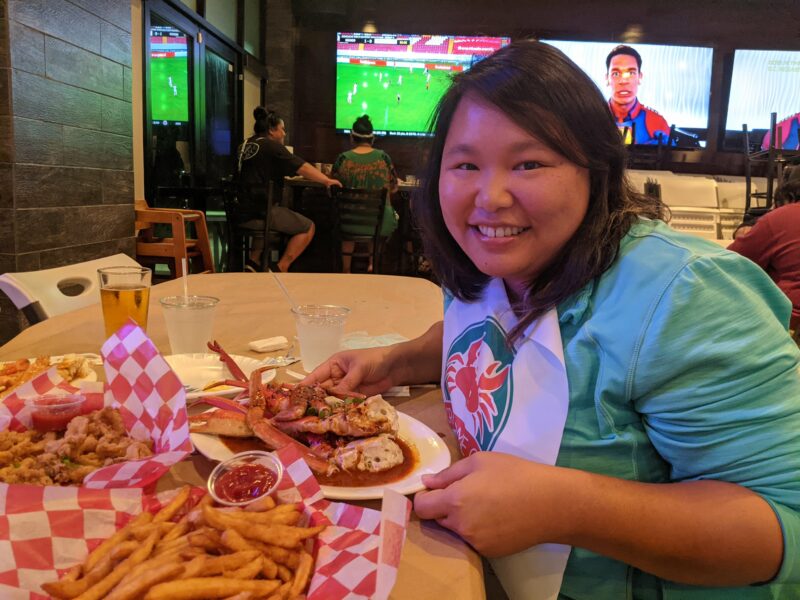 Review
I really enjoyed eating at Da Crawfish And Crab Shack in Kapolei. It's not often I get to enjoy crab so this was a pleasant experience for me with some good drinks, fried food, and friendly service. Everyone was happy to be here and all you hear inside is laughter and fun as customers put on their bibs and gloves and dig in.
I definitely want to come here again (hopefully I won't have to wait until my next birthday) and am especially looking forward to visiting this joint after the pandemic is over. I can see this place being loads of fun when there's a big sports game on!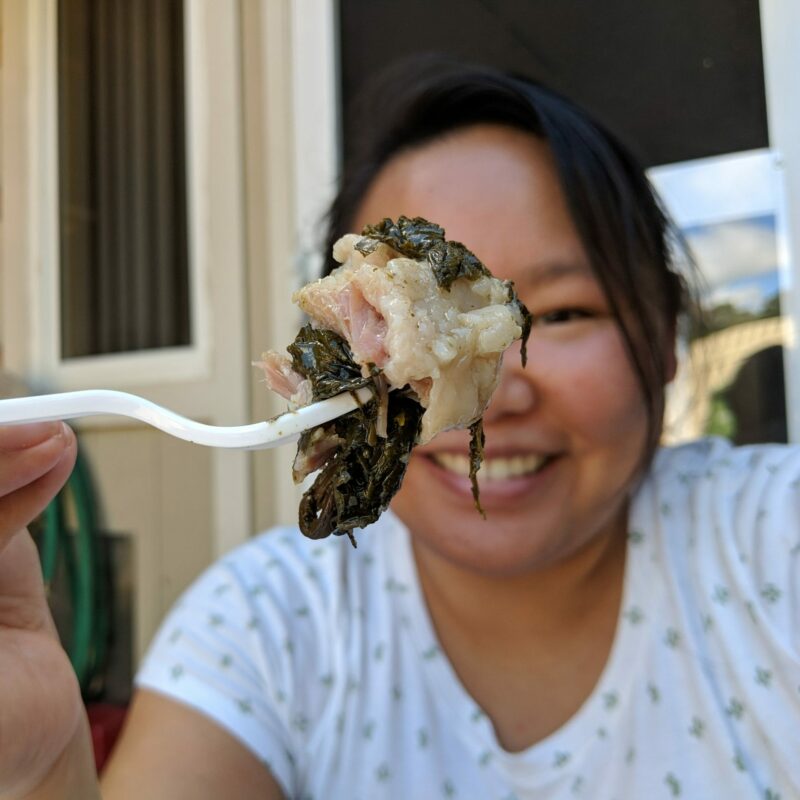 Discover more restaurants, bars, cheap eats, and mom-n-pop shops in Hawaii!