This post may contain affiliate links, which means I'll earn a small commission if you purchase something through these links. You won't pay any extra; instead, you'll be helping Aloha With Love to thrive. Thank you! Learn more.
COVID-19 has affected many of Hawaii's businesses and events. Please double check their dates and times before you go or make plans. Visit HawaiiCOVID19.com for more information.
--
Cooking long rice in a stir fry can be tricky. The noodles can clump together since they have a tendency to stick. But the noodles soak up so much flavor that the attempt is worth it especially when you know what you're doing. Mom chose Chinese cabbage because of all the water it has and after eating it I can see why it's such a smart move. She also went with pork because we had a lot of it in the fridge that she wanted to use it up, but I think chicken would also work because of its natural juiciness.
Aloha with love,
Amy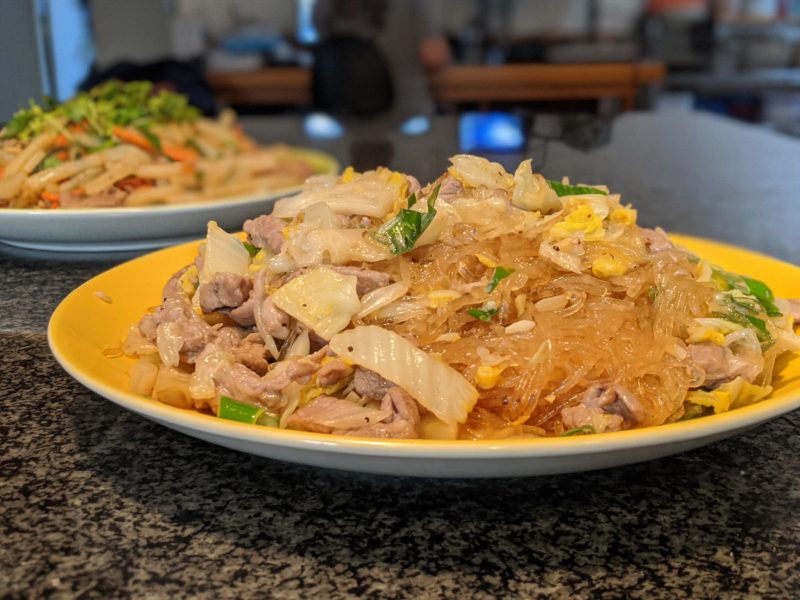 Ingredients
½

bunch

long rice

1

lb

cabbage

We used what we had: ½ green cabbage, ½ Chinese cabbage.

1

handful

green onions

Chopped.

1

clove

garlic

Chopped

1

ginger

About same amount as garlic

½

lb

pork

½

tsp

salt

¼

c

water

1

tsp

pepper

1

tbsp

shoyu

Soy sauce.

1

packet

hondashi
Instructions
Soak the long rice noodles in water for at least 10 minutes. When they get soft enough, cut the noodles to a shorter length. Mom cut these about 3 or 4 times. Leave them soaking in water for now.

Cut about 4 cups of cabbage. Mom actually didn't have enough so she used ⅔ green cabbage and ⅓ Chinese cabbage.

Cut the pork into strips and chop the garlic and ginger. Add some oil to the pan on high heat and add the ginger and garlic. When the ginger and garlic just begin to turn brown, add the pork and stir.

When the pork is half brown, add ½ tsp salt to flavor the pork and stir for about 30 seconds or until the pork is mostly brown.

Add all of the cabbage into the pot and briefly stir for a few seconds. Add another ½ tsp salt to flavor the cabbage and help draw the water out. Stir for 30 seconds.

Drain the water from the long rice and add to the pot. Stir for 30 seconds.

Add water, pepper, and shoyu. Give everything a quick stir to mix it all together. Lower to medium heat and cover the pan for 6 minutes. During this time the long rice will expand and become clear. Open and stir.

Note: Mom tasted the long rice after removing the lid and thought it needed a bit more water and cooking time. She added another ¼ c water and covered the pan for a few more minutes to allow the long rice to cook. She also added another 1½ tbsp of shoyu.

Add the green onions and stir for 5 minutes.

Optional but highly recommended by Mom: Add 1 packet of hondashi. Mix and serve.
Notes
Since the cabbage and long rice is a little bland in color, colorful vegetables like green onions and carrots will make this dish stand out more.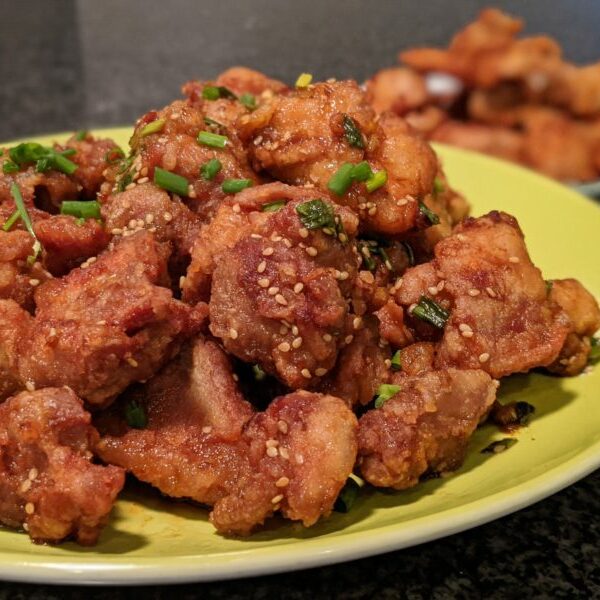 Get my latest recipes with a spoonful of aloha!