This post may contain affiliate links, which means I'll earn a small commission if you purchase something through these links. You won't pay any extra; instead, you'll be helping Aloha With Love to thrive. Thank you! Learn more.
COVID-19 has affected many of Hawaii's businesses and events. Please double check their dates and times before you go or make plans. Visit HawaiiCOVID19.com for more information.
--
Need to relieve some stress? Because I certainly did. And this was the perfect way to let all that pent up energy out in one go.
A few of my coworkers thought it would be awesome to check out the new Blade & Timber Axe Throwing joint in Kakaako – so we made a reservation at 5 PM and we are now converts!
Whether you throw like a girl or not, you'll find your time at Blade & Timber to be so satisfying with each THUNK! you land on the target. And it doesn't matter if you hit the bullseye or not (although it certainly ups your street cred in axe throwing if you do), because just throwing the axe with your inner lumberjack (do they throw axes?) is enough to get you grunting like a caveman.
Overall it was a fantastic night – I enjoyed myself thoroughly, the environment was safe, the staff kept us engaged with advanced techniques and games, and we had a ton of fun laughing, competing and of course taking unflattering pictures of each other.
If you're looking for something fun and unique to do in downtown Honolulu, this might just be for you. If you go, let me know how you liked it!
Aloha with love,
Amy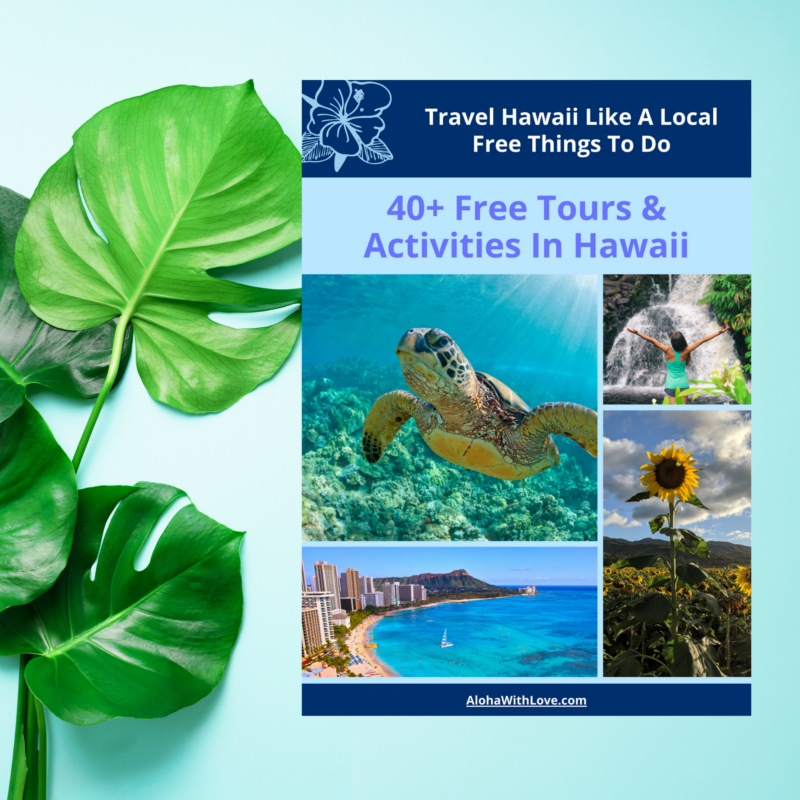 Want to go on a free tour in Hawaii?
Make A Reservation Then Sign Your Life Away
I wasn't the one who made a reservation for our group, but it was obvious when we got there that making a reservation in advance was a good move. We reserved one axe throwing lane from 5 PM to 6:30 PM and it was already crowded when I got there. One group there was celebrating an event (my guess was a birthday), but everyone else seemed to be a bunch of friends who wanted something unique to do on a Saturday evening.
Our reservation was made about 2 weeks in advance and the responsible one in our group had us all sign the Blade & Timber waiver in advance. Take note that "death" is mentioned a couple times in the waiver, but I felt completely safe throughout the night. Our axe instructor relayed all the rules to us clearly and everyone in Blade & Timber had no trouble following them.
Local Tip: Don't worry if you or someone in your group forgets to sign the waiver in advance. You can go to their website and fill out the waiver, or just complete it right at the register when you check in.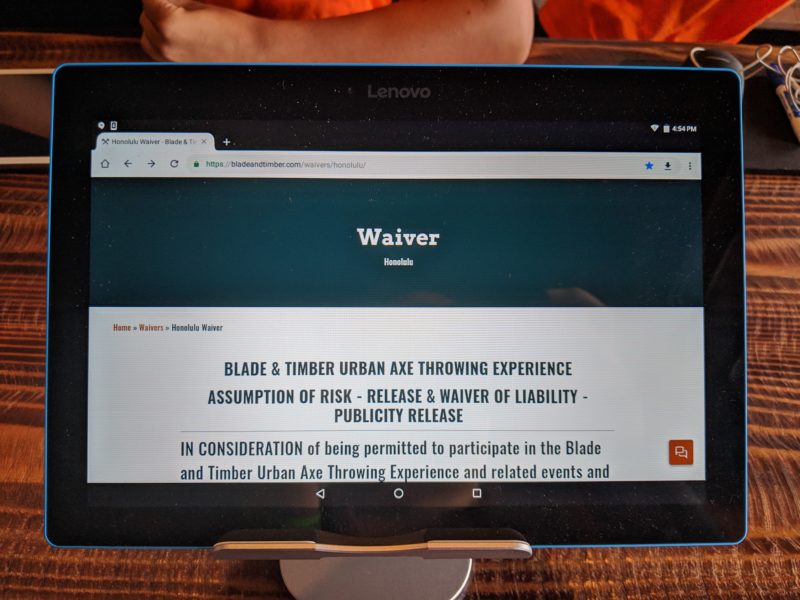 Blade & Timber Facility And Staff
I really think the staff at Blade & Timber were excellent. As soon as we were shown our lane, our instructor went over the rules and stayed with us so that each person got a one-to-one lesson on correct axe throwing techniques.
What I loved about the staff was that several of them checked in on us periodically. They seemed to know when we were just getting the hang of a certain technique and would drop by to show us how to throw left hand, both hands, 2 axes together and even underhand. This kept our night challenging and by 6:30 PM, we each had our own favorites throws.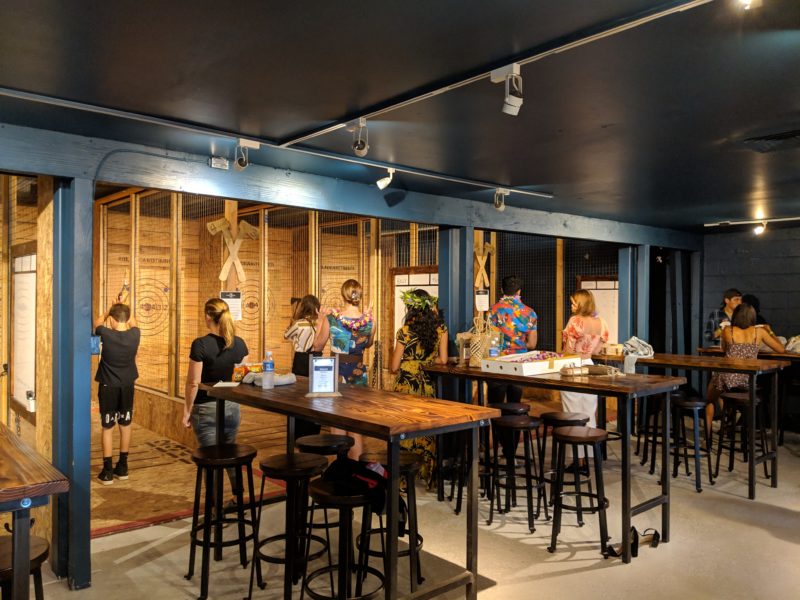 Learning To Throw Axes
It doesn't matter if you're horrible at playing sports. Axe throwing basics are pretty simple and we all had no problems grasping the how-to immediately. Even the lane next to us had women in stilettos throwing axes like pros!
You'll begin with the standard one axe throw with both hands. If you've ever gone golfing, the grasp is similar. For myself (I'm right-handed), my left hand went to the bottom of the handle and my left thumb tucked into my right hand above. Pull the axe up and over your head, fling and follow through – that's about it.
Each of us took only a minute or two with our instructor to learn the proper technique. After 10 minutes with a few throws up our sleeves, we were ready to compete. There's a whiteboard and a list of different games and their instructions on the table so you won't run out of things to do anytime soon. In fact, you'll probably be throwing down to the last second like us.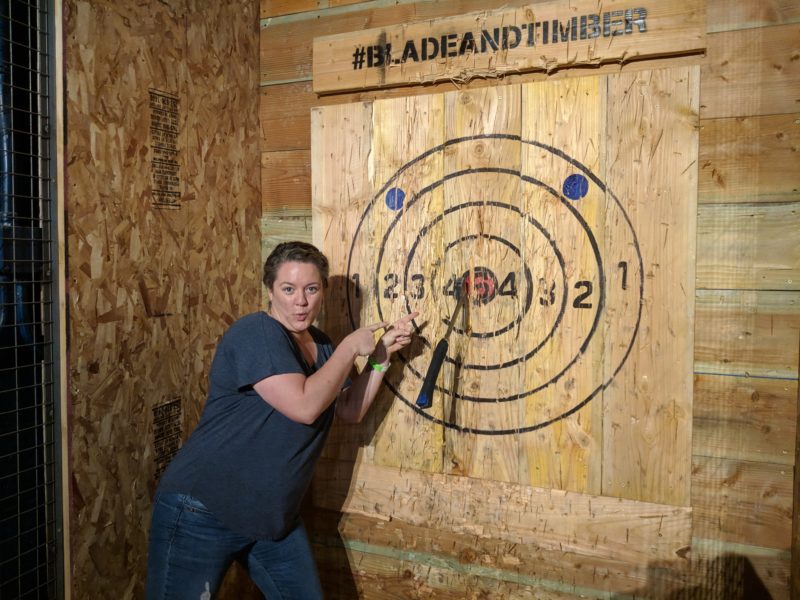 Is Axe Throwing Dangerous?
As soon as we reserved our axe throwing session, someone showed me a viral video of a woman throwing an axe and ducking when the axe rebounded at her head. Thankfully, she wasn't hurt and we did bring it up to one of the instructors who checked in on us. According to them, their axes are blunt (which they are – I checked), and if you were hit, you'd probably suffer a bad bruise.
Local Tip: I can see the axe breaking someone's bone, but only if you weren't following the rules. There are marked distances to throw from and woodchips on the ground to prevent axes from flying off.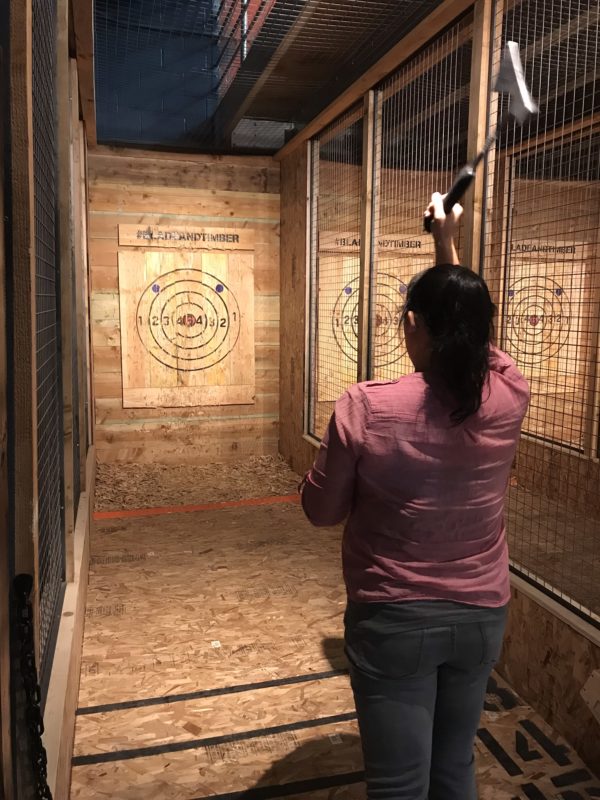 Parking And Directions
Blade & Timber currently just has the one location in Kakaako, Honolulu. There are about 7 or 8 parking stalls in front with some extra space for double parking if you have a large group. I was lucky and snagged the last open stall right before 5 PM on a Saturday. So if you have a large group or are worried about parking, make your reservation early or figure out how you'll get there without your car.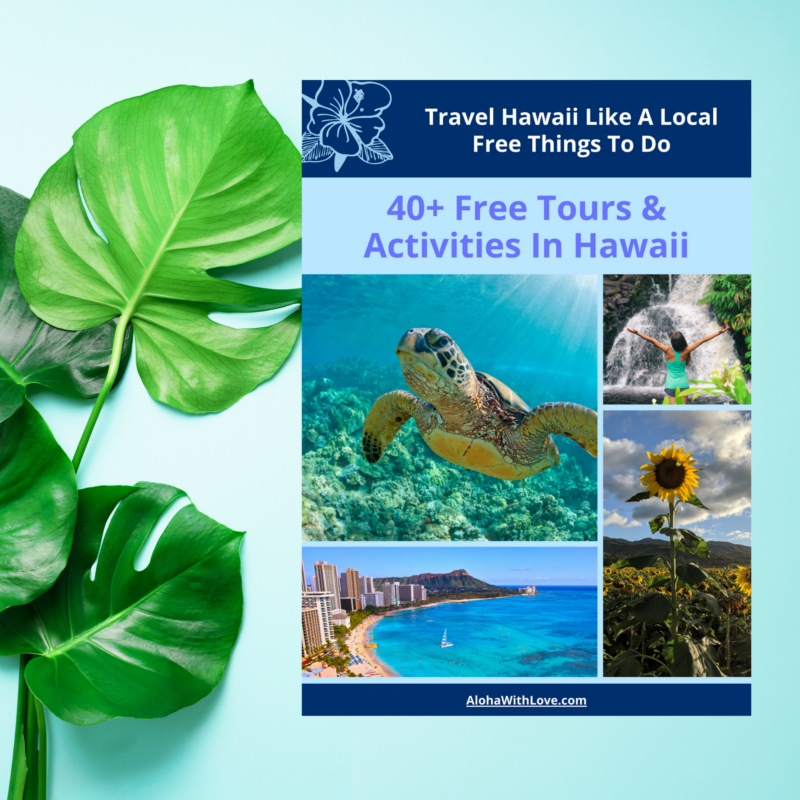 Want to go on a free tour in Hawaii?