This post may contain affiliate links, which means I'll earn a small commission if you purchase something through these links. You won't pay any extra; instead, you'll be helping Aloha With Love to thrive. Thank you! Learn more.
COVID-19 has affected many of Hawaii's businesses and events. Please double check their dates and times before you go or make plans. Visit HawaiiCOVID19.com for more information.
--
Sunsets on Oahu are amazing and luckily not uncommon. As long as it's not super cloudy, you're pretty much guaranteed a great sunset even if you can't see the horizon! Although, I'll be the first to say that I've witnessed some gorgeous sunsets on cloudy days here.
Here's a list of my favorite sunset viewing tips on Oahu and some extra information that will really enhance your sunset experience.
Aloha with love,
Amy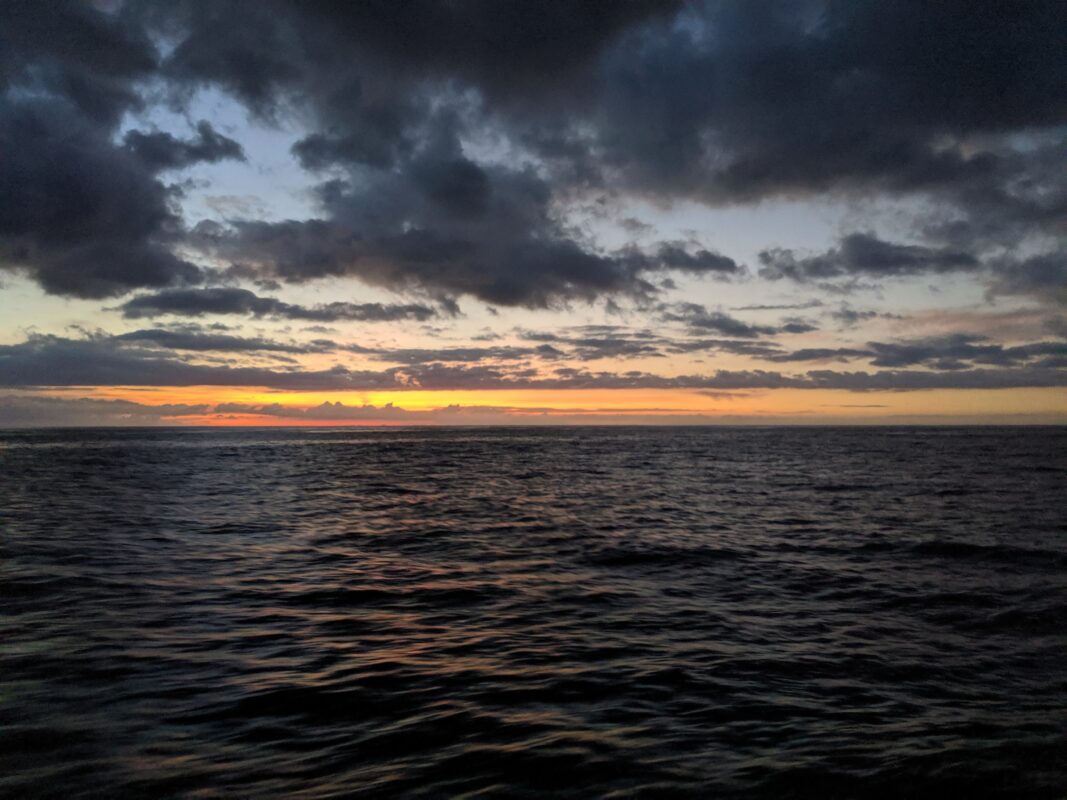 What's a green flash?
The green flash is a phenomenon that happens just as the sun disappears (or appears for sunrise). It only lasts for a second or two, but if conditions are right, you'll see a neon green light on the top of the sun as it disappears. Typically, you'll need a cloudless sky and a distant horizon – which is why Hawaii's ocean horizon is such a great place to catch a green flash.
Local tip: Protect your eyes and don't look directly at the sun until the last few moments.
Tips for sunsets on Oahu
The sun rises in the east and sets in the west so most people will suggest heading to a west-facing shore to view the sunset. This can be inconvenient since it would require you to be far away from your hotel, unless you're staying at one of the Ko Olina hotels in West Oahu. But you can still see a great sunset from places such as Waikiki (south-facing shore) or from a high viewpoint such as a west-facing balcony or on a mountain vista point.
Weather: Don't assume your sunset-viewing experience will be awful if you see clouds in the sky. In fact, some of my best sunsets have been on cloudy days. The clouds allow the light to bounce and create a range of colors. Unless the clouds are extremely heavy and dark grey, there's still a good chance to see some really colorful sunsets.
Cruises for sunsets: One great way to see a sunset is on a sunset cruise. Sometimes these are advertised as snorkeling cruises, but the main thing you'll want to look for is a cruise that departs around 4 pm or 5 pm depending on the time of year. Sunset cruises are great because you'll have 2 views: the sunset in front of you and the island behind you. You'll also have a chance at spotting turtles, dolphins, and whales especially during whale watching season.
Read more: The Majestic Whale Watching Cruise By Atlantis Adventures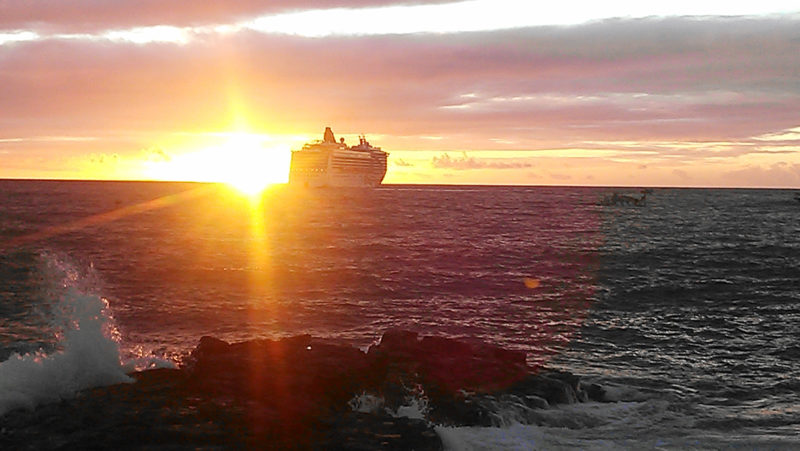 Local tip: It's natural to think that the hike up iconic Diamond Head State Monument would have an amazing view of the sunset – and I agree, it would, except that Diamond Head closes at 4 PM, long before the sun goes down. They close the gates on time and I would avoid getting stuck in here because getting out will require dragging a lot of tired people out back into town and making them upset – I used to work for a Diamond Head nonprofit.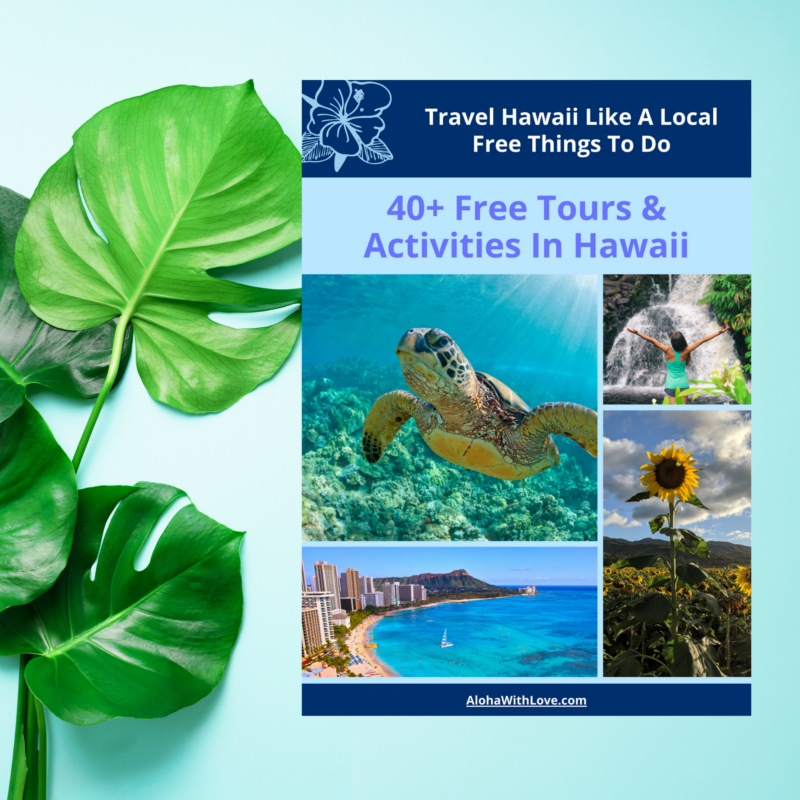 Want to go on a free tour in Hawaii?
Popular sunset viewpoints on Oahu
North Shore
Sunset Beach: No Oahu sunset list is complete without Sunset Beach. While the story behind its name is unromantic (real estate marketing), the beach is aptly named because the sunsets are quite spectacular here. Located on the North Shore of Oahu, Sunset Beach is a west-facing shore and there's plenty of sand and horizon to sit and watch the sun go down. There are 2 shoreside parking lots and across the street is a larger parking lot with some picnic tables, showers, and a restroom facility. I find that parking is ample at sunset because most of the North Shore crowds are headed back home for the day or off finding dinner.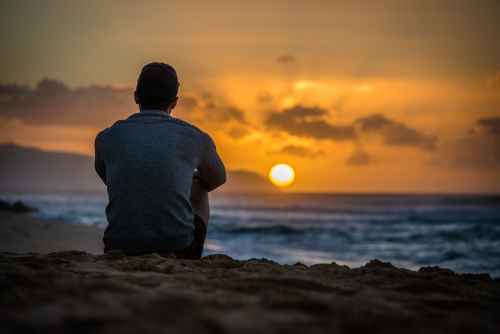 North Shore: Besides Sunset Beach, most places on the North Shore running from Haleiwa to Kahuku are also great places to see the sunset on Oahu. Some of my favorites are Ehukai Beach (Banzai Pipeline), Waimea Beach, and Haleiwa Harbor. If you're in the mood for a hike, climb up the Ehukai Pillbox hike for an amazing view, but make sure you bring a flashlight so you can find your way down.
Waikiki and Honolulu
Waikiki Beach: The beaches at Waikiki may be south-facing shores, but you can still see the sun if you look west (to the right when facing the ocean). In fact, the closer you are to Diamond Head (East Waikiki), the easier it is to see the sun. If you have a west-facing hotel room, you'll have the convenience of watching the sun go down every evening from the comfort of your room.
Magic Island and Ala Moana Beach Park: One of my favorite places to watch the sunset is from Magic Island. There's plenty of space to sit and enjoy the view and I like walking out onto the rocks for a more romantic setting. Ala Moana Beach Park is connected to Magic Island and it's a lovely walk between the two as there are pathways throughout the park.
Tantalus Lookout: Formally called Puu Ualakaa State Wayside, this viewpoint has a spectacular view of Diamond Head and Honolulu. The panoramic view extends past these areas though and you can see far to the west for a beautiful sunset. The park does close at 7:45 PM, so make sure you're out before then as the gates (usually) close.
Hawaii Kai
China Walls and Spitting Caves: Both of these spots are incredible viewpoints that are hidden in neighborhoods. Even without the sunset, the view from these two locations are incredible. Since they are in residential areas, please don't disturb the people living in the area, keep your noise level down, and please DO NOT jump in the water. You'll see other people jumping in but there have been multiple deaths, drownings, and injuries mostly because people overestimated the power of the ocean or could not get back on land. The residents hate that so many tragedies have occurred near their homes and have done what they could to warn people, but that doesn't stop some from jumping in anyway.
Koko Head: If you want a workout, hike up Koko Head and at the very top you'll have an amazing view of the sunset (and the rest of the island). If you're in average shape and relatively healthy, I recommend starting your climb up 2 hours before sunset. Bring a headlamp for your way down.
West Oahu
Kaena Point: If you want someplace secluded to see the sunset and are into hiking, I'd definitely recommend hiking to Kaena Point. You can hike it from Makapuu (West Oahu) or Mokuleia (North Shore), and both ways are relatively safe to hike back even in the dark – just bring a flashlight. What's fantastic about Kaena Point is that it's the northwestern tip of Oahu and since access is only by foot, you can really have a unique experience watching the sun go down with no one else in sight.
Local tip: The only thing I'd be careful of is that West Oahu tends to have higher theft especially from unattended cars. Don't leave your valuables in your car (wherever you are in Hawaii) and if you are worried about theft, access Kaena Point from Mokuleia will be the safer bet.
West Oahu: All of West Oahu is peppered with beautiful beaches. There are gorgeous sunsets from Ko Olina all the way up to Kaena Point.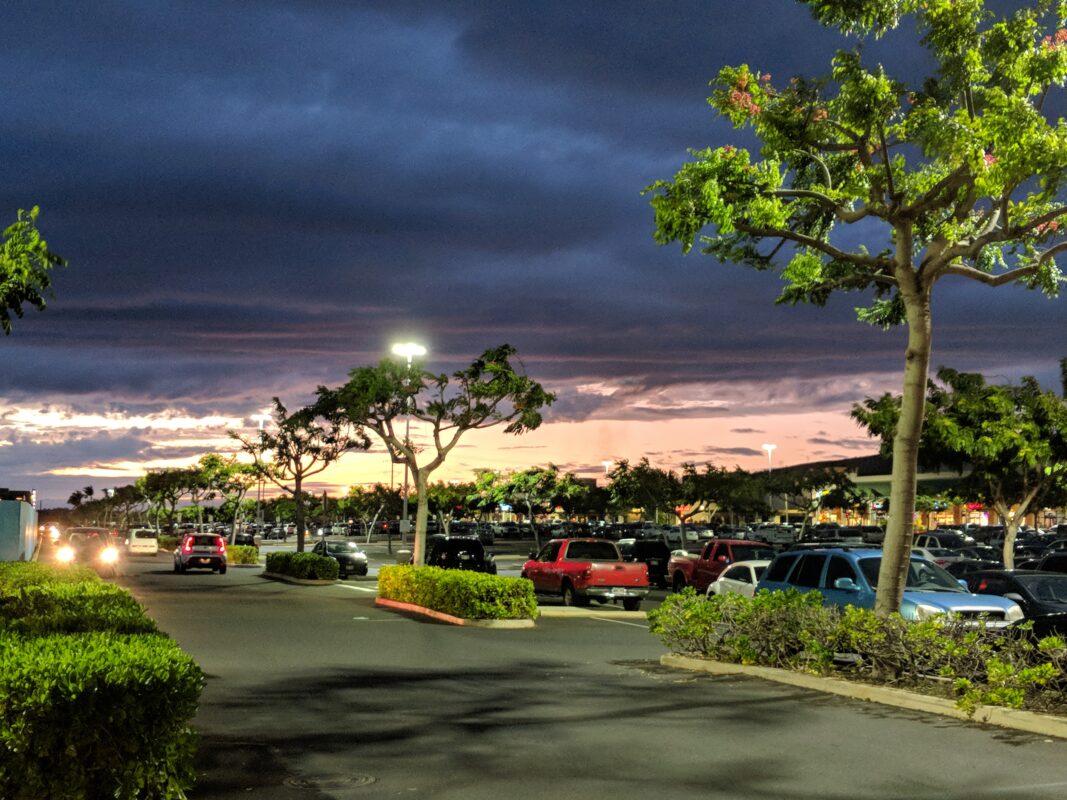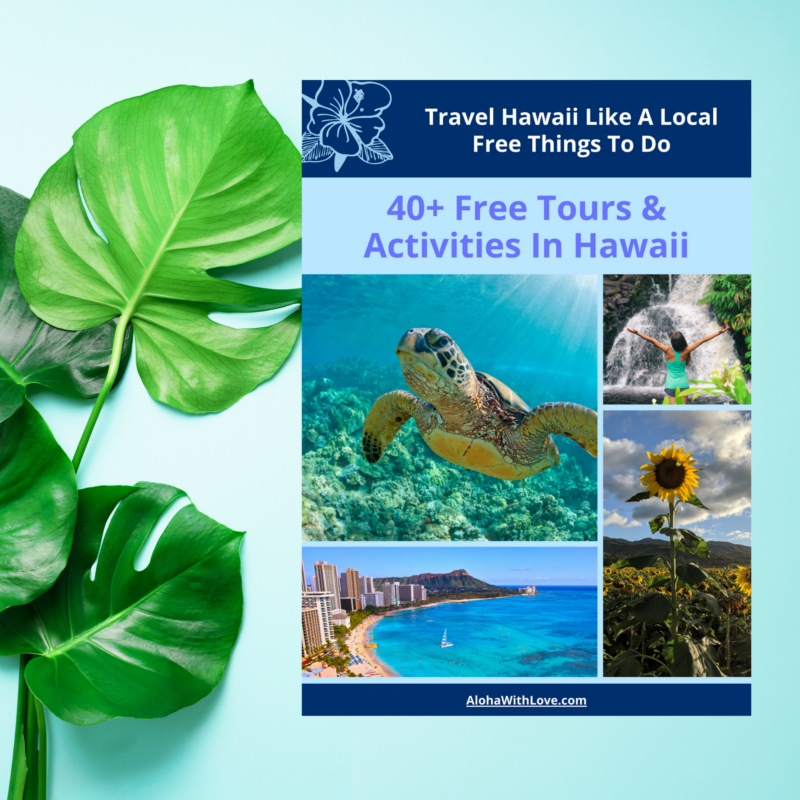 Want to go on a free tour in Hawaii?