This post may contain affiliate links, which means I'll earn a small commission if you purchase something through these links. You won't pay any extra; instead, you'll be helping Aloha With Love to thrive. Thank you! Learn more.
COVID-19 has affected many of Hawaii's businesses and events. Please double check their dates and times before you go or make plans. Visit HawaiiCOVID19.com for more information.
--
I'm not military. So getting into Bellows Field Beach Park (aka Bellows) is a rare treat. Bellows sits right next to Waimanalo beach and the beaches in this area are known for their pretty blue waters and soft sandy beaches.
No snorkeling can be done at Bellows (no rocks, no fish), but I'll take that trade because the sandy bottom and fun waves are perfect conditions for boogie boarders. The waves break close to shore and they're a perfect size for any age and any level.
I grew up learning to boogie board at rocky Halawa beach in Molokai with local surfers and came home with scuffed knees. (Did that make me stop going back out? No way!) So I'll suggest Bellows for any newbie boogie boarder out there.
If you have a US military ID and are looking for a safe, fun beach that won't be too crowded, Bellows is your beach! The view is spectacular and with the smaller crowd, you'll enjoy your slice of Hawaii even more.
Aloha with love,
Amy
Local Tip: Although beautiful, this side of the island often gets hit hard by Portugese man 'o' war. Find out more about these stinging jellyfish (siphonophores) and how to avoid them.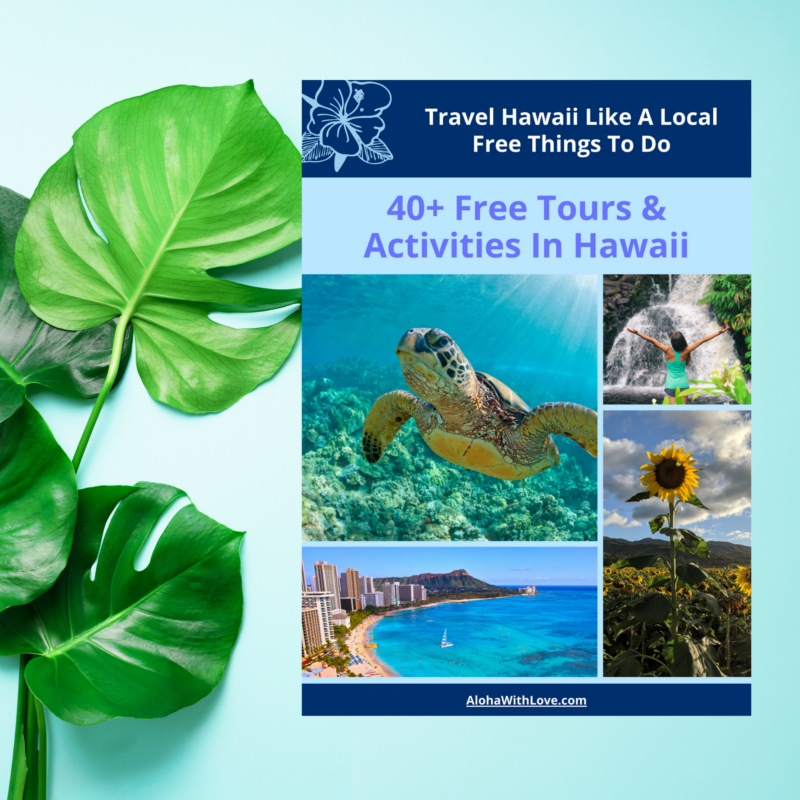 Want to go on a free tour in Hawaii?
Bellows Is Excellent For Boogie Boarders Of All Levels
Boogie boarding at Bellows is so much fun! It's easy to learn and that moment when you ride a wave in successfully is indescribable.
The great thing about the waves at Bellows is that they're excellent for boogie boarders of any level and age, including newbies. Even young children will have a blast – because they're so light, they tend to easily catch the waves.
Local Tip: The waves "break" (when the top of the wave just starts to roll over) close to the shore so newbies and children don't have to go too far to catch the waves at Bellows. It's fairly easy to keep watch on everyone in the water even when you're on the sand.
Boogie boards can be bought online, but you can also find them affordably priced in Costco, Sam's Club and maybe Walmart and Target during summer months. Personally, I wouldn't worry about buying new ones. Boogie boards last a LONG time – just ask any local how old their's are!
I'd check out Goodwill or The Salvation Army to see if they have some old ones. (See that red board below? It's nearing it's 8th birthday!) Or, if you're staying at an Airbnb, it's common for the owner (especially beach houses) to have boogie boards and ocean gear available for guests.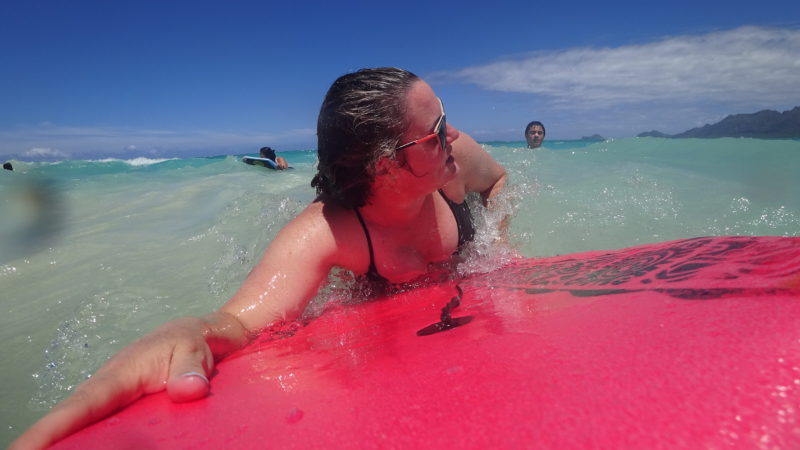 Bellows Has Everything You Need And More
Bellows is not just a beach. There are plenty of activities and facilities available to you once you get past the gate:
Camping (cabins and camping grounds)
Equipment rentals (camping, ocean, party, sports, etc.)
Golfing (miniature golf and driving range)
Facility rentals for large gatherings
Shopette, gas station and laundromat (ID needed for shopette)
Court for basketball and tennis
Field for disc golf and beach volleyball
Playground for children
There's a lot more that you can do, but this is more than enough to keep you occupied for a day at Bellows beach. The Bellows Air Force Station website will have all the extra information you need.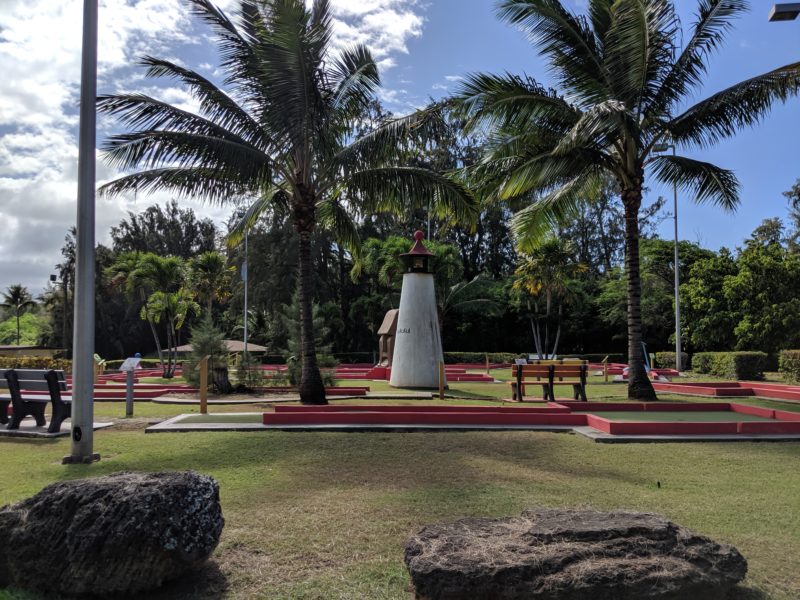 Getting Into Bellows With And Without A Military ID
Acceptable US military IDs for Bellows
Every single person does not need a military ID to get past the entrance gate. But at least one person per vehicle needs to have an acceptable US military ID:
Active duty military personnel
Military retirees
Reservists
National Guard
Current Department of Defense civilian employees
Retired Department of Defense civilian employees
Family members of all of the above with an authorized ID card
Local Tip: Try swapping cars (and sometimes people) to get all your family and friends into Bellows if they don't have a military ID. One person with a military ID driving a mini van can bring quite a few people!
Bellows is open to non-military on the weekends
Bellows is an active training ground for the military and is split up into 2 sections. The first section is closed to everyone on weekdays for military training. But on Friday from noon thru Sunday, anyone can get into the first section.
Local Tip: Trainings are sometimes held in the first section during the weekends and unfortunately there's no way for the general public to know when they'll happen. Be prepared for a hit or miss if you don't have a military ID. I recommend heading to Sherwood's beach – still gorgeous and right next door.
The second section comes after the security checkpoint and is where the facilities, equipment rentals and cabin grounds are. This section is open every day of the week, but you will need that military ID to get in.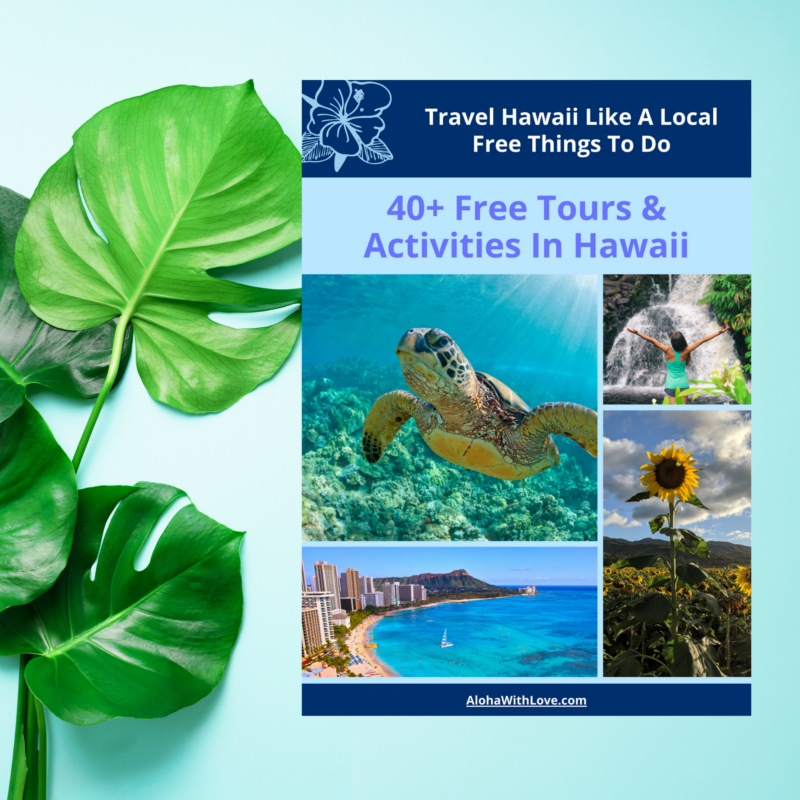 Want to go on a free tour in Hawaii?
My Favorite Spot At Bellows Is Right Next To The Lifeguard
After the security checkpoint, follow the road and pick any right turn to find your parking spot and set up your base. In general, the beach is great from any spot, so you're really just looking for what's convenient for you at this point.
If you keep driving past the Turtle Cove equipment rental facility, you'll soon see the shopette and gas station. Just after the gas station is a small parking area with a mini path that cuts straight through the bushes and to the ocean.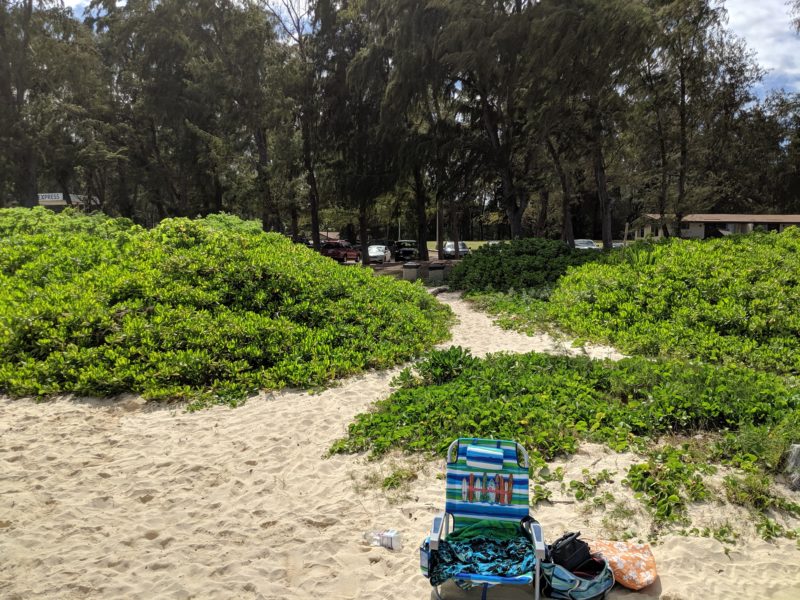 If you set up right at this path, the lifeguard, bathrooms and showers will be to your right when you face the ocean. If you don't have a tent, there's a small tree with decent shade a few steps to your right. It's usually taken fast though, so you'll want to go early if you want to nab this prime spot.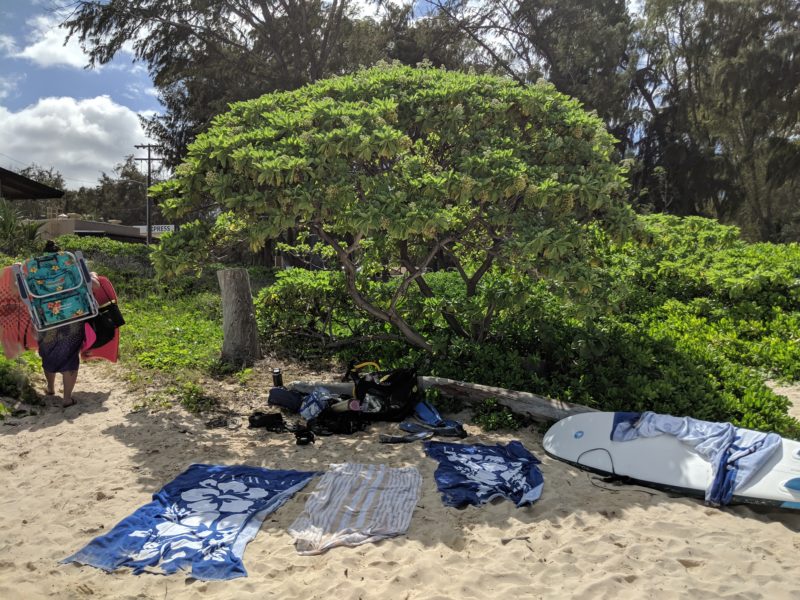 Local Tip: If you have children, I actually recommend turning right on the sandy path just before the shopette and gas station. This parking lot is the closest to the bathrooms, showers and lifeguards. Plus the shopette is right up the road so you'll have everything just a short walk away.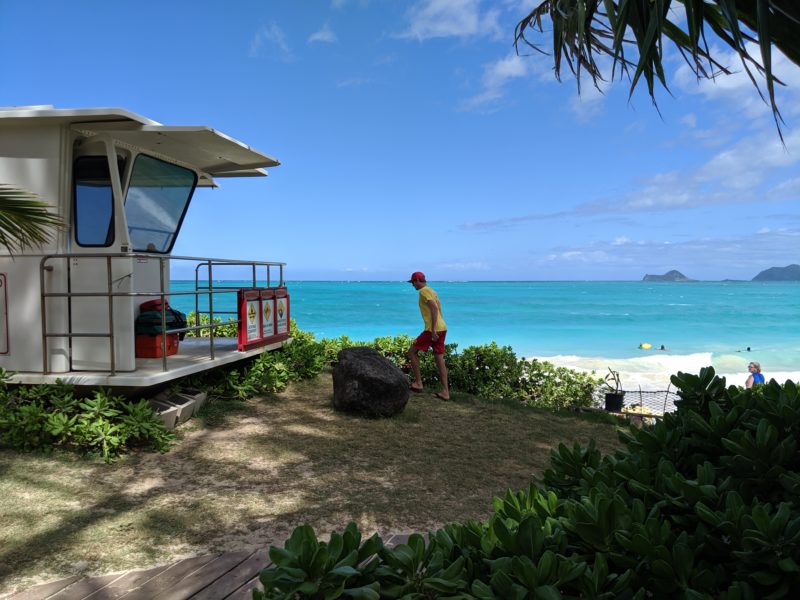 How To Get To Bellows Field Beach Park
There's only one way to get to Bellows and that's to get onto Kalanianaole Highway. Kalanianaole Highway is the main road that will take you around the edge of most of Windward Oahu, so the turn for Bellows can't be missed.
There is a sign where Tinker Road meets up with Kalanianaole Highway so turn into the single road when you see the Bellows Air Force Station Marine Corps Training Area sign.
Go down Tinker Road for a minute or two, you'll pass the first Bellows section on your right, arrive at the security checkpoint, then the second Bellows section following that.
Other Great Beaches Like Bellows You Should Visit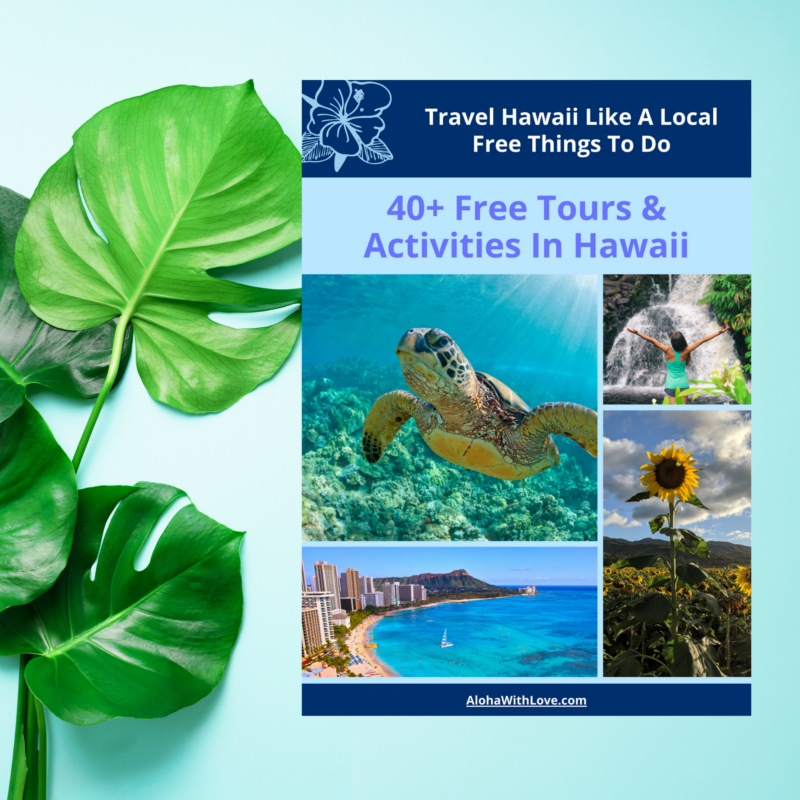 Want to go on a free tour in Hawaii?