I love this part of the recipe. Eating baozi is always the most fun especially when they're hot off the pan. They're perfect to bring to parties and potlucks, you can easily pack them as a healthy snack or even eat a few for a meal. There are a few tricks to getting the perfect crust on these though so read on and let us know if you have any questions.
Baozi: The Original Manapua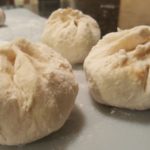 Print This
Instructions
Add oil to a pan and turn the heat up to high. Dab the bottom of the baozi with some flour, then add it to the pan. Once you can hear the beginnings of a sizzle, pour regular water into the pan, covering the bottom 1/3 of the baozi. Cover the pan with the lid and let it steam cook for about 10-15 minutes.
A glass lid is recommended so you can see the changes, but if you don't have one, that's perfectly fine. When the bubbles between the baozi begin to get larger, thicker and more of a brown color, take the lid off and let the remaining water evaporate, which will take another 2-3 minutes. If you don't have a clear lid, you can go by the sound of the sizzle. The tone of the sizzle will raise slightly and sound a bit harsher. It's important to keep the lid on so that the steam can fully cook the filling.
Once the lid has been removed for a few minutes, you'll see this brown crust begin to form as the water fully evaporates. Turn the heat off and start scooping the steamed buns out with a spatula onto a nice plate.
If you've timed it right, you should get a fully cooked steamed bun with a nice golden brown crust on the bottom. Go ahead and snack on these for your meal, bring them to work or school in a tupperware, pack it up for a party, or store in your fridge for everyone to pick and eat for the next several days. Once you get the hang of it, they are really quick and easy to make and extremely convenient since you can make several in one sitting. Enjoy!
Want a baozi review? Click here for part 1 and here for part 2.