This post may contain affiliate links, which means I'll earn a small commission if you purchase something through these links. You won't pay any extra; instead, you'll be helping Aloha With Love to thrive. Thank you! Learn more.
COVID-19 has affected many of Hawaii's businesses and events. Please double check their dates and times before you go or make plans. Visit HawaiiCOVID19.com for more information.
--
Aweoweo Beach Park is my favorite spot for a lazy day at the beach. It has everything you need: bathrooms, showers, picnic tables, and a long stretch of beautiful sand. Plus, turtles are pretty much guaranteed when you snorkel!
When my friends visit me, I take them to Aweoweo Beach Park because you won't find the touristy crowd here. It's just a nice, secluded beach park, tucked away in a residential area that even many locals don't know exist.
The best part is the turtle cleaning station here. Hop in and let me know what you see!
Aloha with love,
Amy
Please respect all of Hawaii's wildlife and do not touch turtles or monk seals. It's illegal under federal and state law and you will get fined. Plus, you'll get mean stares or even reprimanded by the locals. It's recommended that you stay 10 feet away from turtles and 50 feet away from Hawaiian monk seals.
How To Find The Turtle Cleaning Station At Aweoweo Beach Park
What's a turtle cleaning station?
There are several turtle cleaning stations in Hawaii where turtles like to gather and get cleaned up. Small fish come right up to the turtles and pick out pests in hard-to-reach areas on the turtles. The turtles at Aweoweo Beach Park like to hover at this particular rock. At one point I saw 5 turtles at once!
Find the big, round rock at Aweoweo Beach Park
The turtle cleaning station at Aweoweo Beach is marked by a large, round rock that looks misplaced. It shouldn't be too hard because there aren't many large rock structures in this area. In fact, most of the ocean's bottom looks like what you see in the picture below.
The turtles just float up and down near this rock whenever they need to take a breath. Some of them swim around the rock while others visit the rock back and forth. A few even rested on the sand and looked like they were getting a massage.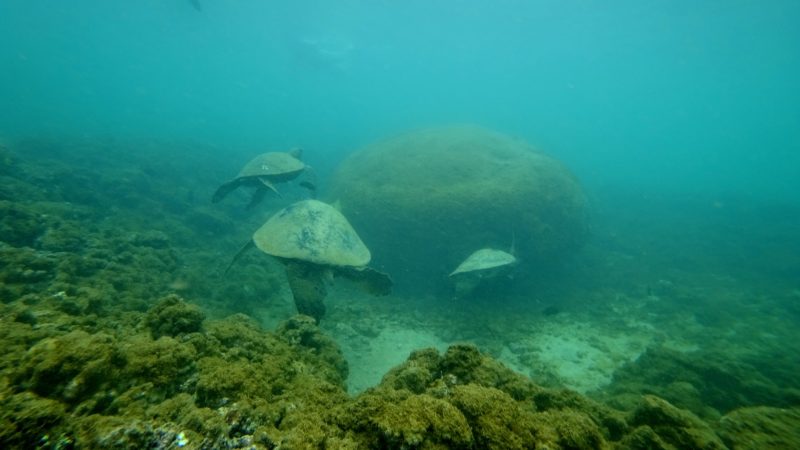 Look for the small fish hiding in the rocky bottom. The bigger ones will dart over to the turtles as they swim near the big rock. As the turtles leave, they'll dart away and hide back in the rocks again. The interaction is unique and fun to see, especially for first-time snorkelers or turtle lovers!
Local Tip: If you're standing on Aweoweo Beach Park facing the ocean, to your right will be some pointy apartment rentals. The turtle cleaning station is straight ahead from the first apartment.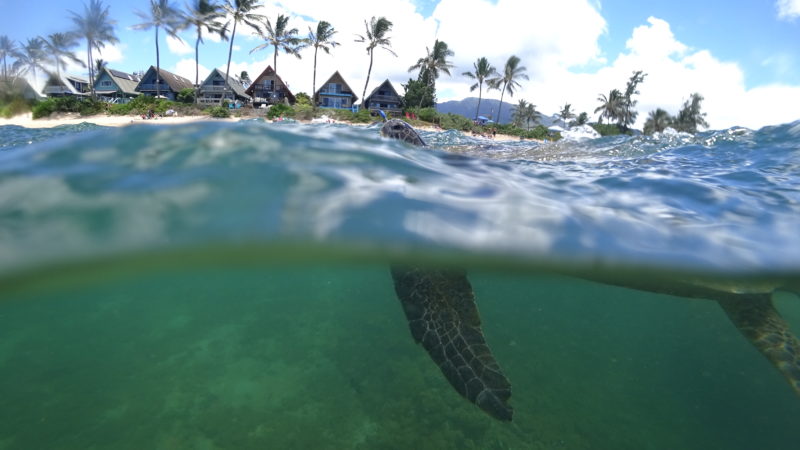 Snorkeling Tips For Aweoweo Beach Park
How deep is the water at Aweoweo Beach?
This of course depends on the tide, but in general it doesn't get more than 10 feet deep in this area. You can comfortably view the turtles and fish just by floating, but Aweoweo beach is also a great spot to practice getting your whole body in the water and seeing how long you can hold your breath.
Local Tip: I wouldn't worry too much about rough waves unless there are very strong winds or if it's winter. The North Shore is famous for its huge surf waves and surfing competitions during the winter.
Is Aweoweo Beach Park safe?
Since this is a small beach park hidden in a residential area, you won't find any lifeguards at Aweoweo Beach Park. Keep an eye out on each other especially when snorkeling. I can tell you from experience that it's easy to lose track of where you are when you're busy following a turtle.
Local Tip: I've never seen a Portugese Man 'o' War yet on this beach so Aweoweo Beach is a great alternative if the jellyfish are ruining your beach day on Oahu.
Read More: Don't Pee On A Jellyfish Sting In Hawaii, It's An Old Wive's Tale
Like anywhere in Hawaii, be aware of your belongings in your car. Don't leave any tempting bags or valuables out in plain sight because if it looks good, your car window may not be in the same condition as you left it.
How to keep your distance from the turtles
Swimming at the turtle cleaning station may be a great spot to watch turtles, but there are occasions where you'll get too close. The current will suddenly push you closer and since there could be several turtles, your only option may be just to float and hold still.
Local Tip: Don't forget, these turtles are fantastic swimmers! And they don't want to touch you, too. Leave the maneuvering to their flippers and they'll steer clear of you if you drift too close for their comfort.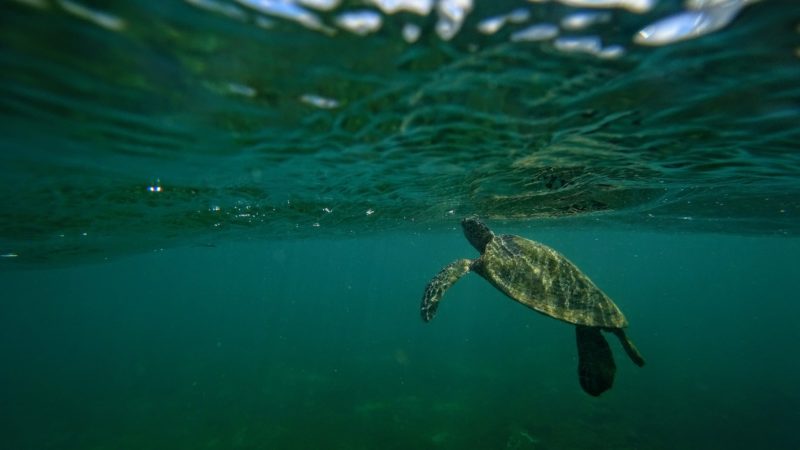 Other Fun Things To Do At Aweoweo Beach Park
Besides the turtles, Aweoweo Beach Park is perfect because of everything else! There's plenty of things to do at this small, residential park despite its size. From end to end, it won't take you more than a minute to walk the length of the park.
Shade can be an issue (most people bring their own tents or umbrellas), but it you're coming with a small group, it's possible to find a pocket of shade near a small bush or tree. You'll just have to walk further along the beach to find it.
Local Tip: My favorite shady spot is actually near a beach access path at the intersection of Au and Apuhihi street. Walk down the beach access path, take a right, and you'll see a small tree hanging over the sand in front of a green lawn. If you get there before me, make some room!
Have a beach day outing
By far the most popular thing to do at Aweoweo Beach Park is to have a beach day with friends and family. Most people bring a 10′ x 10′ pop up tent, place it over a picnic table (or bring your own) and enjoy some potluck, bbq or takeout. Don't forget your beach chairs and you're set!
Local Tip: On a Sunday morning at 9:30 AM, I snagged the last picnic table. If you're coming on a weekend after 10 AM, bring your own table if you need one. Weekdays should be much less crowded.
Play some basketball or have fun on the playground
One cool thing about Aweoweo Beach Park is that it has a basketball court. Remember to bring a basketball and throw some hoops in between snorkel sessions. A few guys from the next tent over had a good game going on so it was fun for the rest of the park to watch the game.
Right next to the basketball court is a decently-sized jungle gym that the kids can play on. Keep an eye out on the kids as I don't know how old the equipment is and the sun does a lot of damage in the long run.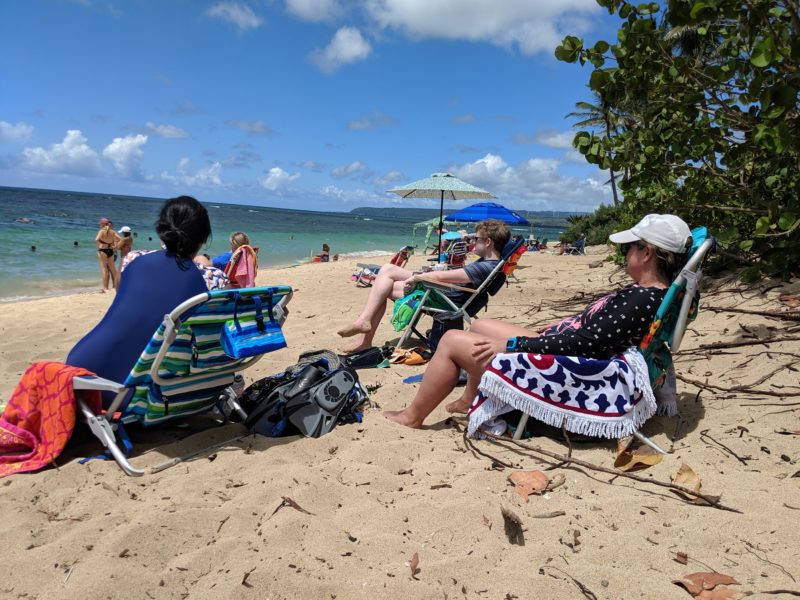 Bring your dog on a leash
Dogs are allowed at Aweoweo Beach Park as long as they are leashed. Since this park is in a residential area with no lifeguard, you'll see dogs running around without a leash. Last time, I saw at least 3 other dogs having the time of their lives. On the other hand, Daisy was not a happy camper.
Daisy does not like water and I got some laughs when I tried to get her in. Needless to say, I was not successful. Instead, she liked hanging out in the shade on the towels. I covered her up since some flies were bothering her and she slept the rest of the day away.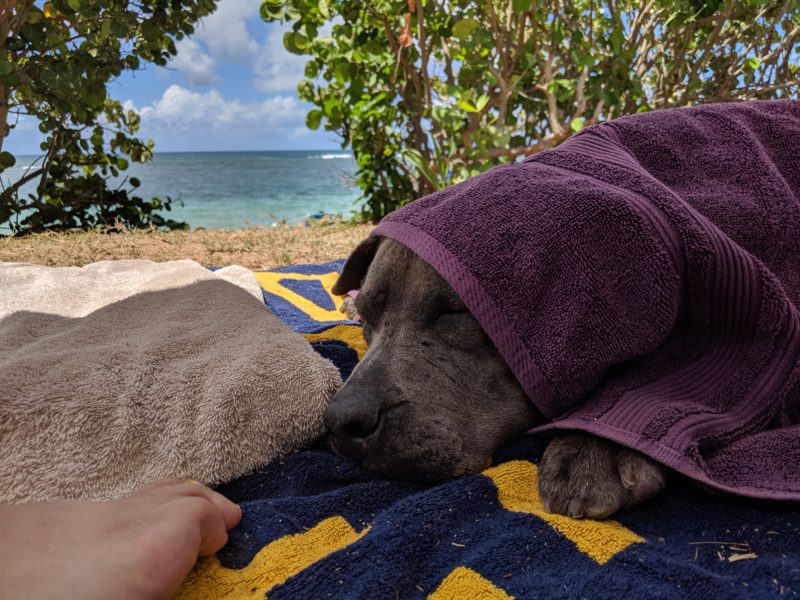 Directions And Parking At Aweoweo Beach Park
Aweoweo Beach Park is on Au street and you'll need your GPS to find it. The beach park is so tiny, it may not be visible on a paper map.
In order to get some decent parking right at Aweoweo Beach Park, aim to get there by 10 AM. By 11 AM, the street parking gets busy and by 12 PM you'll have to park farther away. Even if parking along Au street is packed, there's still plenty of parking along the other streets. You'll just be a 5 to 7 minute walk away.
Other Things To Do Near Aweoweo Beach Park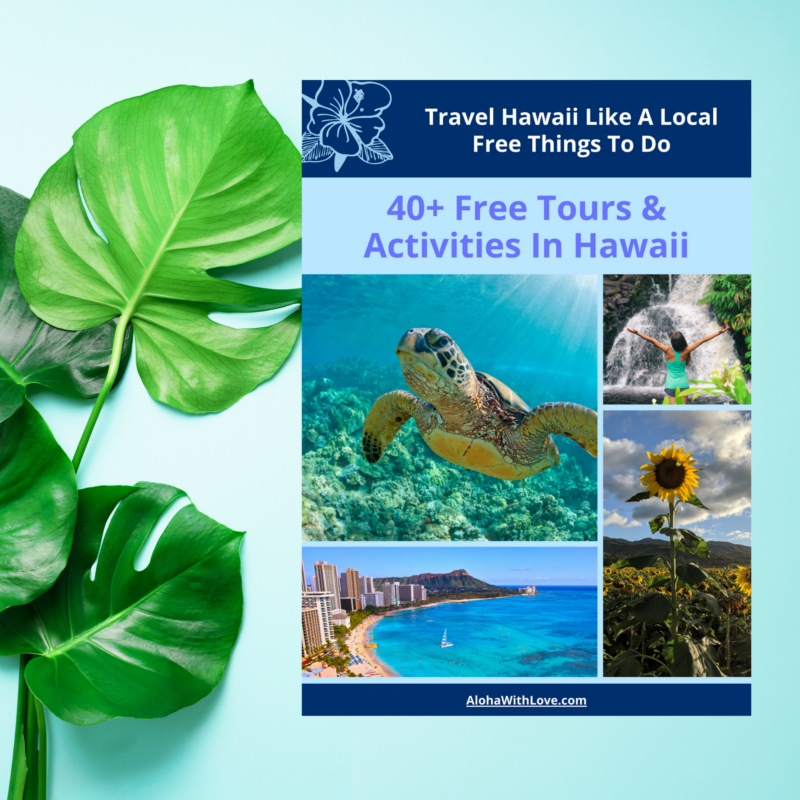 Want to go on a free tour in Hawaii?