Akaka Falls
Akaka Falls is one of the Big Island's most famous waterfalls measuring at over 400+ feet. If you're spending time on the Hilo side of the Big Island, you may want to put this on your list if you love waterfalls. The best time to visit is after a big rain because you may be able to catch a glimpse of the often forgotten and unseen Kahuna Falls.
Aloha with love,
Amy
Avoid The Tour Buses At Akaka Falls
Tours are great when you're on them, but not so great when you're enjoying a view with a sea of people. These large buses packed with travelers start pouring in around 11 AM until about 4 PM. If you want to enjoy Akaka Falls with few people (this place is a tourist hotspot so there's usually always at least a few people here), then head here early from 9 AM or closer to 6 PM.
Most people will spend about an hour here.
Park outside the parking lot to save a few bucks – the extra walk only adds a few minutes.
$5 per car to park in the parking lot, $1 entrance fee.
There's a fruit stand nearby if you're in the mood for a healthy snack.
Restroom facilities available.
Mosquito repellent isn't a must, but most people will come out with at least a few bites.
Local Tip: The top 2 waterfalls that's on everyone's list when visiting the Big Island is Akaka Falls and Rainbow Falls. If you're on a time constraint and want to see at least one of these, I recommend Akaka Falls.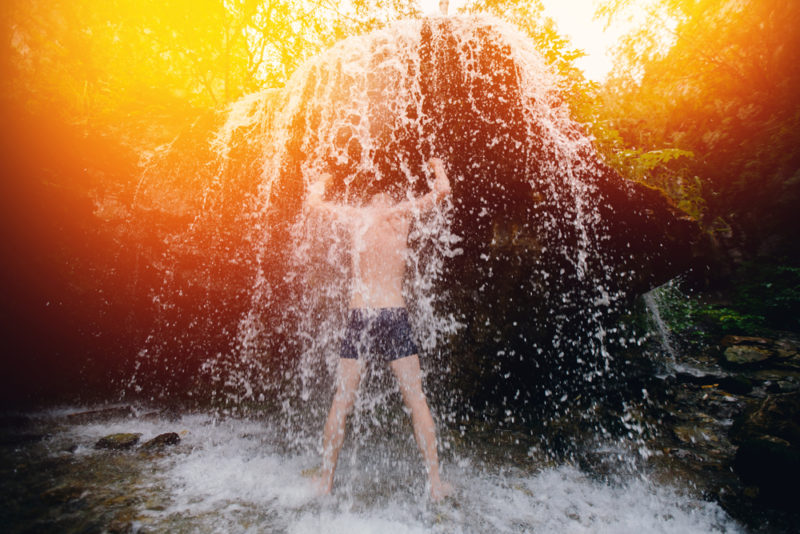 Recommended Adventures Near Akaka Falls
There's an amazing full-day circle island tour that includes Akaka Falls that I really like. Or, if you're the adventurous type, the Akaka Falls Zipline Adventure is fantastic – while the name of their tour is misleading (the state park can't be commercialized), you will see a 250 foot waterfall from Kolekole stream that is still miraculous – imagine that beautiful view while you're flying through the air!
If flying through the air is really your thing, a helicopter ride to see both waterfalls and volcanoes may be perfect for you. Or, for a completely different POV, this ATV tour includes a waterfall swim at the famous Hiilawe Falls. And if you want to slow it down even further, there are also horseback rides down to Hiilawe as well.