This post may contain affiliate links, which means I'll earn a small commission if you purchase something through these links. You won't pay any extra; instead, you'll be helping Aloha With Love to thrive. Thank you! Learn more.
COVID-19 has affected many of Hawaii's businesses and events. Please double check their dates and times before you go or make plans. Visit HawaiiCOVID19.com for more information.
--
Let me just say that my Uncle is in ridiculous shape. (He left me and Mom in the dust.) At some point he decided we were taking too much time enjoying the sights and finished the entire hike without a backwards glance!
The Aiea Loop Trail ranks high as one my "favorite local hikes" list because of several reasons. It's in central Oahu, the route is relatively flat, there's a beautiful midway viewpoint of the H3, and it's a good 2 hour workout depending on your speed.
While the hike itself has a constant flow of people beginning or ending their hike, it's nothing compared to the foot traffic you'll see on Oahu's more popular hikes such as Diamond Head, Makapuu Lighthouse Trail or even Manoa Falls. In fact, I usually only run into other hikers about 5 times on average. So this is a great local hike to do if you're looking for something enjoyable but without the crowds.
Happy hiking!
Aloha with love,
Amy
Begin Aiea Loop Trail At The Highest Parking Lot
Since this hike is a loop trail, you can do it forwards or "backwards". In this post, I explain this hike using my preferred path which is from the top (highest parking lot) to bottom (lowest parking lot). If you want to go in the opposite direction, just read this post backwards.
As you drive up Aiea Heights Drive and enter the Keaiwa Heiau State Recreation Area, you'll pass several parking lots. Drive up to the very top of the hill (you'll see a public restroom at the very top) and park your car. The road is one way, so if it's crowded, don't be too picky with your parking space otherwise you'll have to drive back down and start all over.
The highest parking lot can be split up into 3 sections. Everyone wants the 2nd section, but in reality they're all so close to the trailhead that it doesn't matter.
The long, first section is pictured below.
Take a left: the 2nd section is what everyone wants because it's closest to the trailhead and bathrooms. There's also one handicap parking spot.
Take another left: the 3rd section is your last chance for parking. I usually begin my hike here at the latest by 9:30 AM (weekends) and so far haven't had a problem finding parking.
The trail begins just to the left of the bathrooms, but don't miss the small plaque between the bathrooms and the trailhead. The remains of an airplane wreckage from the World War II era can be seen a few meters below during the hike.
Local Tip: There are actually 3 different parking lots: low, middle, and high. The highest is what I just mentioned above. The lowest parking lot is where my hike ends and where you'll want to park if you do the Aiea Loop Trail "backwards". The middle is actually a dirt lot and is preferred by those who'd rather start and end their hike with a shorter steep trek up the hill.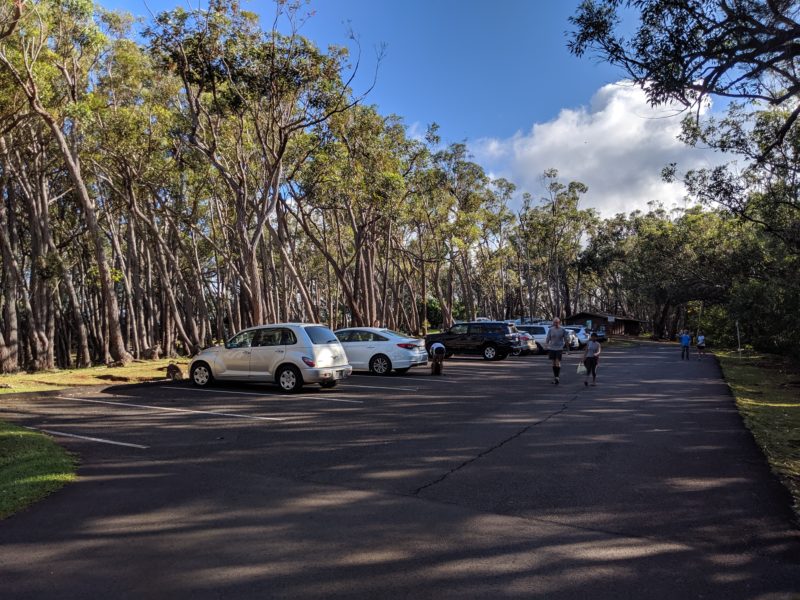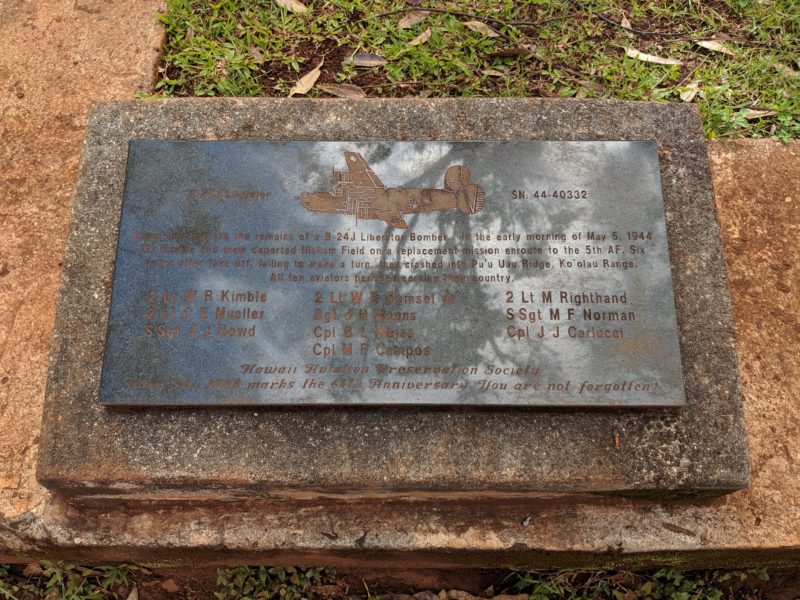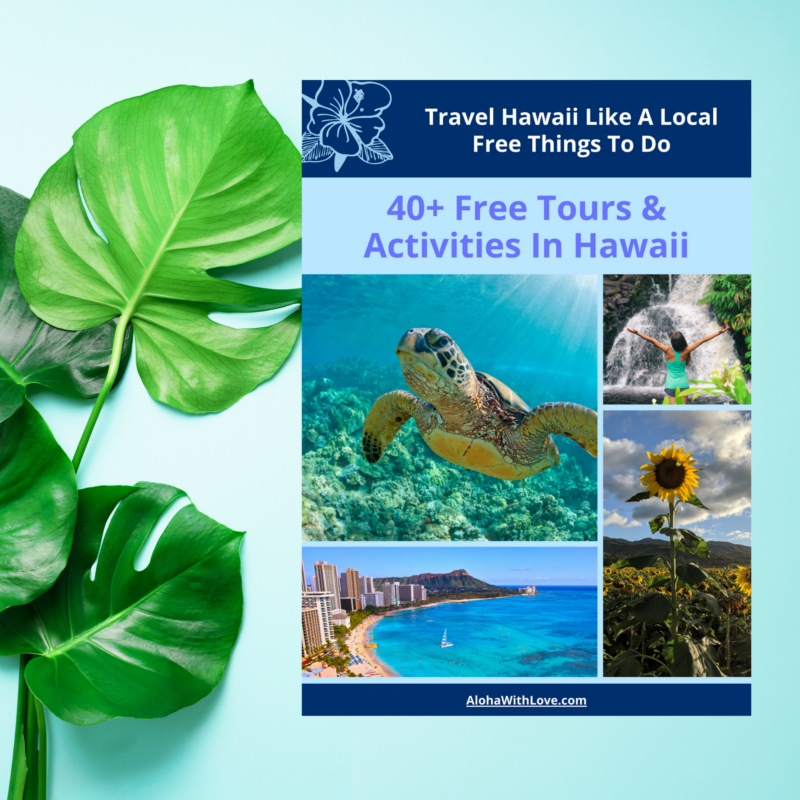 Want to go on a free tour in Hawaii?
What To Expect On The Aiea Loop Trail
Almost right off the bat there's a gorgeous view with a bench and it's a great way to start (or end) the Aiea Loop Trail! If I'm waiting for friends to arrive, I'll actually just sit on this bench and wait for them to catch up.
There's also plenty of strawberry guava bushes right at the beginning. Skip the ones in the shade and look for the bushes that have plenty of sun if you want sweeter fruit.
Local Tip: A little over 5 minutes in there will be a small sunny patch of strawberry guava bushes to your left. Not only is the view great, but this is where my Mom and I chowed down (and where my Uncle decided he had no time to wait around for us).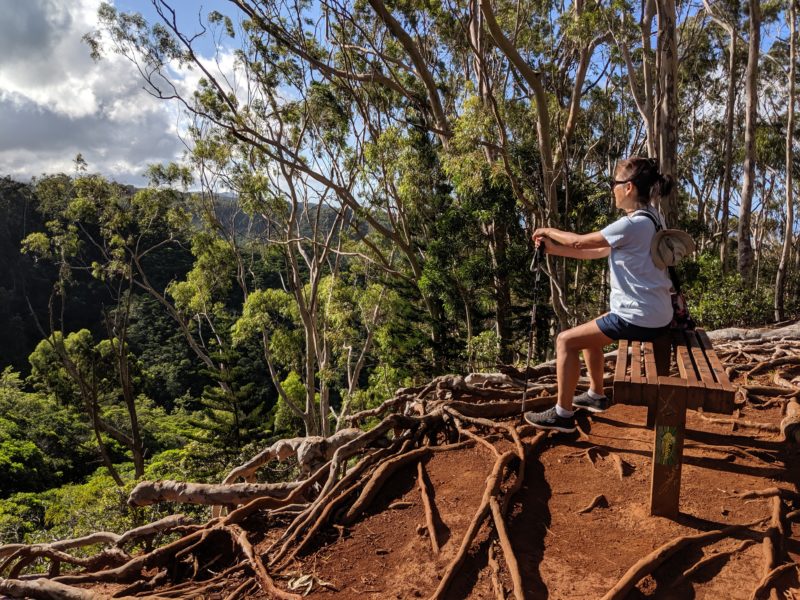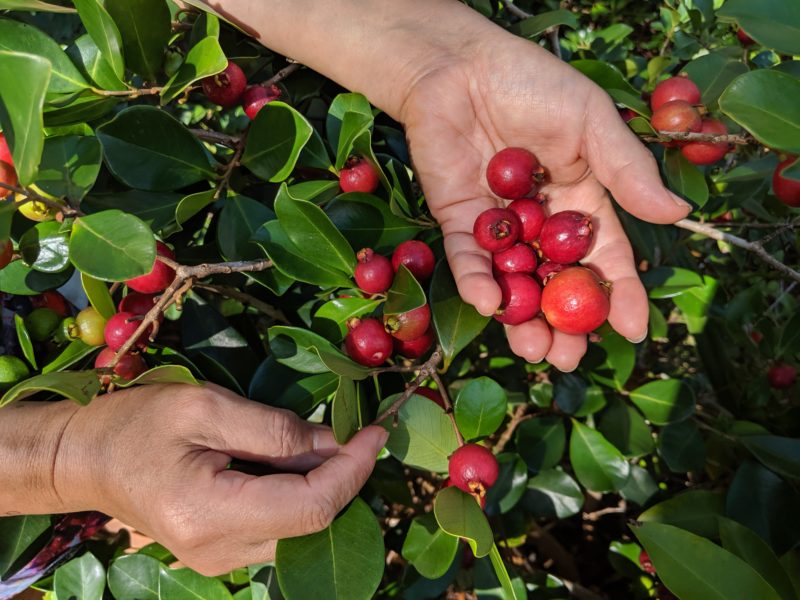 There are 2 big reasons why the Aiea Loop Trail is such a favorite:
Everyone loves the shade through the entire hike. You don't even need a hat or sunscreen.
The hike itself is relatively easy because you aren't climbing up or down any steep hills.
Local Tip: The steepest hill you'll climb is from the end of the hike back to your car. You'll walk on the asphalt road from the lowest parking lot back to the highest. It can be tough if you aren't used to it, but it usually just takes my friends and I about 5 minutes going at our own pace.
The trail is well-maintained and the views are interesting because the scenery is always changing. Sometimes you're surrounded by strawberry guava bushes, while other times the path opens up to tall trees and you feel tiny.
In general, the ground is easy to walk on. There are the usual rocky or "rooty" sections, but you really don't need to worry unless it's been raining. Because of all the shade here, if it's been raining in the past week in Aiea, you can expect a muddy hike. As you know by now, I don't really care for muddy hikes because I'm constantly looking at my feet instead of looking around at the view.
Most of the Aiea Loop Trail dries up quickly, except for the last 30 minutes or so. Since you're slowly going downhill after the viewpoint, your chances of stepping into mud puddles significantly increases.
Local Tip: I don't recommend most hikes during the rain and this is one of them. One of my friends got caught up at the very end while it was raining and hurried to get her kids out of there. While the kids made it safely out, she unfortunately fell due to the increasing rain and injured her hip. Be mindful of the weather and check the forecast before you begin your hike. If you still want to do this hike, but without the muddy ending, hike from the highest parking lot to the viewpoint and then turn back. It's a good 1 to 1.5 hour hike.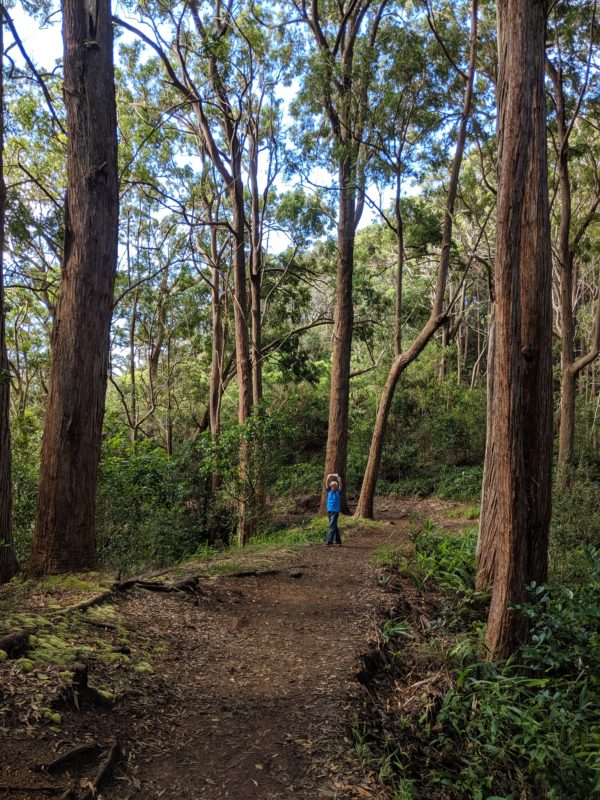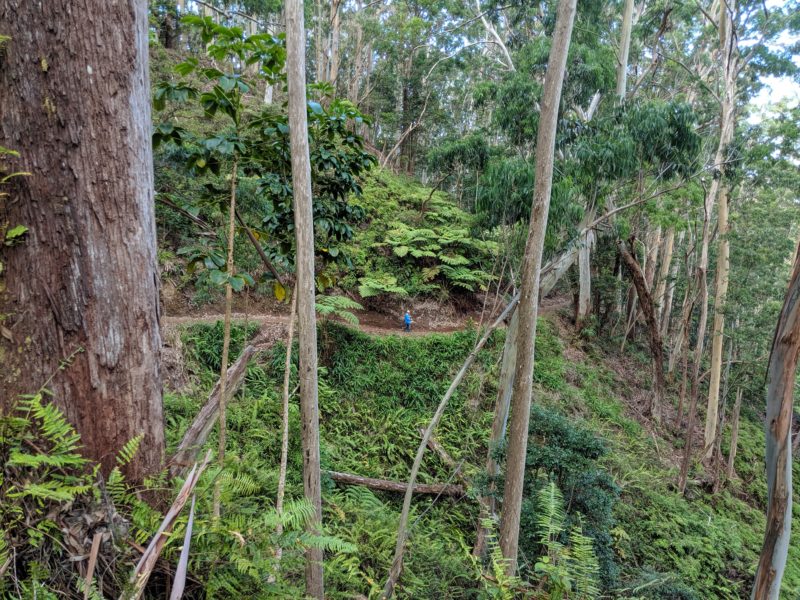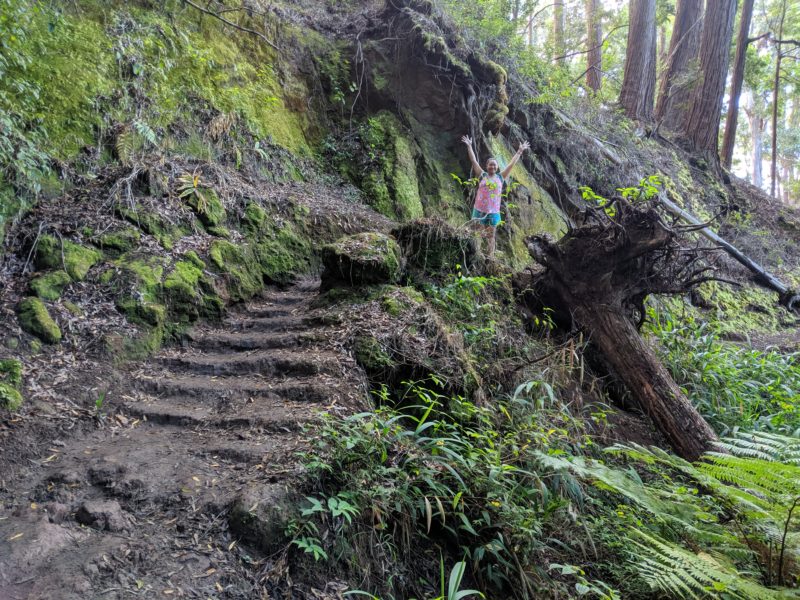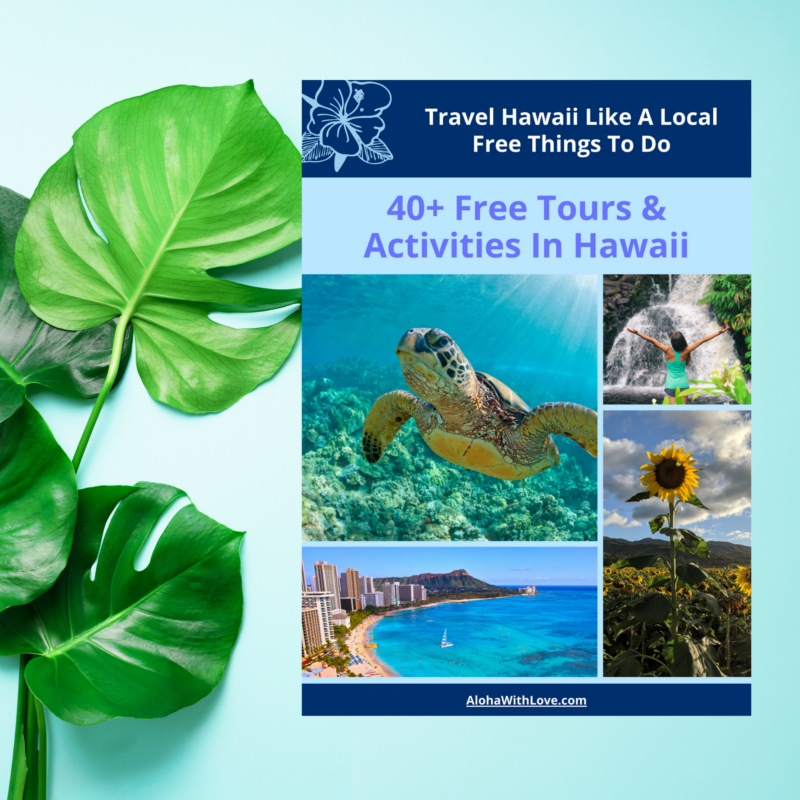 Want to go on a free tour in Hawaii?
The H3 View And Honeycreeper Viewing
Roughly halfway in the Aiea Loop Trail you'll reach this viewpoint where there's a cool view of the H3 that runs through the Koolau mountains. It's neat to see the tiny cars move from so far away and the rest of the valley, mountains and ever changing clouds. There are no railings here so be extra careful with your footing and aware of your friends so you don't accidentally bump into each other.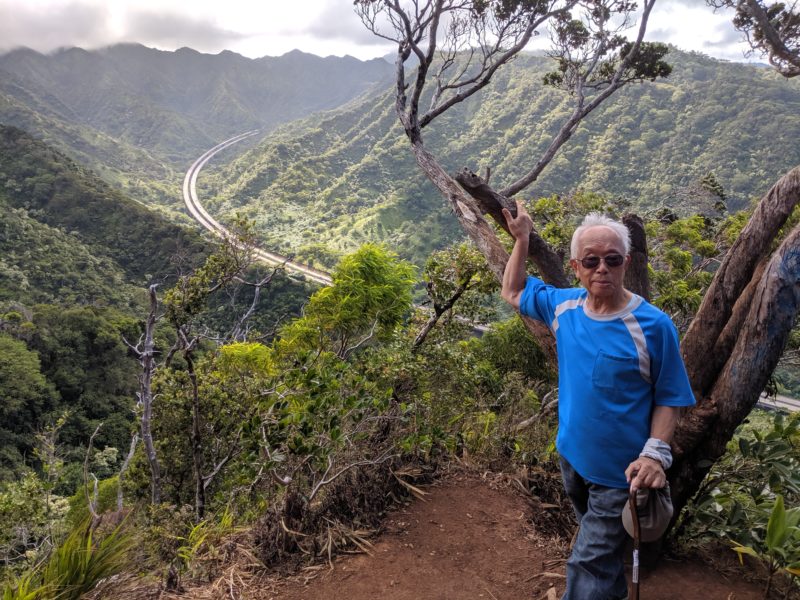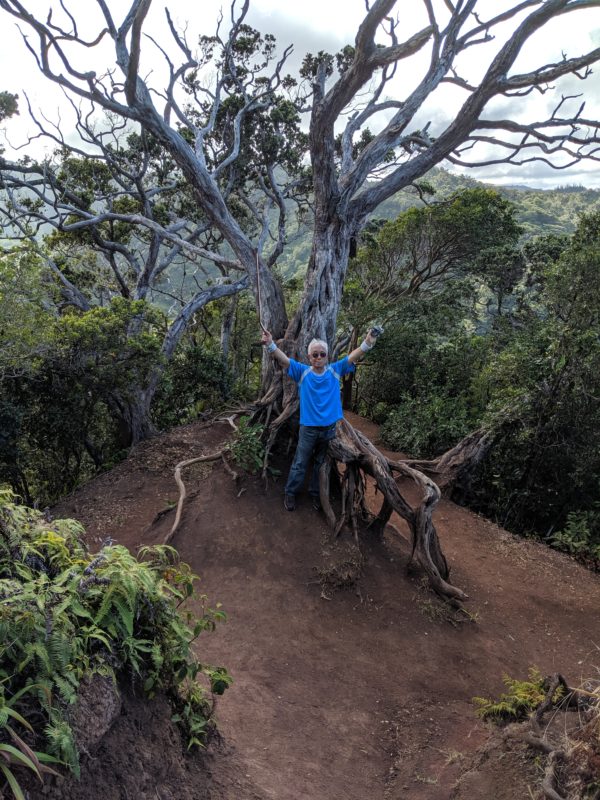 Local Tip: From this viewpoint, there are quite a bit of yellow strawberry guavas. Remember, try the ones that have full sun if you want the sweet ones.
Honeycreeper Viewing
Right after the H3 viewpoint, look for 2 big rocks in the ground. From these 2 rocks for the next 5 – 10 minutes or so is where honeycreepers are known to forage for nectar from the ohia flower (a small red flower that looks like a firework explosion). The viewing goes much better with binoculars, but if you're patient you can usually see them flying from flower to flower. They're extremely shy though and fly away as soon as you try to take a step closer though (hence the binoculars).
Local Tip: I have the best luck about 10 – 20 steps after these rocks. There are several ohia trees right here and you can see these small birds flying around.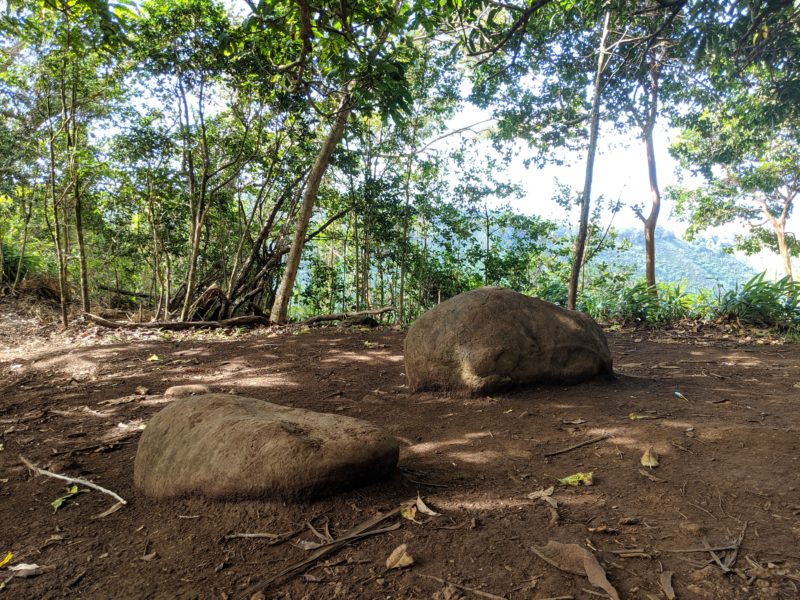 The End Of The Aiea Loop Trail (Or The Beginning)
The last 30 minutes or so of the Aiea Loop Trail is often more damp than the rest of the hike because the rain tends to collect down here. It's mostly downhill, but there is a steady incline at one point which you can complete at your own pace.
When you emerge from the trail, you'll walk straight into this wide grassy area with plenty of picnic tables and a bathroom. The picnic tables in the shade are usually taken by campers, but I prefer the picnic tables at the highest parking lot anyway because they're often empty and all under the shade.
Local Tip: If you're worried about rain in the forecast, it might be worth it to do this hike backwards the get the muddy part over with. Be smart and always put your safety first.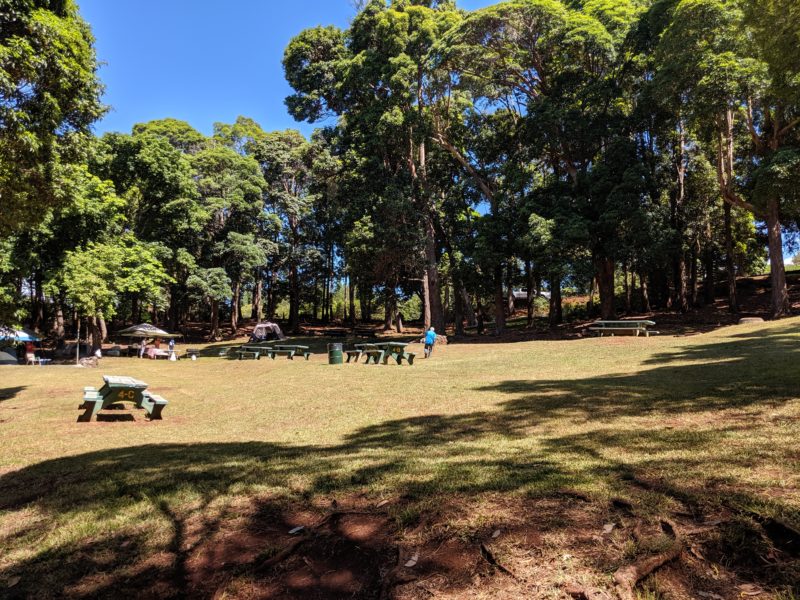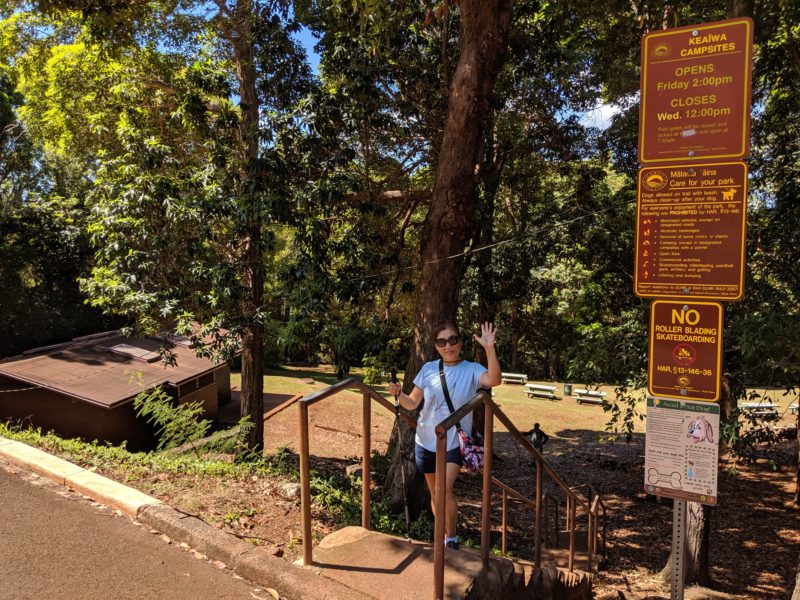 Find the stairs and you can begin your hike back up to the car at the highest parking lot. Right behind me is the first parking lot (there's also some handicap stalls) and on your way to the highest parking lot you'll pass the middle parking lot.
I really enjoy this hike – it's got a little bit of everything: plenty of shade, 2 clean bathrooms, lots of picnic tables to rest on after your hike, wonderful views, tasty strawberry guavas, some bird-viewing opportunities, lots of parking, but most of all it's in central Oahu. It's accessible and I love that it's not an out-and-back trail.
I hope you get to try this hike. It's a really good one that's perfect for almost any age whether you're a kid or a 75-year old uncle. Let me know how it goes!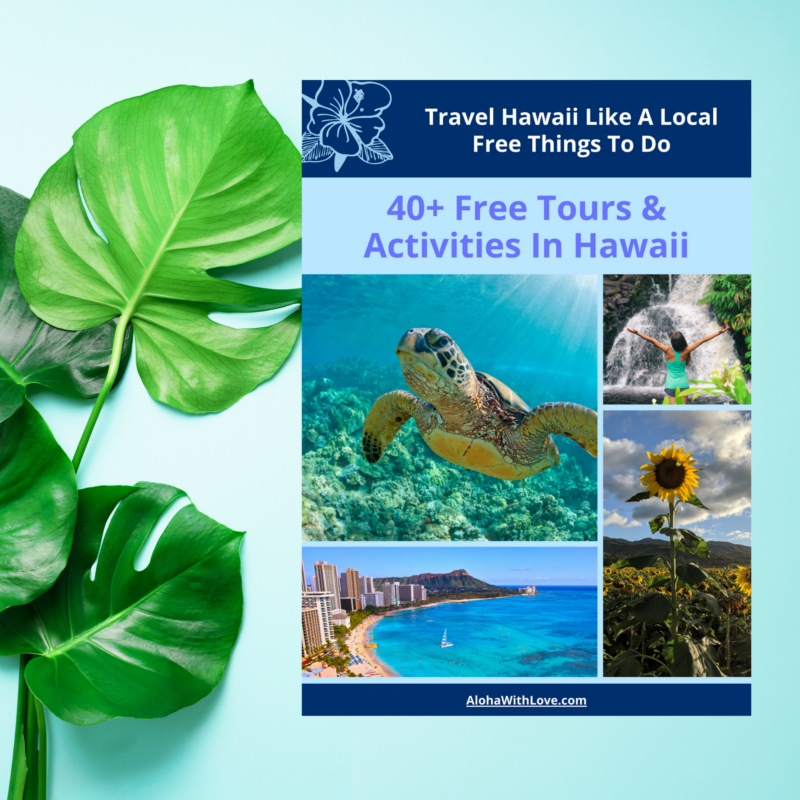 Want to go on a free tour in Hawaii?